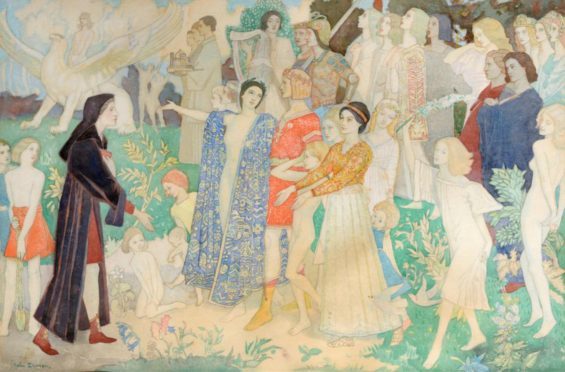 IT IS some years since I wrote here that John Duncan was an artist prophet seldom recognised in his own land.
Since, then, however, there have been Duncan exhibitions and John Kemplay's biography of the artist.
Duncan (1866-1945) filled his paintings with the influence, shapes and colours of the Pre-Raphaelites, Celtic imagery and symbolism.
Today his work graces The McManus and Dundee University collections, among others, where they are considered jewels in the local cannon.
Duncan made the somewhat unusual jump from son of a Dundee cattle dealer to student at Dundee School of Art at the age of 11. As a young man he moved to London where he worked as an illustrator for three years. Thereafter he continued his studies at Antwerp, Dusseldorf and Rome.
From 1892 onwards, he was based mainly in Edinburgh, though he sent some pictures to the Royal Academy in London. He kept up with his home town, though. He was a member of Dundee Graphic Arts Association and Dundee Arts Society. Locally, he also designed the beautiful gesso reredos at St Mary's in Broughty Ferry. (The church recently discovered a c1917 glass negative of the altarpiece.)
In Edinburgh, Duncan became friends with the Perth-born botanist and celebrated town planner Patrick Geddes, who offered him the directorship of the new art school in the capital. In 1899, Duncan embarked on a tour of America with Geddes and, the following year, he became Associate Professor of Art at the Chicago Institute, holding the post for two years before returning to Edinburgh.
Duncan's work included many paintings showing myth and legend – the best known, The Riders of the Sidhe (1911), was praised by the contemporary Courier as 'outstanding' (recently absent from its usual position in The McManus due to a loan arrangement).
His works do not appear on the open market often, so my antennae twitched at Tennants of Leyburn's summer sale, which included a Duncan watercolour titled The Shining Land.
Signed, with its original Stirling Art Association label verso, it was a decent size at 20 inches by 29 inches.
Modestly pitched at £500-£700, it sold for a multiple-estimate £8800.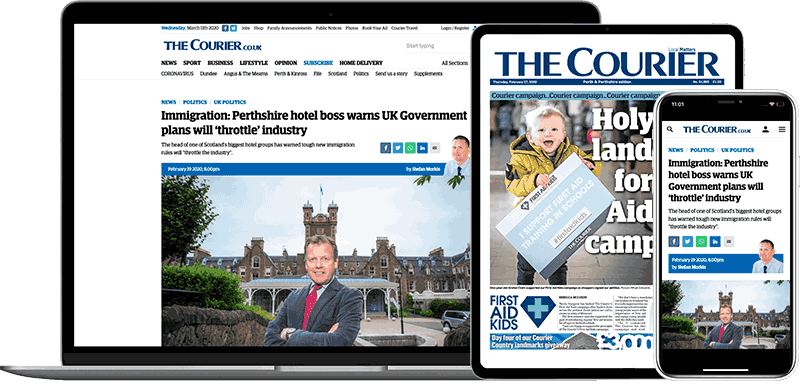 Help support quality local journalism … become a digital subscriber to The Courier
For as little as £5.99 a month you can access all of our content, including Premium articles.
Subscribe