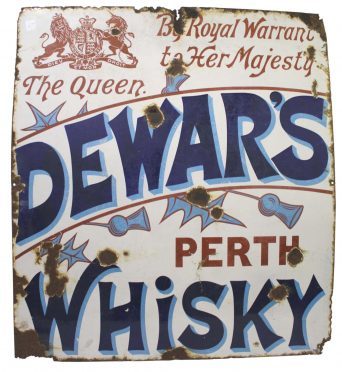 NEW YEAR used to mean a drinks cabinet bulging with Perth's finest – and in my younger days, this did not mean craft beers and pink gin.
What put Perth on the map was its great whiskies – Bell's, Dewar's, Famous Grouse and, for a time, Beneagles, all blended and bottled in the town before being exported and enjoyed across the world.
Almost by tradition, or upbringing, Perth folk would pledge allegiance to one and never touch the others – unless offered!
John Dewar & Sons was based at Inveralmond – about three quarters of the way along Perth's Motor Mile on the Dunkeld Road. Its bonded warehouse was on the junction of Glasgow Road and Glover Street. This vast stronghold eventually made way for the Dewar's curling rinks.
Dewar's memorabilia has always been collectable. It ranges from rare bottles of the precious stuff, to wonderful Royal Doulton flasks and water jugs, pub signs, clocks, glasses and mirrors.
Lawrences's in far-off Somerset have just sold a large enamel sign proclaiming 'Dewar's Whisky, Perth, By Royal Warrant to her Majesty the Queen' – leading me to wonder if Her Majesty was a fan.
The sign measured about 3ft by 3ft. Despite its obvious wear and tear it romped away to a double estimate £300.
If you want to avoid a nip (weather-wise, not a dram!) take in Landseer's magnificent Monarch of the Glen at Perth Museum (until Jan 13), a painting once owned by John Dewar and used in the firm's promotional material.
With the 'spirit' of New Years past in mind, I wish all readers a happy and healthy 2018.