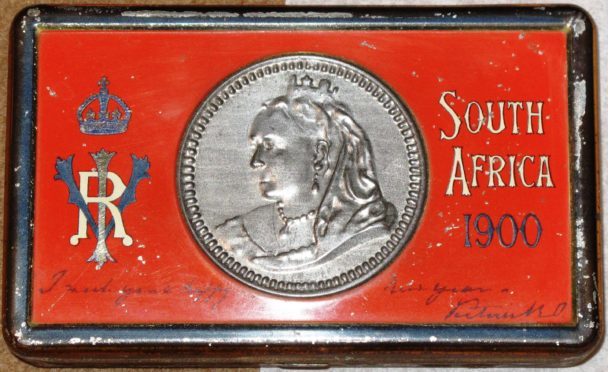 CHRISTMAS BOXES were sent by the royal family to Boer and Great War servicemen and will be familiar to many readers. They were forwarded to South Africa by Queen Victoria in 1900 and Queen Alexandra two years later, and, most famously, by Princess Mary to troops in 1914.
Boxes from the queens contained chocolates, while the 'Princess Box' contained a Christmas card, a picture of the princess and usually cigarettes.
The boxes have been considered 'collectables' almost since the day they were sent. Auction houses and dealers see them frequently – usually bracketing them at £20-£50.
But did you know The Courier's most distinguished editor, John Mitchell, had a hand in selling one of the first to be offered at auction? Mitchell, who edited this paper from 1888, rose to become president of the British Institute of Journalists and welcomed that body to Dundee for its gathering in 1911.
In the autumn of 1900, Mitchell arranged for a box of 'Her Majesty's Chocolate' to be sold by auction on behalf of the wife and children of the soldier who originally received the box.
Like its owner, John Robertson from Lochee, the box had come under fire and suffered damage.
Promoted to corporal after a deed of bravery saved the life an officer, Robertson was later wounded, and when he fell from his horse the box fell with him, breaking two of the bars of chocolate.
The sale took place in the shadow of Queen Victoria's Statue in Albert Square. The auctioneer solicited offers. There was a cry of "ten shillings" to start it off and eventually it was knocked down to a jute merchant for £11.
Picture: Queen Victoria's Boer War box.