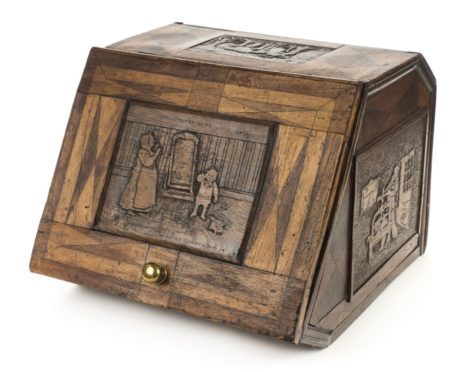 Dominic Winter of Cirencester staged a sale earlier this month which included the estate of the actor, author and historian Robert Hardy, best remember, of course, as the vet Siegfried Farnon on All Creatures Great and Small.
One of the auction's 'household' items was a humble Irish coal or peat box, dated to around 1912.
The interest lay in its carved satirical panels, which referred to Winston Churchill and the Irish Home Rule controversy which dogged his years as an MP for Dundee.
The top panel depicted a man (probably Prime Minister Herbert Asquith) with a bird's body looking at a dead bird labelled 'Liberal Party'. The ex-bird (with apologies to Pythonites!) had been struck by an arrow labelled 'Insurance Act' – another hot potato at the time.
The hinged, sloping-lid panel was titled 'Into Smithereens, Sep 1st / [19]12', and showed a smashed cheval mirror labelled 'Home Rule', above 'Master Winston 'I cannot tell a lie, my little cannon did it.'
The cannon at his feet was labelled 'Dundee speech' [15 October 1908]; the left-side panel depicted a mask-backed chair labelled 'Home Rule', the mask watching a lady at a spinning wheel inscribed 'Irish Lords Reform.' The right-side panel had a figure crushed in a press labelled 'British Navy' with the words 'The Eternal Pressure.'
The Dundee speech in October 1908, in which Churchill argued for Irish Home Rule, did not impress this newspaper: "Mr Winston Churchill, in a somewhat remarkable speech in Lochee, in which he called Dundee the 'flower of Liberalism,' and Lochee the 'flower of Dundee,' and by inference, himself the 'flower of Lochee,' had, of course, various quack remedies."
The box sold for £520.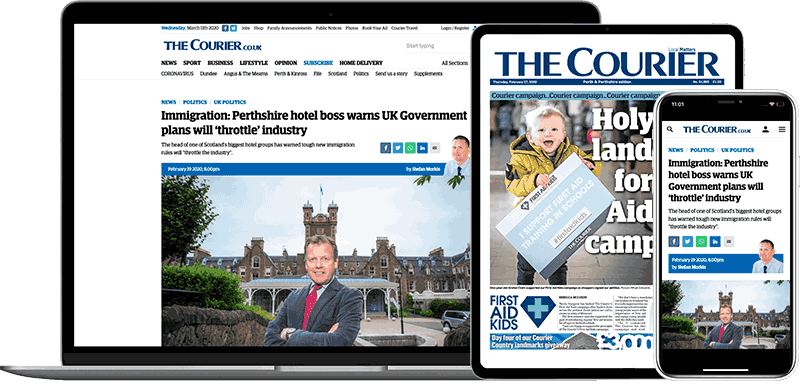 Help support quality local journalism … become a digital subscriber to The Courier
For as little as £5.99 a month you can access all of our content, including Premium articles.
Subscribe