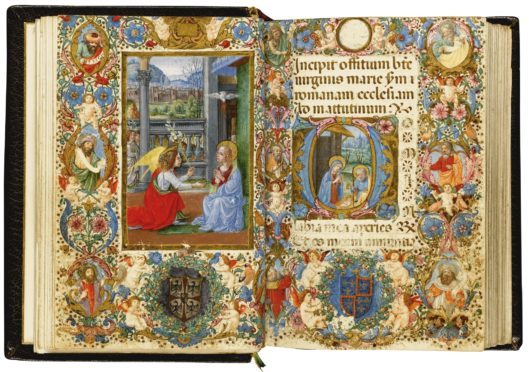 Today's pictures shows an opulently-illuminated manuscript on parchment written and illustrated in Florence around 1490.
In binding of 19th Century Parisian morocco, The Hours of Isabella d'Este is an exquisite Book of Hours, reflecting the very heights of Renaissance culture.
Its five large initials and borders are by the Florentine brother-artists Gherardo and Monte di Giovanni del Fora (Gherardo producing the miniatures and Monte the decoration), each with full borders of foliage enclosing smaller miniatures within roundels, putti, birds and architectural features.
The book was written and illuminated for Isabella d'Este (1474-1539), the period's supreme female patron and art collector.
Isabella sat at the centre of a wide political network. Her brother Alfonso married the infamous Lucrezia Borgia, and her sister Beatrice wed the Duke of Milan. It is thought the book was a wedding gift from Lorenzo de Medici, the most powerful figure in Renaissance Italy.
Isabella built a private museum in the palace at Mantua and the greatest artists of the day filled it with commissions, including Mantegna, Raphael, Titian and Leonardo da Vinci (the last two both painting or sketching her portrait).
The Hours most probably passed to the infamous Cardinal Richelieu in the 17th Century. Richelieu was also a book collector, and took possession of much of Isabella's library, probably explaining the French binding on the present manuscript.
It eventually passed to the jeweler Louis Cartier. Then, emerging in Sotheby's in 2012, it sold for £217,250 to the current owner.
A remarkable survivor, with links to the greatest names of the Renaissance, The Hours of Isabella d'Este appears at Bloomsbury Auctions in London on Tuesday, with pre-sale hopes of £200,000-£300,000.