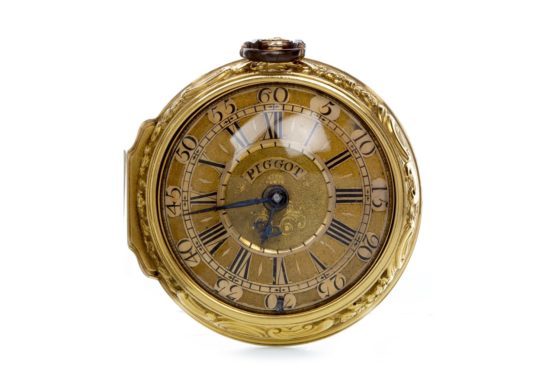 THERE'S RARE and there's special. So when Glasgow auctioneers McTear's described an 18th century 18 carat gold key wind pocket watch as rare, they weren't fibbing. Key wound watches from anywhere in the 1700s are uncommon.
What raised this example a rung or two in the ladder of superlatives was the name on its movement – 'Ann Kirk, Nottingham'.
I have been lucky enough to see some of Britain's great clock and watch collections, including the Worshipful Company of Clockmakers' display of treasures at the Science Museum – the oldest collection of clocks in the world. This, incidentally, includes fabulous examples by Dundee's pre-eminent watchmaker David Ramsay, born in the town in 1588, and watchmaker to King James VI.
But never before have I seen an 18th Century watch signed by a woman.
The outer case was moulded in relief with a biblical figure and the dial was inscribed Piggot, its retailer presumably. The dial also had Roman numerals in black for the hours of the day, with outer Arab numerals for the seconds, and contemporary blued steel hands.
Unfortunately, the hallmarks on the inner case were worn, and accurate dating of the watch would have been impossible.
Ann Kirk appears in Baillie's comprehensive listing of watchmakers as working in Nottingham in the mid-1700s. She is also listed at Nottingham Archives as a widow, and if I remember my history, it was common for widows to take over businesses following the deaths of their merchant husbands – Oliver Cromwell's mother, for example, is said to have taken over his late father's brewery.
With one or two inner and outer scratches, the watch sold at McTear's for £1300.
Picture: Gold 18th Century watch by Ann Kirk of Nottingham, £1300 (McTear's).