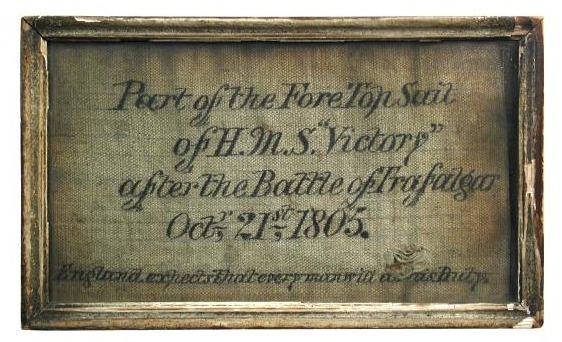 From the late 1700s, venture capitalists took advantage of Dundee's outstanding location for Baltic trade. Shipping records show regular connections to Archangel for flax from the growing areas north of Moscow, large imports from St Petersburg when the White Sea was frozen, and quantities of cheaper flax from Latvia and Estonia, shipped through Riga.
A boom in building and converting the town's first linen mills capitalised on the demand for ships' canvas, uniforms, tents and hammocks during the Napoleonic Wars – with Baxter Brothers, in a PR masterstroke, providing the sailcloth for Nelson's Victory.
On July 5 Cheffins Auctions of Cambridge sold this very thing.
This was a fragment of the topsail of HMS Victory, framed and glazed, and decoratively penned 'Part of the Fore Top Sail of H.M.S. Victory after The Battle of Trafalgar Oct, 21st 1805' above, and with 'England expects that every man will do his duty' below. All that was missing was 'Made in Dundee.'
Measuring 13.5 x 8 inches, including its frame, the section of sail came with a National Maritime authentication letter, dating from 1980.
From these humble beginnings in the 1790s, spinning a couple of tons of flax a day into coarse brown linen, rose an unrivalled textiles industry that would soon boast the world's biggest linen factory in the Dens Works of Baxter Brothers, part of which has just opened as a hotel. And soon this old town of ours outstripped Hull as Britain's biggest importer of flax, and outgunned Leeds as the UK's biggest producer of linen.
And the first jute ship wasn't yet on the distant horizon.
The fragment of sailcloth sold for £3800.
Part of HMS Victory's topsail, £3800 (Cheffins).