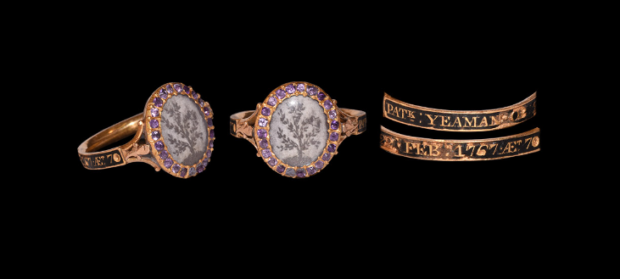 A rare Jacobean mourning ring in memory of a five-times Dundee provost is expected to sell for hundreds of pounds in London this week.
The memorial gold ring for Patrick Yeaman is prominently inscribed: "PATK YEAMAN OB 22 FEB 1767 ÆT 70" on its band in raised lettering against a black enamel background. Its oval bezel contains a foliate spray of filaments set against a plain background with crystal cover and surrounded by faceted amethysts.
Patrick Yeaman (1697-1767) came from a long line of merchant adventurers in Dundee. His grandfather was referred to in 1706 as "Captain Yeaman, a wealthy merchant, lately come from the West Indies." As a ship-owner he had been the proprietor of Yeaman's Shore along the waterside. His heir, James, was Patrick's father.
Patrick made his own mark on civic life in the city, becoming Provost five times between 1742 and 1762. When he died, he had two homes and he left goods including 33 pieces of mahogany furniture – at a time that the fashionable new wood that his grandfather may have introduced to Dundee from the Caribbean was far from cheap. The family memorial stands in The Howff.
Yeaman Shore, constructed around 1790, took the name from the family and was for a long time a classy thoroughfare linking the Marketgait to the harbour. Here Dundee's first permanent theatre was built in 1800, with Shakespeare's The Merchant of Venice as its debut offering. Today it lies rather forlornly engulfed by the inner ring road.
In fine condition for its age, the ring appears in Timeline Auctions' Mayfair Hotel auction of antiquities on Tuesday, with pre-sale hopes of £500-£700.