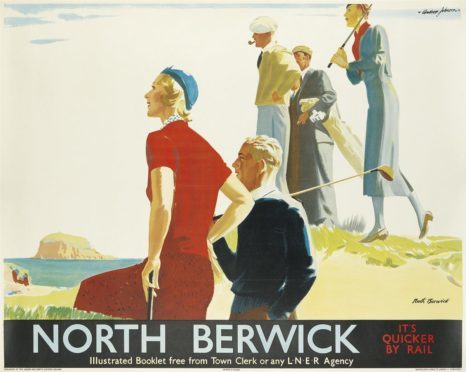 Swann Auction Galleries of New York stage on Thursday one of the finest sales of rare and important travel posters seen for many years. Trains, planes, automobiles and ocean liners will be represented with posters by accomplished artists and designers.
The highlight, from a Scottish point of view, is Night Train to Scotland, a poster designed in 1932 by Philip Zec for the London, Midland & Scottish Railway and printed by McCorquodale & Co of Glasgow.
Zec (1900-1983) was one of a family which fled Tsarist Russia to settle in London prior to the First World War. He worked for advertising agencies including J. Walter Thompson.
An exceptional nocturnal scene – with the engine's hot furnace illuminating the plume of smoke from its funnel, beneath the glowing moon – Night Train to Scotland is unusual for the artist in that the majority of his posters were done in an entirely different style for propaganda purposes during the Second World War.
A rare poster, with only two other copies at auction since 1990, it is estimated at $12,000-$18,000.
Other Scottish-related posters include Black Watch Pipers by Christopher Clark for LMS, c1930s, (estimate $700-$1000) and a poster showing Robert Burns surrounded by characters and places from his most famous poems, encouraging Burns' enthusiasts to See Scotland by Train. Produced during his bicentenary in 1959, it also carries hopes of $700-$1000.
I opt instead to illustrate a famous c.1930 art deco poster titled North Berwick – It's Quicker by Rail for LNER, showing a group of stylishly-dressed golfers. Designed by Andrew Johnson, c1930, and printed by Waterlow & Sons Ltd of London, this rare work is estimated to sell on Thursday for $8000-$12,000.