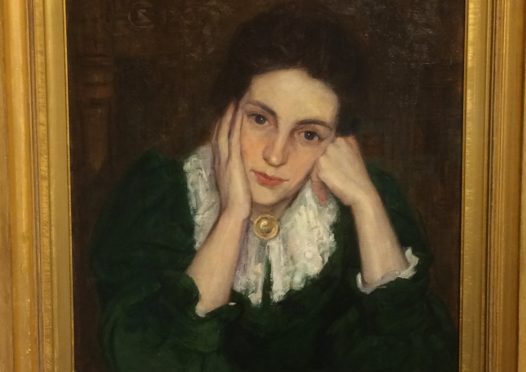 Book Week Scotland, the great annual celebration of reading, continues across the country today and tomorrow.
Folk often take refuge in a good book, just as I sometimes sought sanctuary among some of the city's great paintings from the buzz of the combined quarter of a million McMenace and V&A visitors.
Revealing Characters at The McManus comprises portraits from its permanent collection – and there are few better than Stewart Carmichael's The Artist's Wife (illustrated). Oil on canvas, painted in 1897, it is a gorgeous likeness of Marion Willis, who had married Carmichael in 1893.
An early graduate and talented artist in her own right, Marion Carmichael eventually became librarian to the Dundee Graphic Arts Association, a professional exhibiting body. She is also seen reading a newspaper – The Courier I hope – in a picture in the St Andrews University collection.
Carmichael deserves, but has never won, recognition as one of Scotland's top portraitists. The McManus does him justice by including five of his works in Revealing Characters.
A native of Dundee, he trained as an architect and studied art at evening classes. When 19, he switched careers to become a professional illustrator in London and later studied in Antwerp, Brussels and Dusseldorf.
He returned to Dundee in 1891 and for nearly 60 years enriched the artistic life of Scotland with a stream of work, including landscapes, portraits and symbolic compositions. Tall, erect and often eccentrically dressed, he lived and worked at 65 Nethergate for over 40 years.
His death took place in 1950 when he was 83. He was predeceased in 1941 by Mrs Carmichael, the subject of many of his finest studies.
Revealing Characters runs to early 2019.
Picture: The Artist's Wife (McManus Galleries).