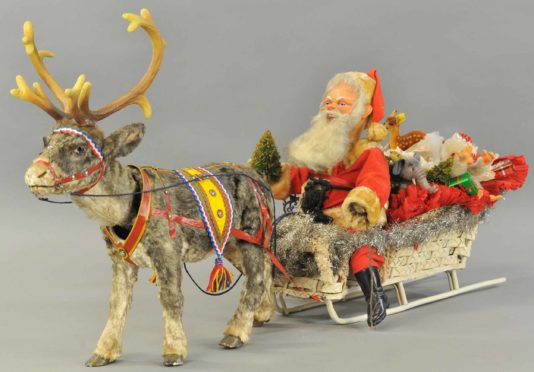 I feel a toy coming on for Christmas – and there are few better than this vintage nodding Santa, the subject of much admiration at Bertoia's seasonal sale in New Jersey last month.
The Vineyard auction house has featured here in the past. They hold several world records for toys, with a global following for the very best mechanical and tinplate examples made in Germany and the United States a century ago and more.
They took a quarter of a million dollars for a c1900 'Preacher at a Pulpit' mechanical bank. Another quarter of a million was bid for a Marklin paddle steamer of the same vintage, and $160,000 for a 36-inch First World War German battleship. When prices peaked a decade ago, Bertoia grossed an astonishing $12 million for a series of sales.
Bertoia have sold many Christmas-themed toys over the years, but what could be more appealing for a child than Santa's appearance on his sleigh?
Made by the Schwartz company in post-war Germany,  the 44-inch toy was operated by a simple key wind, which set off the nodding reindeer pulling the red-robed Santa Claus nodder (a new word?), seated in a wicker sleigh loaded with Steiff toys, dolls and boxes of toys for good children.
Santa and his reindeer were in good nodding order and the toy sold for $5700. This was around £4500, as I have to give a nod to the fluctuating exchange rates at the height of last month's Brexit shenanigans.
In the same sale, Bertoia took $20,000 for a mechanical bank in the form of a girl skipping.
I couldn't skip wishing all readers a very merry Christmas!
Picture: Santa and sleigh, £4500 (Bertoia Auctions).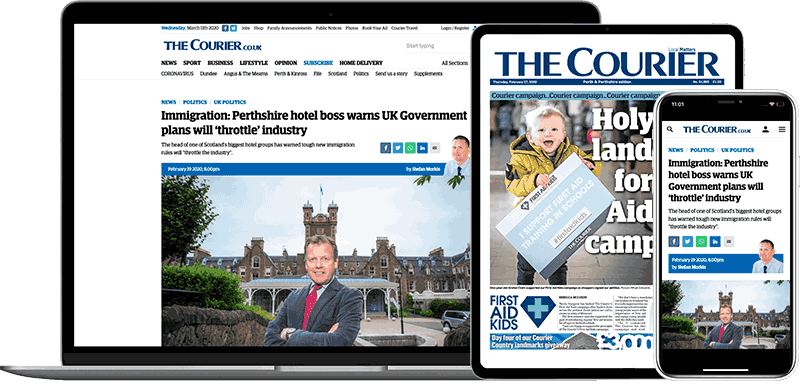 Help support quality local journalism … become a digital subscriber to The Courier
For as little as £5.99 a month you can access all of our content, including Premium articles.
Subscribe