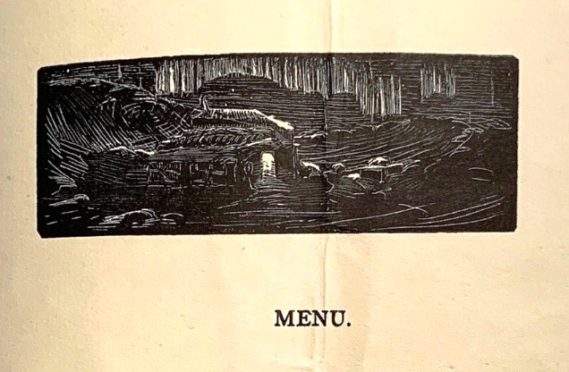 THE COURIER'S Saturday 'Menu' supplement is proudly the Scottish Newspaper Supplement of the Year. It is not the first Dundee 'menu' to make waves, however.
Lincolnshire auctioneer Golding Young & Mawer's sale on January 3 included a polar menu relating to Ernest Shackleton's British Antarctic Expedition of 1907-09. And Stroud Auction Rooms on January 9 sold a menu and – remarkably – a penguin egg, from Captain Scott's ill-fated Antarctic expedition of 1910-12.
Shackleton, of course, took the Dundee whaler Nimrod to the Antarctic in 1907, while Scott had Discovery built for him in Dundee in 1900 and used the town's Terra Nova for his second expedition.
The Golding Young & Mawer menu (illustrated) was contained in a loosely-bound copy of the 'Midwinter Celebration' programme produced by crewmembers Frank Wild and Ernest Joyce on an Albion Press at Winter Quarters, Cape Royds in June 1908.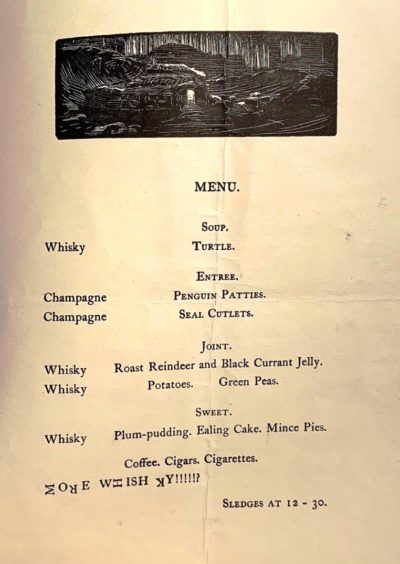 The programme, in its original pink card wrappers, comprises three pages with woodcut and etched illustrations. Famously its front cover bears a twin penguin printer's device, which has led to the event being called 'The Penguin Party'.
For its mid-winter feast, Shackleton's crew could enjoy turtle soup, penguin patties, roast reindeer, seal cutlets – and plum pudding. Whisky and champagne were on the table when the crew arrived 'by sledge' just after noon.
The menu topped the sale at £6400.
Meanwhile, a signed menu from a dinner for Captain Scott and his officers, two days before the Terra Nova sailed from Cardiff in 1910, made a 20-times estimate £5100 at the Stroud Auction Rooms.
The penguin egg, collected by expedition photographer Herbert Ponting, was contained in a glazed mahogany case. It sold to a London phone bidder for £9000 against a pre-sale estimate of £1000-£2000.