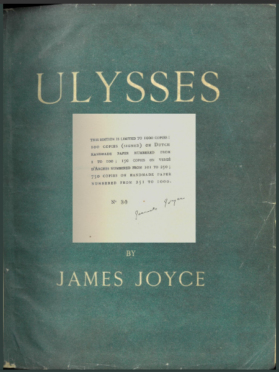 Kilkenny auction house Fonsie Mealy has a habit of setting the bar high when it sells items relating to the Irish novelist James Joyce.
Last year it sold a pair of spectacles used by Joyce when writing Ulysses for a 17-times estimate £15,130. Joyce apparently had trouble with his eyes from early adulthood.
In 2016, it took around £8500 for a 1935 copy of Ulysses after less than a minute of bidding.
On Tuesday, however, Fonsie Mealy will break new ground by selling the first signed edition of Ulysses ever offered at auction in Ireland.
Joyce's most famous novel was serialised in parts in an American journal from March 1918 to December 1920 before being published in its entirety in Paris in 1922, on Joyce's 40th birthday.
Over the years millions of copies of the work have been printed – I saw one propping up a window in the AK Bell Library – but it is that initial run of 1000 copies in Paris that is worth the most money. And, of this edition, it is the 100 books actually signed by the author that command the highest prices.
One of the precious 100 appears this week in Fonsie Mealy's Dublin sale. It carries the number 30. The first 100 from the 1922 edition were on special Dutch handmade paper and were signed. Numbers 101-250 were on Verge d'Arches paper (with pronounced laid lines for bookmaking) and 251-1000 on other handmade paper.
In 1922 the signed copies were priced new at 350 francs each. This example now carries an estimate of 70,000 to 90,000 euros (approximately £60,000-£80,000).
Picture: Signed copy of Ulysses (Fonsie Mealy Auctions).