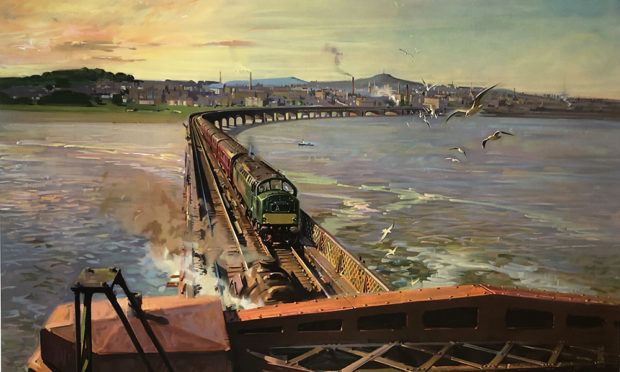 This will be a familiar scene to many of us – a train making landfall in Fife after crossing the Tay Bridge – though the backdrop of industrial Dundee in this magnificent Terence Cuneo poster from 1957 is scarcely recognisable in the modern city's waterfront.
The colour lithographed poster, measuring 50in x 40in, was printed by Waterlow & Sons and published by British Railways. It depicts a class 40 Diesel crossing Sir William Arrol's 3290 metre bridge of 1887, with the waters of the Firth of Tay stretching out on either side.
Tay Bridge – See Scotland by Train was produced for BR to promote rail travel to and within Scotland.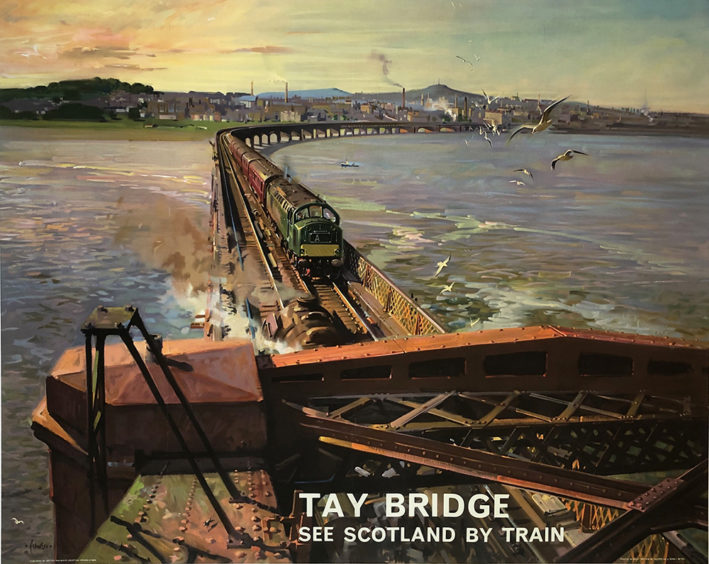 The artist, Terence Cuneo, studied at the Chelsea and Slade Art Schools from 1924 to 1927 and in addition to a long career designing posters of railway bridges, tracks and locomotive works, he also painted portraits (including The Queen and Field Marshal Montgomery), and made a wider name for himself after being commissioned to portray the 1953 Coronation. He also received many commissions from industry: the depiction of factories, mining and road building, including the M1.
To produce the preliminary drawings for this painting, the diesel locomotive and train were posed for the artist. Winds of up to 40mph blew through the bridge as he sketched the scene. Previously, he had to be lashed to the girders of the Forth Bridge in a gale to complete another railway drawing.
In very good condition, mounted on linen, the poster appeared at GW Railwayana Auctions of Worcestershire on July 13, where it was knocked down for £340.
Picture: Tay Bridge – See Scotland by Train, £340 (GW Railwayana Auctions).