With most auction publicity and Antiques Roadshow items being big budget nowadays, often in multiples of thousands, I am sometimes asked to recommend what to collect when funds are limited. I hope this week's piece suggests an answer.
This is a boxed set of silver teaspoons presented to mark Scotland's football encounter with Sweden in 1953, with each of the spoon handles topped by a delicately-modelled 'football' and below 'Sverige' (Sweden). The spoons came in a silk-lined and inscribed box and were presented to Tommy Docherty for his appearance in the game. Alas, Sweden beat Scotland in the match, played at Hampden Park in front of a crowd of 83,000.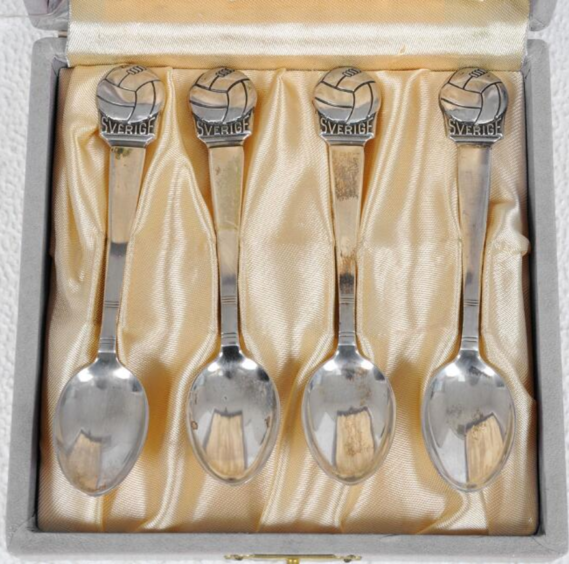 The spoons were made by Gunnar Fahlstrom of Stockholm and each spoon is hallmarked. The presentation box has 'Skottland v Sverige 6-5-1953' in gold lettering on its lid. A similar set is illustrated in the FIFA Museum Collection book.
The teaspoons appeared in Knights Sporting Auctions in Leicester on July 6, with hopes of £200-£300. Despite their quality, history, limited edition status and association to one of Scotland's greatest players and national team, they failed to meet a £160 reserve.
Hardly an argument for collecting teaspoons? Well, as this set shows, unusual examples can be purchased for a relatively modest sum. Boxed sets are attractive, easily stored, excellent for display and come in some fascinating formats – for example, relating to history or location, in different styles, such as Art Nouveau or Art Deco, perhaps made by local silversmiths, or simply good to look at.
And they can always be brought into use when it's cuppa time!
Picture: Swedish football spoons (Knights Auctions).