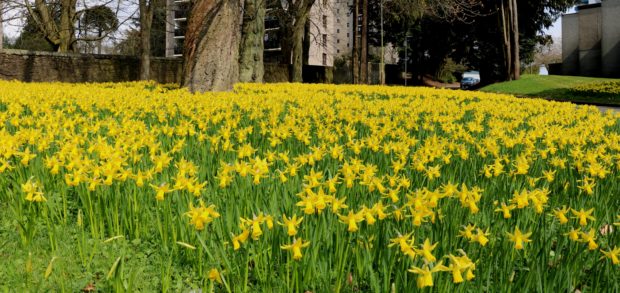 It only takes a few sunny warm and dry days to cheer us and the garden plants up, after the cold and very wet extended winter had to come to an end.
We can now wander around the garden (if we can get a few spare moments) and enjoy the first flowers a wee bit late, but very welcome.
Crocus seem to be huge this year and large established drifts really catch the eye, not only in my garden but also in numerous roadside verges.
Every autumn I seem to find another spot for a packet of 100 crocus to brighten up the borders and over time they have now become a major feature.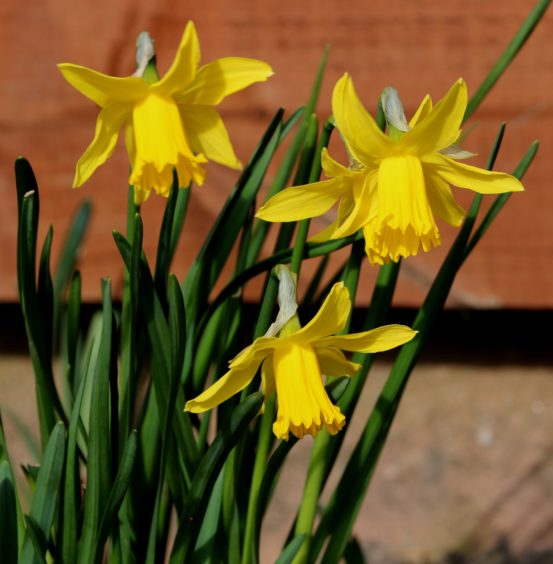 They start off the floral displays around the garden, and then the daffodils and narcissi quickly follow on.
They are another bulb that I always plant up a few more in the autumn as new varieties are hard to resist.
Both Dick Wilden and Replete are recent newcomers, but the double large heads are so heavy that they bend over and if the wind arrives they are liable to break off. Chionodoxa, Anemone blanda, Scillas and many other dwarf bulbs are spring up into the sunlight to add to the show.
They will be followed by the grape hyacinths which are very successful in getting established into large solid drifts.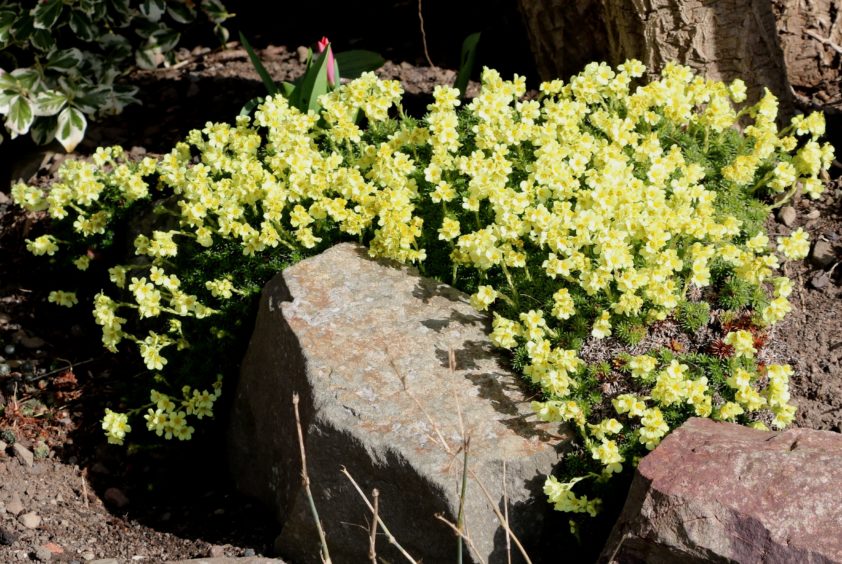 I have one large area of grape hyacinths underplanted with tulips and these are underplanted with oriental lilies so I get several displays over spring and summer.
The first tulip to flower in mid March is the dwarf Tulip kaufmanniana Scarlet Baby and this year nearly at the same time as my yellow saxifrage.
The blue ground hugging Pulmonaria is now in flower but early tulips designed to flower at the same time are a good three weeks behind.
Tubs and hanging baskets with pansies, wallflower and polyanthus have now all started to flower and I couldn't resist a batch of polyanthus full of bright colours in a local store, so they are now adding some colour to a bare patch after removing some shrubs past their best.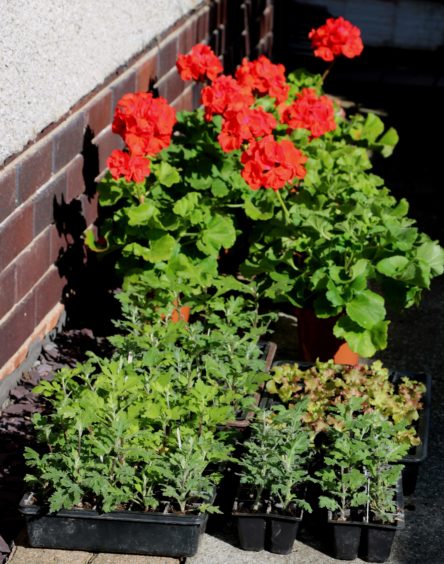 Rhododendron praecox has been in flower most of March and this year there has been no late frost to spoil the blooms.
The red flowered Cammelia Adolphe Audusson and pink Donation are now in flower. They have always been very reliable and will soon be joined by many other rhododendrons and Azaleas making up another major garden display.
Indoors my Zygocactus truncatus, the Christmas cactus has lost all sense of timing. Christmas is well past and it is only now coming into full flower.
In most other years it flowers just ahead of Christmas and my pink Phalaenopsis orchid which normally has at least thirty flowers along the stem has only got three flowers this year.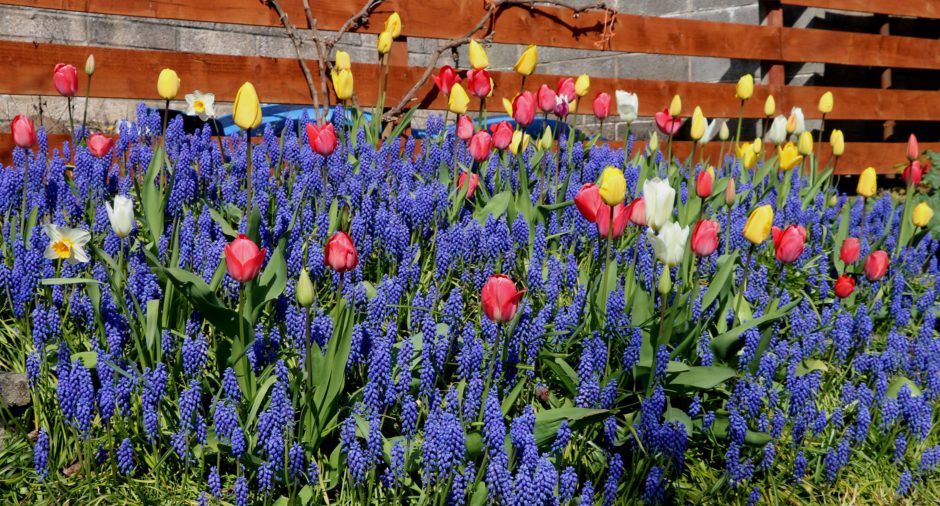 I know last year was wet and lacked sunshine up north, but the orchid gets the warmth indoors, so hard to blame the weather.
In the greenhouse chrysanthemum cuttings were well rooted by mid March so they all got potted up and once established they are hardy enough to go outdoors.
A batch of oriental lily bulbs arrived by mail order and got potted up as the ground was too wet to plant them out.
I will keep them in the greenhouse till end March, then harden them off for planting out in April.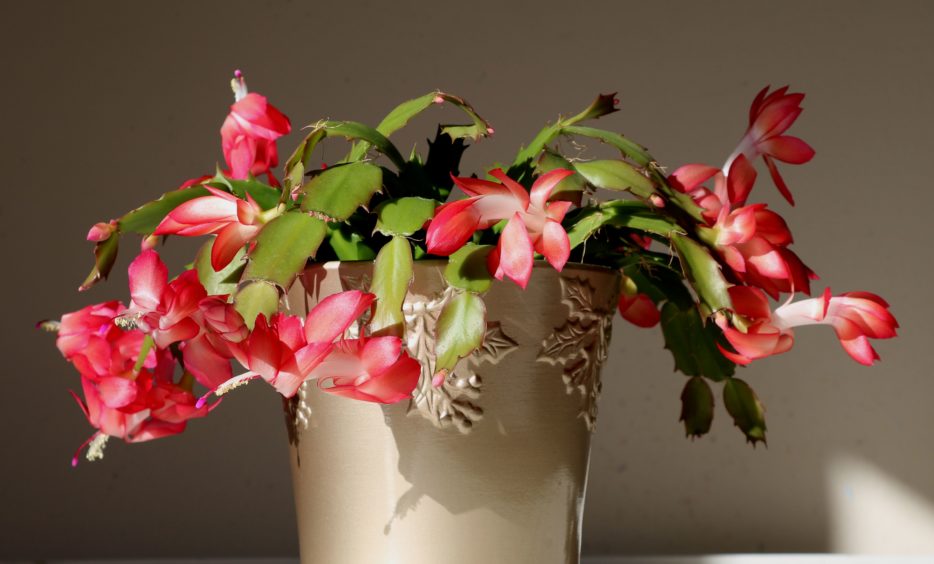 Tuberous begonias were brought out from store and boxed up at the beginning of March.
I keep these on plastic trays in my house as they like warm conditions, but as soon as they begin to grow they will get transferred to my cold greenhouse.
Tomatoes, lettuce, rocket and spring onions sown in early March and kept on a windowsill in a warm room soon germinated and got transplanted into cellular trays. They will go into the greenhouse at the end of March to grow on for a couple of weeks before hardening off for planting outdoors, except for the tomatoes which will stay under glass.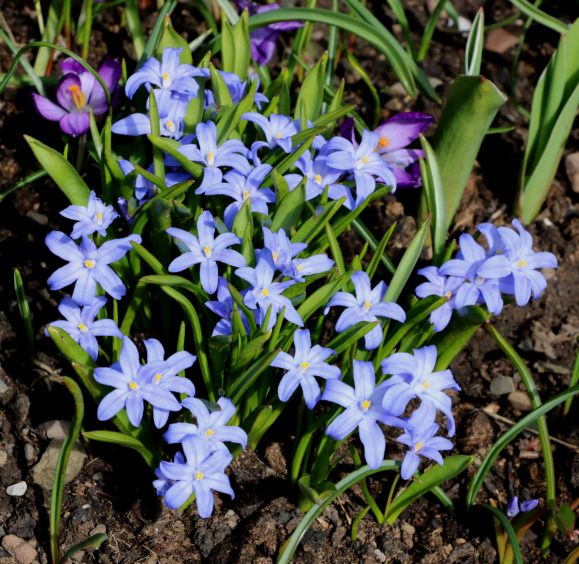 They will get planted later once more space is available.
Wee jobs to do this week
The greenhouse is becoming packed out with plants now we are in the middle of the indoor seed sowing season and as plants on windowsills need more space they need the greenhouse.
So geraniums, rooted chrysanthemum cuttings and stools and young sweet pea plants are all deemed tough enough to get hardened off outdoors.
Later on the broad beans will be next to get some fresh air as they are also quite hardy.