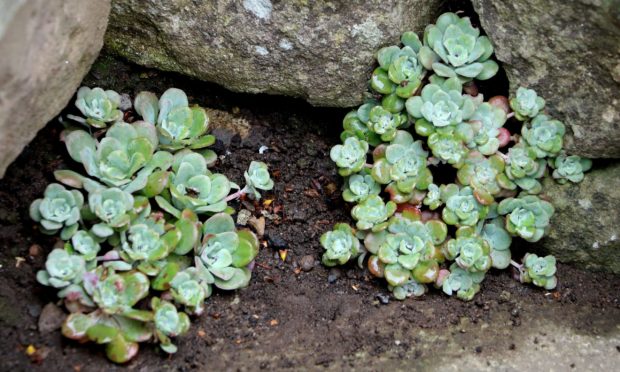 In my early years of horticultural training at Balfour Street Trades school, Kingsway Technical College, then at Chelmsford Agricultural College we learned how to create a garden and grow crops on all kinds of soils.
For low lying wet soils it was waterside plants, bog and ponds with a range of plants that enjoyed those conditions.
Many areas in north west Scotland on heavy clay soils with high rainfall have problems, but rhododendrons, azaleas, turnips, swedes, kale and cabbages all just love it once some soil amelioration and drainage are attended to.
Gardens down in the south east can be on deep peaty fen soils that are great once drained. Some coastal locations on sandy soils needed plants that could grow on dry soils and tolerate salt water spray.
However it is not just soil type that affects plants but also climate which changes from north to south as well as west to east.
Up in Tayside we miss out on all of these heatwaves enjoyed by those in the south, but we also miss out on all the rain which arrives in the west of Scotland.
Training in horticulture covered all of these variables over the UK, but today we also have additional problems with climate change and very erratic weather patterns that are hard to work with.
After a very wet 2019 year we have just come through a very dry spring, with cloudless skies and almost devoid of any rainfall from early April to mid June, though we did get a wee April shower at the end of April.
The garden hose was in constant use and even although the weather forecasts promised a few showers for our area, they always missed Dundee, except one thunderstorm arriving on 21st June with gales and hailstones.
That did help to add moisture to both garden and allotment.
However that long dry spell did make me think on what changes I would make to the garden if dry conditions prevailed.
Over the years I have continuously added more plants and removed those that died as soil and climate were not to their liking.
The 2010 severe winter killed out many plants, but then surprisingly several came back to life a couple of years later.
My palm tree Cordyline australis (great for dry soils) died back to soil level but grew back again after two years, however my well established date palm never survived.
Fuchsia Mrs Popple regularly dies back to ground level but always comes back in spring. Many of my dry areas have been improved by adding in garden compost to add fertility and retain moisture.
My garden is on a south facing slope with soil on several levels retained by walls so there are many dry spots to find plants for, especially in cracks in the wall as well as on top of it.
The landscape structure uses several flowering shrubs preferring dry conditions such as lavender, rosemary, Euonymus, both the silver form, Emerald Gaiety, the golden leaved Emerald n Gold, and the pink flowered Cistus purpureus.
Plants with silver to grey foliage which reflects the hot suns rays are favourite for dry gardens.
Eucalyptus makes a very attractive tree and the shrub Senecio with yellow flowers is superb on top of dry walls next to the succulent Delosperma cooperi with purple flowers, and Erigeron with mauve flowers all in flower in June.
The brooms Genista Lydia, Genista hispanica and Cytisus praecox will also thrive in dry conditions, as will many garden Pinks such as Dianthus Doris.
Down at ground level the yellow flowered Delosperma nubigenum smothers the ground and can also be grown in cracks in dry walls by pushing a few shoots into a crack where it soon roots and grows quite happily.
Both the ground hugging Sedums and Sempervivum will be happy in crevices in wall as well as on top.
To add some colour in the summer months try a few annuals such as poppies, Livingston daisies, Nigella, Osteospermums, Nemesia and Geraniums, but if dry weather prevails it will be back out with the hose to make sure they thrive.
Wee jobs to do this week
Tomatoes are usually grown as single stem cordons with all sideshoots removed, and some form of support is needed. Canes are often used or strong polypropylene twine suspended from roof wires with the tomato cordons twisted around the twine as they grow. Side shoots need removing about twice a week. Grapes under glass also need removal of sideshoots twice a week but outdoor grapes grow more slowly so remove side shoots about once a week throughout summer.