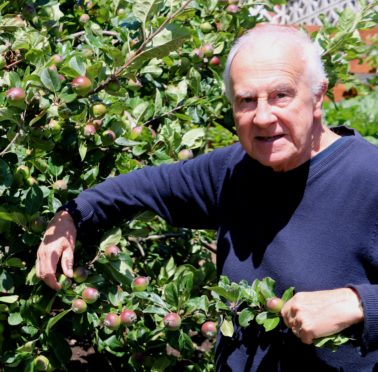 The fruit picking season has got off to a flying start with strawberries enjoying the long sunny weather followed by a period of plentiful rainfall to make sure they never suffered from drought.
I was picking my early variety Christine from the end of May.
Other mid season varieties as well as my everbearing autumn variety Flamenco are all bearing crops.
Just hope the season keeps going, but at present it is strawberries for breakfast, lunch and a snack in the evening almost daily, and Anna makes sure there is plenty jam and scones.
There has been plenty surplus to add to the freezer to keep us going well into next year.
Mice have been a nuisance, nibbling the outer seeds off berries which then quickly rot, so action will be taken.
I know they just love a bit of blue cheese; well it will be their last meal.
Red currants look to be the next crop to ripen up, and they also need to be netted as the local blackbird is very partial to a few red currants.
Red currants are quite prolific croppers so Anna gets plenty for the kitchen and freezer and I get my ten pounds to start off my wine brewing season.
This will give me three demijohns to lay down after fermentation and siphoning off the lees.
I usually leave them for three years to mature before bottling up.
Blackcurrants are already very heavy with crops so my Ben Conan, which is blessed with very large berries, had to be staked to prevent the branches laden with berries from trailing onto the soil.
Blackcurrant Big Ben also has very large berries with even sweeter fruit so can be used in desserts, compote and jam, as well as wine.
Gooseberries are another fruit that is cropping at full capacity, but the recent thunderstorms with torrential rain did a bit of fruit thinning.
However there is still plenty left to swell up and ripen.
They are brilliant as compote, added to some jams and surplus put in freezer as well as leaving me with my ten pounds for brewing.
Raspberries are still growing and as yet the fruit is still to start to colour up but again looks like another great crop, though constant watering was necessary during the dry months from April till early June.
Saskatoons are starting to colour up so they will get netted so blackbirds cannot get access otherwise they would strip them bare in a few days, even those berries not yet ripe.
Saskatoons are favourite added to rhubarb for jam, as the berries are sweet and the rhubarb balances this with some acidity.
However I need another ten pounds for my brewing programme.
Although I usually keep saskatoon wine for three years, last year I tried a surplus bottle at six weeks old and it was perfect.
Rhubarb has been growing very fast so picking has been prolific and no need yet to stop, though I keep checking as it needs a rest at end of summer to build up good crowns for next year.
Figs, Brambles and Blueberries normally ripen in August but progress looks good in all except the blueberries that suffered when gales swept across the land in June and shredded off all the leaves.
Cape Gooseberries were grown on my allotment a few years ago, but following a few bad summers when they just would not ripen I gave them a miss.
They are a lovely fruit so they are back this year in large pots against a sheltered south facing wall and all are in flower, so hopefully we will be sampling them before too long.
Wee jobs to do this week
Apple June drop in Tayside was on time this year, so we can assess the young apple clusters left on the tree and thin out where there is still too many apples. The natural June drop only removes a small number, so further thinning is required. Aim to leave only one or two fruits per cluster and at least 4 to 6 inches apart. Remove any with damage or misshapen fruits and the king fruit. This is usually the biggest at the centre of the cluster and is often misshapen. Thinning allows the remaining apples to grow bigger.