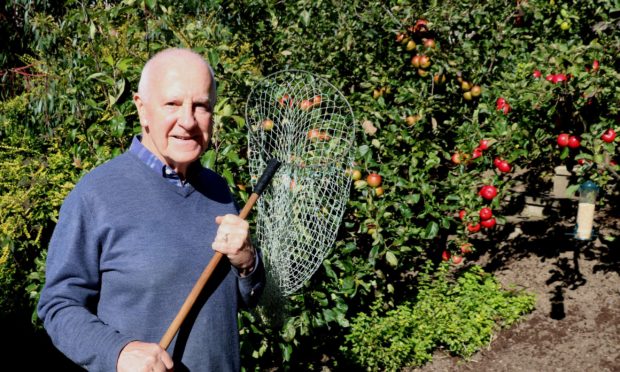 There has been a very remarkable change in the gardeners weather pattern.
Climate change has not only given us mild wetter winters and more summer rainfall, but there has also been a lot more gales to live with.
This year raspberry canes got flattened, roses got the flowers blown off and pears and blueberry leaves and young fruit got shrivelled up in the spring and summer gales.
Where ever possible garden design can help to mitigate these problems by planting up the perimeters with tall trees and shrubs to give the garden some shelter, especially on the south west side where most prevailing winds come from.
During the long periods in lockdown we had more time, to relax in the sun on the patio.
However some planting may be required to give us a bit of privacy.
There are any amount of plants that can be used for shelter and privacy, but garden size may well determine what we can use.
Trees and shrubs should also have merit of flowers, autumn colour, coloured bark or even edible fruit, and where trespassers may be a problem, go for plants with thorns such as pyracantha, the Firethorn.
For the very large gardens mature trees of beech, oak, maple and hornbeam may be fine and if evergreens are preferred use, pine, spruce or cedars.
My favourite has always been Cedrus atlantica glauca, but I soon realised my wee garden could not contain it once it started to put on a bit of growth.
I have never been a lover of hedges, as they are not attractive and need a lot of maintenance, and the one very popular hedging conifer at the top of the hate list is the Leyland cypress, unfortunately still a favourite for those without a clue.
A few other on my hate list is holly and Berberis darwinii with spiky leaves a nightmare when hand weeding close by, and Cotoneaster simonsii which seeds profusely all over the garden.
However many tall shrubs will both give shelter as well as fantastic flower displays such as Rhododendrons, Azaleas, Camellias, Escallonia, Philadelphus and Fuchsia Mrs Popple.
The Japanese maple Acer Sango-kaku has brilliant autumn colours as well as bright red stems and the hardy palm Cordyline australis is always a touch of the exotic.
Lonicera Baggesons Gold is an attractive evergreen golden shrub about six feet tall, and is so dense it is a favourite for nesting birds.
Three small trees excellent for perimeter planting is the white flowered Eucryphia Rostrevor, the upright columnar pink cherry, Prunus Amanogawa, and the golden leaved Robinia frisia.
Most gardens now come with walls and fences around the perimeter and these can support a range of flowering climbers and edible plants.
I have been experimenting with hardy grape vines to see what will ripen in Scotland.
The variety Brant is tops and although the bunches are not big, they are black, sweet and juicy and the pips are so small they are easy to swallow.
Regent and Rondo are fine but need a good autumn to ripen up the grapes.
Another very successful exotic is the fig Brown Turkey giving about a hundred fruits each year from a ten year old bush.
Other edible fruits can include apples, pears, plums to grow a few metres high, and some come on dwarfing rootstocks to keep size down and some apples come as narrow columnar trees.
For something smaller try saskatoons, brambles or even a row of raspberries very much at home in Scotland.
Our local James Hutton Institute has breeders working on raspberries, blackberries, blackcurrants, blueberries and honey berries.
Although plants are bred for commercial markets there is always a spin off for gardeners. Breeder Nikki Jennings latest raspberry to be released is Glen Mor with large sweet berries in early summer, then Lewis and Skye for an autumn crop.
Nikki has bred a very promising blackberry with large sweet fruit and is a heavy cropper.
It is still being assessed so is not yet named, but make a note of selection number 11. Could make a perfect edible boundary hedge.
Wee jobs to do this week
This year apple, plum and pear crops are ripening up a fortnight earlier than last year so keep checking them and harvest any that have ripened up.
Cut an apple open and if the seeds are dark brown the fruit will be fine. Apple Oslin ripens at end of August followed by Discovery in mid September.
Pears are usually best left about a week in store after picking to let them ripen up.