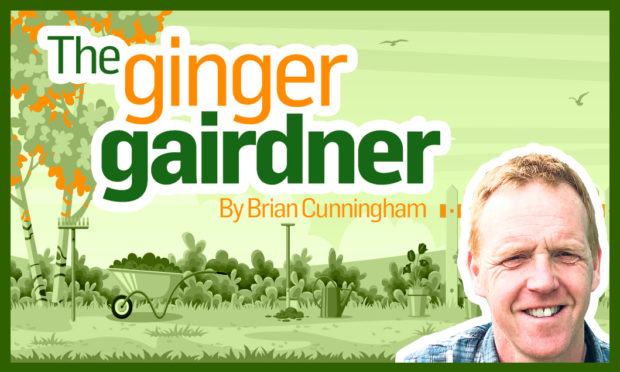 As many as three million people in Britain have begun gardening since lockdown began, Brian Cunningham writes, and he's got some great tips for go-to information.
A recent survey carried out by the Horticultural Trades Association (HTA) who represent our garden centres and plant growers, has found that Britain could have as many as three million new gardeners as a result of lockdown. When times are tough we still need to keep going, focusing on the positives and this is great news for our industry.
Stuck at home, unable to pursue usual pastimes the focus for many has turned to their gardens, hopefully now realising the room outside the home is as valuable a space as those inside it. If not more so.
The challenge now we 'older hands' have is keeping these new gardeners. I've heard a few stories already of those a bit miffed that they didn't get a crop from the tomato plants they bought, a wee bit of help and guidance from some of us is may be all that they need to have a more successful attempt next year.
Good Scottish gardening books
We are lucky enough in Britain to have the Royal Horticultural Society to enhance our gardening knowledge. They have produced many encyclopaedias, gardening books and online tutorials.
As great as these are, unfortunately much of their works are more suited to gardeners in the southern parts of the country. We only need to watch a weather forecast to see the difference in temperatures between Dover in the south and Thurso up in the north. Also factor in rainfall, drought, wind and frosts then these RHS works may not be as helpful as they could be, so it's brilliant that we have a wealth of our own media to focus on gardening in Scotland.
You cant beat a good book and if I can recommend any to a new gardener it would be two by Ken Cox. Written with Raoul Curtis-Machin there is 'Garden Plants for Scotland', an encyclopaedia of plants with information on their ultimate size and where they are perfect for in your garden including any special growing requirements they may have. For those of you keen to grow your own, he has also written 'Fruit and Vegetables for Scotland' with Caroline Beaton, containing advice from kitchen gardeners around the country.
My favourite tip in this book is a method you can use when needing to check if the soil temperature is warm enough for sowing seed. Instead of using a soil thermometer, the most logical method, try sitting on the soil with your bare bottom, if you jump straight up you'll know it's still too cold!
I keep asking but the producer of Beechgrove Garden just refuses to let me demonstrate this method on the programme.
TV shows and magazines
Beechgrove has been a regular on our screens giving us gardening advice to us all for over 40 years. Some of our country's top gardeners (and me) such as Jim McColl, Carole Baxter and George Anderson, have been carrying out plant trials and practical demonstrations up in Aberdeen, with the reasoning if a plant can successfully be grown there it can grow anywhere in Scotland.
Magazines, that come out on weekly and monthly basis, are a great source of information and we have a Scot to thank for this.  J C Loudon the botanist and garden designer, who I first got to know of as the man who laid out the grounds and landscape around Scone Palace, also started off what was to be the first gardening magazine back in 1826. Today there are many to choose from but thankfully there are two that focus just for the needs of the Scottish gardener.
Aptly this is the title of the first magazine which has been going for a few years now and has recently been joined by the Scottish Gardening magazine. Yes I agree, you can't disguise the confusing similarities in the names,  but both titles hit the spot and are full of articles from gardeners both amateur and professional. Subjects range from lawn care to small spaces, and designers explaining how to improve our own gardens. What I find interesting is the news they feature on the various community and therapeutic projects that are going on around the country.
Social media
The positive side to social media means we can all be a member of the online gardening community, enjoying what others are getting up to in their gardens, posting pictures of our own successes and failures.
If needing some advice this is a great place to get an almost instant answer which can be very handy when seeking that wee bit of reassurance to complete a job.
For me the glasshouse or potting shed is synonymous with a cup of tea and a radio. I'll rarely refuse a cuppa and although i'm not quite at the stage of listening to 'The Archers' yet, there are times I enjoy a bit of chat in the background when I'm working. Like our magazines there are plenty to choose from but I do now and then enjoy catching up with the Scottish Garden podcast which I find an enjoyable short listen.
There's no doubt gardening can pose us a challenge or two but with this amount of local resource and knowledge to help us, things can become that little bit easier.
Brian Cunningham is a presenter on the BBC's Beechgrove Garden. Follow him on Twitter @gingergairdner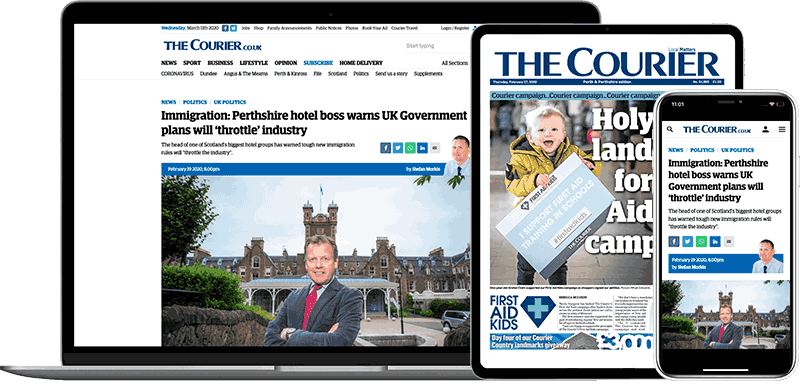 Help support quality local journalism … become a digital subscriber to The Courier
For as little as £5.99 a month you can access all of our content, including Premium articles.
Subscribe