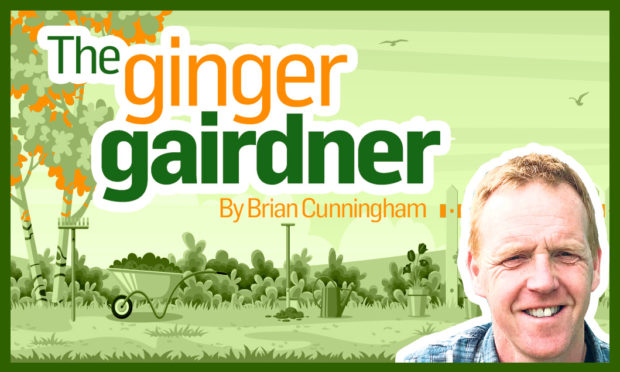 At this point in the season, it doesn't seem to matter where we look as every view is filled with the most fabulous autumn colours, says Brian Cunningham.
Tall trees of sycamore, birch and beech give us yellow through to reddish brown, whilst the fiery orange-reds on the next layer down come from rowans and cherry trees.
The display continues with the shrubs in our gardens: witch hazels, the staghorn sumac and wonderful Persian ironwood whose green leaves turn crimson and yellow. However, surely the finest plant of them all for autumn glory has to be the acer.
The genus acer is a large group of plants but the first to spring to mind for most of us would always be those of the Japanese maples. We don't provide them a place in our gardens as a flowering plant but rather for their leaf shape and colour. These ornamental shrubs and small trees, in my view, bring a touch of class to any garden.
Many varieties
Acer palmatum grows in the native forests of Japan up to 1,300m above sea level, being a plant quite happy to produce many variations in its natural habitat. During the country's peaceful Edo era of 1603–1867, the love for developing them further intensified where, at its height, more than 250 cultivated varieties were being grown in the gardens of Japan or as the art of bonsai in a pot.
Japanese maples also include forms of A. japonicum and A. shirasawanum, their leaf shape usually lobed, like the palm of your hand – though you can also get more delicate foliaged plants too such as A. palmatum var dissectum which has more finely cut, feathery leaves.
This plant makes a very impressive dome-shape anything up to a good couple of metres in height. I especially love the purple-coloured version, viewing these plants in terraced gravel gardens, next to water features.
Before digging into the ground, it's always a good idea to look at a plant's qualities before deciding the right place for it go. When at eye level, looking down to the upper side of the leaves of the variety Bloodgood, they hold a deep purple-red colour. If you can view this plant from below, either from the bottom of a path or having it slightly raised, then the foliage from beneath appears the brightest red.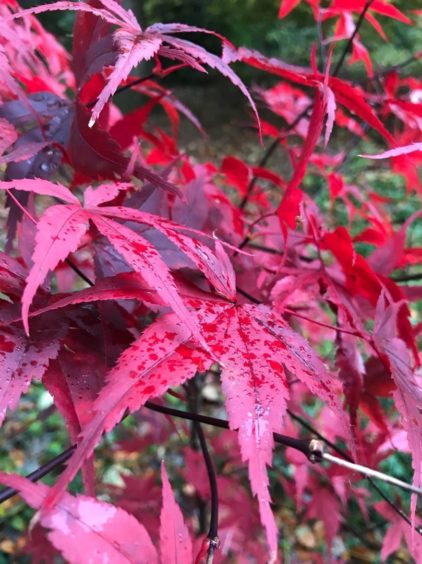 The same goes for Osakazuki, whose green summer leaves blend in gently with the dark green foliage of a yew tree, also acting as the perfect backdrop once the leaves turn a vibrant scarlet come autumn time.
Yew is also a good foil for the yellow-green summer foliage of Sango-kaku though this tough plant is not all about the foliage. The name of this plant means "coral tower" which describes this plant perfectly reaching six metres tall with red shoots, extending its interest into wintertime, especially attractive after snowfall.
Planting tips
Maples like to grow in moist, well-drained soil – slightly acidic being the most ideal. When planting, the hole should be dug deep enough so that the compost in the pot is level with the surface of the soil.
If, like me, you garden on a heavier clay soil you may want to plant slightly more proud. Ensure the rest of the roots are covered over with a mulch of compost which stops them from drying out during the growing season and also adds a protective layer from low winter temperatures.
Although they can tolerate some, a clear mistake I have made is trying to grow a Japanese maple in full shade. The plant is still healthy enough but has put on very little growth over the four years it has been in the ground so once all the leaves have fallen off, I intend to carefully dig the plant up and transplant it to a spot where it will receive more sunlight.
Naturally, being woodland plants combined with their elegant quality, they are perfect for many different garden situations and the ideal partner for other plants. Tall acers can be under planted with dwarf rhododendron looking nice beside, camellia and mahonia.
The bright yellow-green foliage of A. shirasawanum Aureum looks lovely combined with creamy white deciduous azaleas and perennials such as hostas, tall grassy-foliaged Siberian irises, the silver heart-shaped leaves that are veined with green of Brunnera Jack Frost and the stunning Himalayan blue-poppy.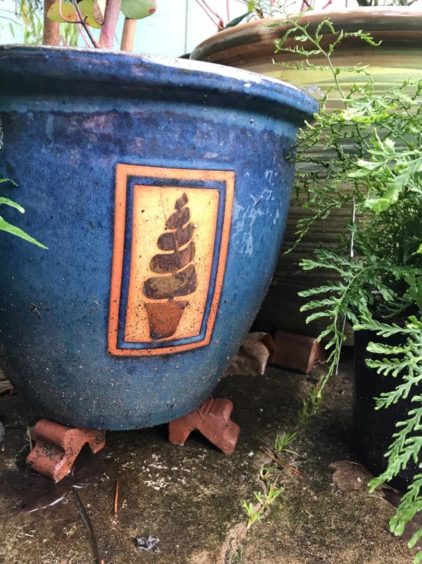 Wee job for the weekend
I came home the other day to find that my containers with a lovely grey-green leaved Eucalyptus gunni had been blown over during windy weather.
I've got away with it this time without any damage but, nonetheless, a timely reminder we need to reposition any pots to a sheltered spot in the garden for the rest of autumn and winter.
Even better into a glasshouse or shed where they can be kept in a frost-free environment, especially if you have any pots with tender plants.
It's not just the cold we have to worry about over the coming weeks and months but the effects of too much rain, which can rot our container plants. It's good to have your pots slightly raised off the ground by the use of special feet, this will allow any excess water to run through and out the drainage holes at the bottom.
Brian Cunningham is a presenter on BBC's Beechgrove Garden and head gardener at Scone Palace.