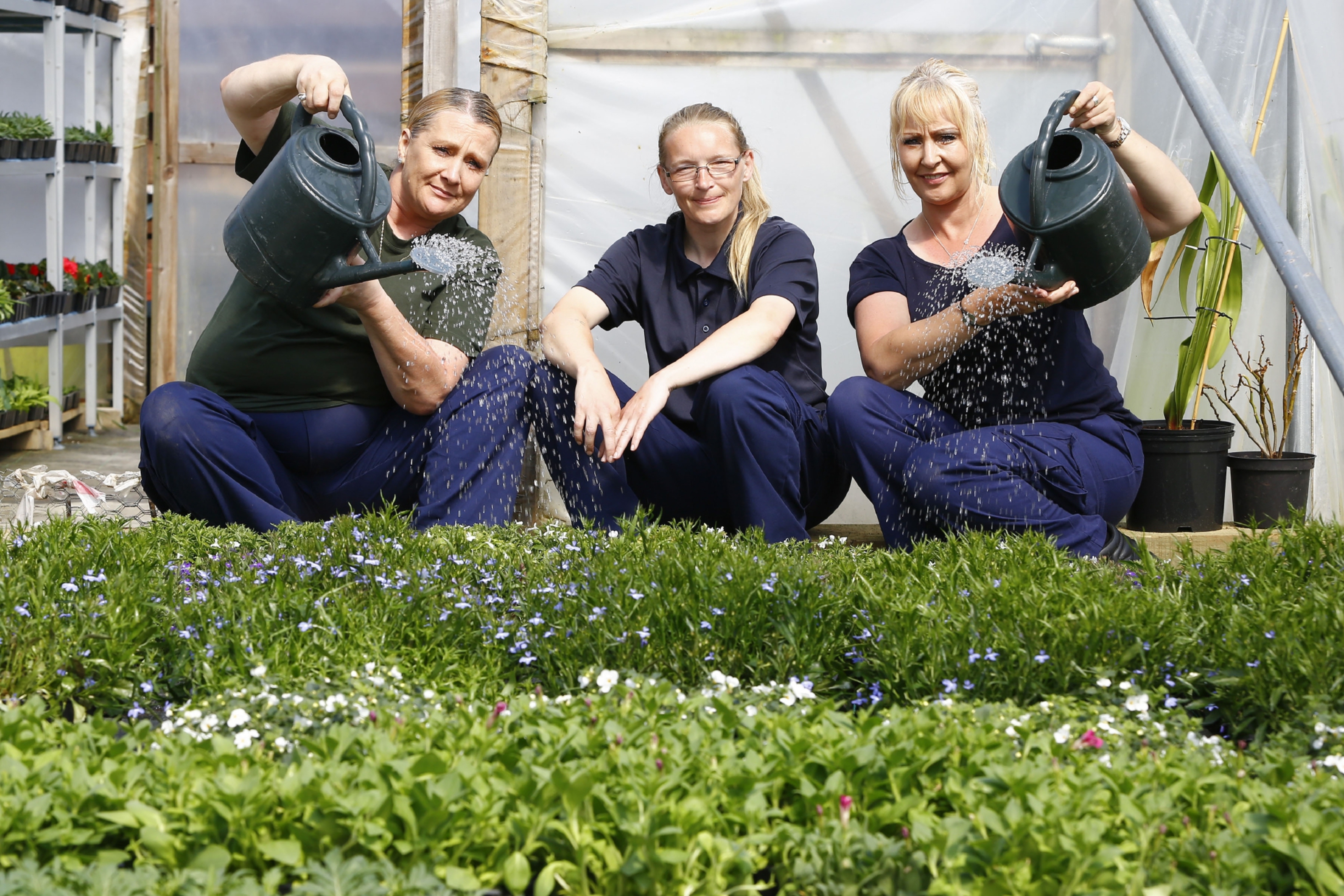 Inmates at two of Scotland's prisons are creating a show garden for Gardening Scotland 2016. Gayle Ritchie was granted access to Cornton Vale to meet those involved…
Four women in matching blue trousers are tending a vast collection of begonias.
They stop for a second to breathe fresh air, as it's roasting inside the plastic polytunnels.
They chat away like old friends as they work together to create a garden to showcase at Gardening Scotland 2016, which takes place from June 3 to 5 at Ingliston.
But these women are no ordinary gardeners – they are inmates at Cornton Vale prison in Stirling.
Their "prison garden" will showcase the horticultural knowledge and skills they've learned, taking visitors on a journey through their lives – from the initial dark and lonely days through to the brighter moments of creating new friendships and embarking on new endeavours.
More than 40 prisoners are involved in the project – some from Cornton Vale and others from Glenochil prison in Alloa.
I've been granted access to Cornton Vale to meet some of those involved.
Once I'm through security, regimes first line manager Jim McFarlane leads me into the main outdoors complex, passing manicured lawns and areas landscaped with colourful flowers, hanging baskets and an ornate bicycle planter – all the handiwork of prisoners.
Under the watchful eyes of Jim and gardens officer instructor Leanne Hamilton, prisoners work in the garden Monday to Friday, with some also helping out at weekends.
Three of the four women I meet are serving life sentences, but Dawn, 37, has been inside for seven years and is hopeful of being released in 2018.
"I've found myself through gardening," she tells me, while expertly deadheading a petunia.
"I didn't think the work would be for me but I really enjoy it. It's great to be out in the fresh air. It's so therapeutic and when you watch a seed you've planted and potted grow, there's a big sense of achievement."
It's also a chance for prisoners to gain horticulture qualifications (Dawn has a couple of SVQs) so that when they are released, they have something to offer potential employers.
Lifer Yasmin, 22, is excited about the vegetables she's nurtured. Pointing to a bucket filled with radishes, she grins and tells me she can't wait to eat them.
"It's brilliant when you start from nothing and end up with radishes, lettuce, spring onions and fruit like grapes," she says.
"We grow everything from begonias, petunias, verbena, dahlias, geraniums, lobelia, cosmos and marigolds to peas, tomatoes, chillis and herbs like dill, lavender and sweet basil."
Wendy, 50, says gardening is "the best work party in the jail". As she waters a row of begonias, she tells me: "It's good exercise, helps with mental health and gets you into the fresh air – even when it's snowing."
And Hilda, 49, says she enjoys gardening so much, she wishes she'd taken it up decades ago. "I'd never done this before but it's had such a positive impact on my life," she says.
"It's good to be able to create something nice and even better when you know people outside are going to see it."
There are 15 women involved in the project but just two of them – including Dawn – will be at Gardening Scotland in person, helping to set up and plant it out.
While the show is the main focus, the garden is a year round project, with prisoners producing plants and flowers for local churches and nursing homes. Money raised from plant sales is donated to charities.
Jim allocates jobs to prisoners and says gardening is one of the top jobs. "People can't really get angry with plants," he smiles.
He believes giving prisoners gardening experience will help them in the outside world. "It helps them gain confidence and they can take this experience with them so that when they leave, they can go and get a job in gardening," he says.
Leanne, who used to work at St Andrews Botanic Garden, says it's her job to help transform prisoners' lives via gardening. "They learn so much – how to grow, prune, deadhead, how to use tools, create borders and rotate crops," she says.
The show garden will also feature what Leanne describes as a "tree of hope". This structure will showcase messages, and in some cases, poems written by prisoners on paper leaves.
"They're messages to take from the jail," says Leanne, showing me a huge pile of "leaves". One reads: "Turn the leaf on to the other side. Make my old life over and my new life fine. God bless all the girls in Cornton Vale."
Another states: "I had forgotten the joy of being outdoors. Of having fresh air and sun on my face. For this I am thankful of there being a gardening party."
Leanne says the prison garden, which is titled Within these walls – a journey inside, will take visitors through a prisoner's journey, "from starting off being alone and in a bad place, to getting better, making friends, learning new skills and feeling a sense of hope".
The prison garden is one of eight inspirational gardens being showcased at Gardening Scotland.
Dundee College students' offering looks at the life and works of William Gardiner, one of the country's most respected field botanists.
The display will feature a bothy workshop and replicate Scottish moorland with flora found in the Angus glens.
Macmillan Cancer Support has created a garden which highlights the difficulties people dealing with cancer face, and how barriers can be broken down. The garden will be split into two sections separated by a large brick wall – with simulated wasteland on one side, and a lush garden of Eden on the other.
Martin Dare, Gardening Scotland's show organiser, said: "As well as showcasing some of the finest floral delights that Scotland has to offer, each of the gardens tell their own story and offer a creative outlet for visitors and exhibitors to cherish and enjoy."
info
Gardening Scotland 2016 takes place within the grounds of the Royal Highland Centre at Ingliston from June 3 to 5. It promises to provide everything from an abundance of beautiful plants to tools, equipment, garden furniture and all the inspiration you could need to make your garden grow.
Children get free entry and there will be abundance of activities to keep them entertained. The dedicated Big Back Garden will play host to Glasgow Science Centre which will be promoting healthy living in the outdoors, encouraging the whole family to get active in the garden.
The award-winning author of the books behind the hit CBeebies show Katie Morag will be another of the key highlights. Gardening Scotland's charity partner, NSPCC Scotland, has announced that Mairi Hedderwick, from Kiltarlity near Beauly, will be reading her popular Katie Morag stories in the Storytelling Tipi on June 4.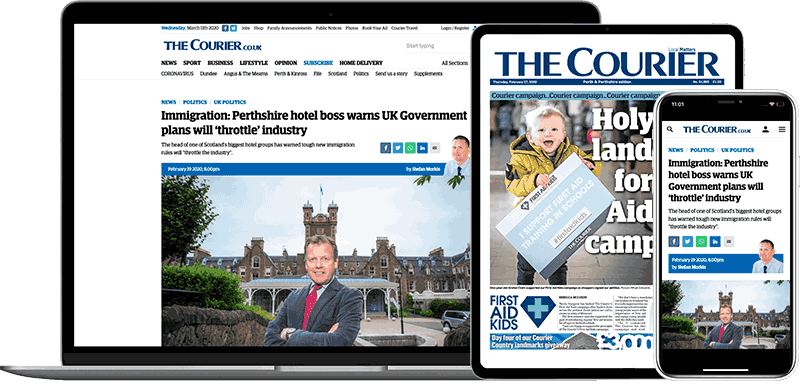 Help support quality local journalism … become a digital subscriber to The Courier
For as little as £5.99 a month you can access all of our content, including Premium articles.
Subscribe