Michael Alexander speaks to some of the volunteers who help make Fife and Tayside's towns blooming marvellous as floral judges again prepare to cast their eye over local entries to annual bloom competitions.
The dining room table of Mary and Ronnie Law's bungalow is a well ordered clutter of activity. Piles of ring binders and folders cover the work surface while charts and spread sheets suggest some major planning is at work.
Visitors to their Cuparmuir home in the rural heart of North East Fife might be forgiven for thinking this is the strategic heart of some corporate empire.
After all, Ronnie, 83, is a well-known retired local entrepreneur whose name was synonymous with the nearby and now-closed family sawmill for decades.
But it's the trophies and carefully folded high visibility jackets which reveal this is in fact the nerve centre for a much more down to earth operation.
That's because Mary, 79, is chairperson of the multi-award winning Cupar in Bloom – a dedicated band of volunteers who strive to ensure Cupar remains blooming lovely – and it's here that she, and other volunteers, run their all-year-round campaign to compete for top floral prizes.
Since launching in 2004 with Mary at the helm, Cupar in Bloom has claimed many titles.
But arguably the group's greatest achievement came in April when they were stunned to be told they had won the town category award at last year's prestigious Royal Horticultural Society Britain in Bloom competition.
The Fife market town originally lost out to Falmouth in Cornwall with the local council there saying the award meant "so much to us".
Bungle
But it was revealed six months later that an administrative bungle by organisers meant the English town had been entered in the wrong category.
When the error was realised, judges immediately contacted Cupar in Bloom who were then presented with the prize.
The Cupar group had scooped gold in the town category at the ceremony in Sunderland in October but this latest honour meant Cupar was officially the best of the best.
"It wasn't really made clear how the mistake had been made, "explains Mary, a retired primary school teacher and grandmother of one, who, in 2002, was awarded the MBE for her services to another group – Cupar Floral Art Club – and her efforts fundraising for charity.
"It seemed to be to do with population. But my enthusiastic team were over the moon with the newly disclosed news that we were the winner. It was a great achievement for our town and exemplifies how everyone works together to take a pride in Cupar."
Judged on the flowers as well as community enterprise and environmental  awareness, the largely retired volunteers, currently comprising 18 women and two men, source their plug plants from St Monans and then nurture them in greenhouses at Cupar's Elmwood College. When the time is right, they then plant out the begonias and petunias in 200 baskets and 120 planters throughout the town.
Colourful
This year, Crossgate has been planted with pinks whilst St Catherine Street is festooned with golds and yellows.
Ronnie is particularly proud of the 22 wooden flower boxes next to the Lidl supermarket on Station Road, as he put his joinery skills to work building them.
He's also proud of his wife. "She's a very dynamic person. She's like a time bomb!" he laughs.
The group covers its annual £16,000 costs through support from local businesses and other donations. As well as gaining personal satisfaction, the team, which is always on the lookout for new volunteers, reckons that by beautifying the town centre, it encourages more visitors to stop and also helps create civic pride amongst residents.
Cupar in Bloom was one of seven groups representing Scotland in the UK 2015 RHS Britain in Bloom Finals following success in the 2014 Beautiful Scotland campaign.
Bonnie Dundee scooped the City Award with Coupar Angus Pride of Place winning the Large Village Category.
Four other Scottish groups achieved Silver Gilt Medals in the competition: Growing Kirkcaldy, (Small City), Muthill in Bloom, (Village), North Berwick in Bloom, (Coastal) and Uddingston Pride, (Urban Community).
But no sooner has judging taken place for one year's set of competitions, than preparations are made for the next year including the variety – and colours – of plants to be set out.
Nine miles down the road from Cupar, and three members of St Andrews in Bloom are hard at work planting out boxes at the harbour when I catch up with them.
They are preparing for the 2016 Beautiful Fife competition which will be judged during the second last week of July and for Beautiful Scotland in Bloom which will be judged during early August – and which this year is celebrating its 50th anniversary.
Entered into the large coastal town category, St Andrews has, in recent years, won gold in the Fife, Scotland and British competitions. Last year it also won a tourism award for both Scotland and Britain in Bloom.
But as with Cupar, none of this would be possible without the hard work and dedication of volunteers, or the general support of the community.
With annual costs of around £17,000 to £18,000, the group of 10 look after 120 hanging baskets, 20 steel tubs and 50 barrels in the tourist town.
With two plantings per year, funding includes money from the St Andrews Common Good Fund, St Andrews Links Trust, St Andrews Rotary Club and the Fairmont Hotel. They have also been boosted this year by support from St Andrews BID.
Bedding
"We buy in our summer bedding as plug plants from growers down south, "explains St Andrews in Bloom chairman Barbara Boyd, 57, who recently took early retirement as head teacher of Moncreiffe Primary School in Perth.
"We plant them up at the greenhouse in St Andrews Botanic Garden and transplant them down when the time is right.
"This year we've got nine new baskets going up near the fountain in Market Street and another new project we've been trying to develop is these barrier baskets at the harbour."
Barbara explains that the colours selected for the harbour and east end of town this year were yellows and blues to reflect the association with the sea and the beach. The town centre, on the other hand, was dominated more by purple.
She adds: "The big task every year is making sure they are all watered. We used to have a local window cleaner who did it for us but he retired. Now we are in partnership with St Andrews Botanic Garden. It costs us £4000 per year just for the watering. We have a large bowser which gets taken around by a tractor. It gets done early in the morning when it's quiet. We've now got self-watering hanging baskets, which have their own water reservoirs.
"Some of the local businesses have now asked us to do up their planters and we are prepared to do that at a reasonable charge."
Barbara said she had always enjoyed "pottering about" in gardens.
But she was also pleased that the group was able to work with young people in the town. Whilst Cupar in Bloom was recently recognised by winning Britain in Bloom's Youth Award of Great Britain, St Andrews is also developing links with the younger generations through one of its volunteers, with  former St Andrews community councillor Marysia Denyer going into the town's Canongate Primary to work with children every week.
Barbara laughs when she recalls the day one of her ex-pupils spotted her sweeping in Church Square. "I had to have a wee word back at school and explain I wasn't making a career change. We also get a lot of Americans who think we are on community service when we are out and about," she smiles.
But an unexpected bonus of volunteering is the health benefits. "It's great being outside. The workout is like going to the gym!"
Keith Jackson, parks and community events officer with Fife Council, helps organise the annual Beautiful Fife competition. He said Fife had one of the best records in Scotland for competition success.
Before being appointed by the council in 2008, he formed Falkland in Bloom in 1987 and chaired the group for 20 years, winning various competitions.
Perhaps his highest accolade came around a decade ago when Falkland was invited to enter the Entente Floral, a European initiative, and won a gold medal in this campaign.
Further success in Britain in Bloom led to Falkland being nominated to participate in the Champion of Champions category which they won two years in succession. In fact the rules were altered to make sure that this could not happen again!
Budget pressures
Keith is currently a Britain in Bloom Judge and is now extensively involved with community horticulture through Fife Council.
But he has warned that increased budget pressures facing the council will likely have an impact on its ability to support volunteers in future.
He says: "The Beautiful Fife campaign was launched and initially only 30 communities participated but this figure now exceeds 60. They are assessed on criteria identical to Beautiful Scotland and Britain in Bloom which may explain the success that Fife communities enjoy in these campaigns. The innovative practices of some communities is admirable and further sponsorship and partnership working will be required as local authorities struggle to support the volunteers efforts as much as they have done in the past."
Take a Pride in Perthshire brings together a host of towns and villages across the area. One of the most successful is Coupar Angus Pride of Place which has come a long way since it was formed in 2006 following a community consultation.  It identified that the community wanted to improve the appearance of the local environment.
At that time the town was in need of a general facelift.
Social fabric
Since that time not only has the fabric of the local buildings been restored through a Heritage Lottery Fund Townscape initiative but improvements have been made through the environmental and social fabric.
This has ranged from biodiversity projects to tree planting, floral displays and teaching of horticultural practice.
Various awards have been won with perhaps the greatest accolades being the gold medals won at the Britain in Bloom Awards in 2013 and 2015, plus  the Rosebowl Trophy, awarded to the overall winner at the Beautiful Scotland Awards in 2014.
Broughty Ferry is another place taking pride in how it looks. Mary Saunders, 81, vice chairman of Broughty Ferry in Bloom, joined around eight years ago. The former Watson & Philip secretary is one of 14 volunteers who meet once a month to mastermind the planting of planters in Brook Street, Gray Street, Campfield Square, Windmill car park, Douglas Terrace, the railway station and at the harbour.
"We raise our plants in a poly tunnel in the community garden at Dawson Park," explains Mary, who is also the chairman of Friends of Barnhill Rock Garden.
"When we started off we had very little money. Our first planter at the harbour was filled with spare plants from peoples' gardens. As time has gone on we've got more sophisticated. It cost us £909 for plants last year, which we raise ourselves, and baskets and planters are supplied by Dundee City Council, who care for other sites."
Mary said they now mainly plant begonia, lobelia and other trailing plants. "These seem to be the most successful and are what the judges are looking for," she adds. "At the end of the day the judges are looking for a splash of colour."
Run by volunteers who raise their own funds but given support by Peter Sandwell and the team at Dundee City Council, Broughty Ferry in Bloom has won a silver gilt award almost every year it has entered the Beautiful Scotland contest and is looking forward to the return of judges on August 11. Whilst Bonnie Dundee is a separate organisation, Mary, who bolstered her skills by enrolling on a Dundee College horticultural course a few years ago, explains that Broughty Ferry was part of the successful  Dundee city award entry to the Britain in Bloom contest last year.
She adds: "I'm a joiner. I enjoy being involved. I've always found it doesn't matter what walk of life you come from, gardeners always get on with each other.
"I'm very proud of Broughty Ferry and I love Broughty Ferry. I love brightening up the community. We always strive to do our best. And we look forward to doing that again when we see the judges again soon."
malexander@thecourier.co.uk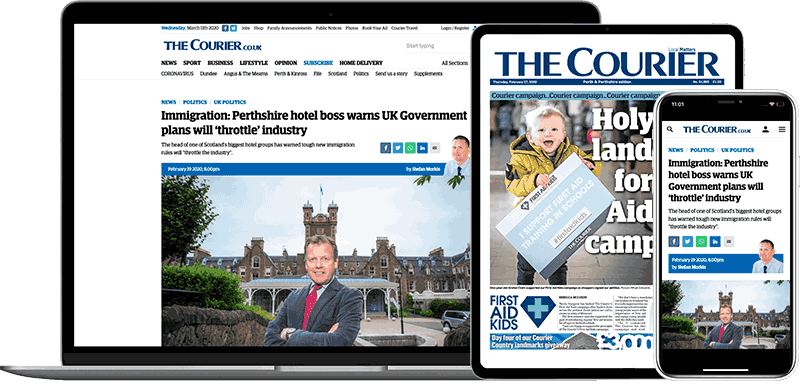 Help support quality local journalism … become a digital subscriber to The Courier
For as little as £5.99 a month you can access all of our content, including Premium articles.
Subscribe