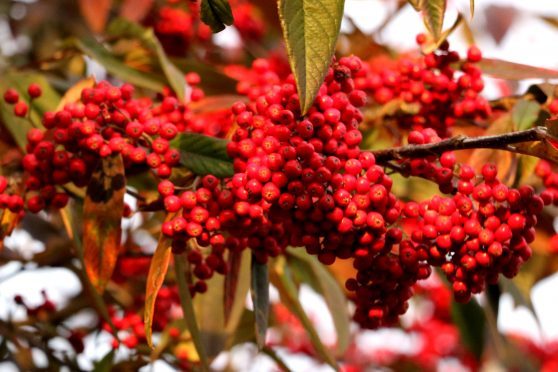 Winter has arrived as Caroline sweeps over the land and many of us wake up to a covering of snow plus a few trees, fences and sheds blown about.
No doubt this will be followed by more winds, snow and frost.
Gardening is now enjoyed looking out of a window from the comfort of a warm room. Then a few days later the sun comes out and we can wander round the garden enjoying a bit of winter colour, and catching up on winter digging, raking leaves and repairing any wind damage.
Having had many years to indulge in planting up those must have plants, I have also been careful with their placement in the garden design.
I know there are many winter days when you just can't get out so the design is geared to making those areas in front of windows attractive in winter.
The summer flowers have gone and the spring ones yet to appear but there is still a few shrubs flowering in winter as well as plenty berries and plants with brightly coloured stems and variegated foliage.
It is during the winter months that these plants are appreciated as they have no competition.
In some sheltered spots the spring bulbs are pushing up into the daylight with promise of flowers to come.
Snowdrops are favourite to appear early in recent years with mild winters I have a small drift that are at their best in full flower at the end of December.
They are assuming we are getting another mild winter as the flowers are four inches tall and just about ready to open up.
Back at ground level the heather Erica carnea is adding a bit of pink and white in the heather garden, and the yellow Jasminum nudiflorum grown against a fence is always very reliable as it will flower even when covered in snow.
Mahonia Charity will grow at least six foot tall and is at its best in December covered in bright yellow sprays.
Another shrub, the Fuchsia Mrs Popple continues to flower even though we have had several frosts, but although very welcome at this time of year, its days will be numbered. Last winter it suffered a lot of die back, but it always recovers strongly in spring.
Some evergreen shrubs are winners in winter with their variegated foliage such as the gold and silver Euonymus which is also brilliant for ground cover smothering any weeds under its branches.
Houttuynia is more vibrant with red variegation but not such a good ground cover, and it tends to meander well beyond its allocated spot.
Ivies come in a wide range of colours and are great for sunless dark and damp corners, but they need an annual trim to control their spread.
The winter garden would not be complete without a range of red, yellow and grey stemmed Cornus, as well as Salix britzensis, Kerria and the grey stemmed Rubus giraldianus.
Grow all these as stooled shrubs cutting all growth back to just above ground level at the end of March.
Cotoneasters are the most prolific plants for berries in red, orange and yellow.
The Firethorn, Pyracantha is also dazzling when covered in bright red or orange berries, and for white berries try the snowberry, Symphoricarpos.
Holly is also great for berries but can grow quite large.
Wee jobs to do this week
 Cold weather combined with frost and snow can give our garden birds a problem finding food, though there is still plenty berries on cotoneasters and some rowans.
This is a good time to put up the bird table and a few feeders with some quality seeds. Birds are fussy eaters (except pigeons which will eat everything) and if you have put out some cheap seed mixtures you will find some types getting left behind.
Put out a dish for clean water and if weather is frosty make sure water is warm enough to last a few hours before freezing up.
Keep all water dishes, bird tables and feeders cleaned regularly.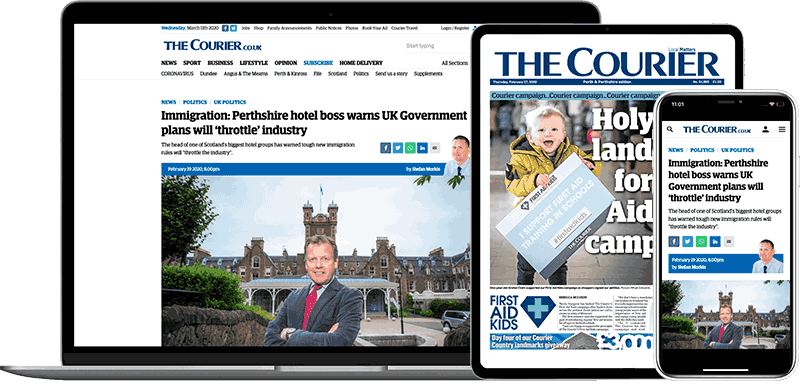 Help support quality local journalism … become a digital subscriber to The Courier
For as little as £5.99 a month you can access all of our content, including Premium articles.
Subscribe