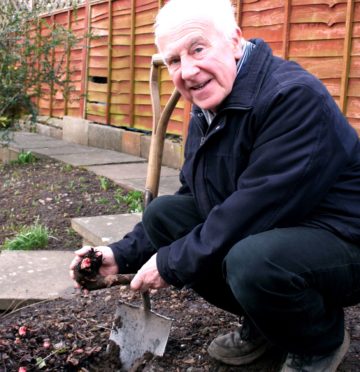 The garden is now coming out of its autumn phase and heading into winter as plants go dormant, autumn colour fades away as all the leaves fall off and frost and snow is not far away.
However, all through the winter months there is still plants looking good and some still flowering to keep us cheery.
Once the real winter sets in and the snow arrives we then look forward to the first snowdrops as a hint that spring is approaching.
At least that was how it used to be, but with mild winters now becoming normal my first snowdrops start to flower in December, and this year the shoots are already two inches tall. Fingers crossed that the beast from the East gives us a miss this year.
I have always dedicated a small patch of garden for winter colour, but when you decide what to plant in it you find there is a massive choice of plants that have interest in winter.
The early winter is the time for berries from rowans with red, orange, pink and white berries, down to a huge range of berberis and cotoneasters with red and orange berries.
A perfect choice for a north wall is the firethorn, Pyracantha with red and orange berries.
This is a great plant around windows as the thorns will deter any burglar and in spring the blackbirds love its protection for building their nest in.
Then the snowberry with white berries lasts well into winter, but nothing is more festive than the holly with red berries before the birds strip them off.
Pernettya however lasts well into spring as the birds have to be really desperate before they have a go at them.
If you want a tall shrub with grey foliage popular in maritime locations then go for the sea buckthorn, Hippophae rhamnoides with bright orange berries that are a real bonus for those that like a very healthy fruit, but ask Google how to prepare it.
A better proposition for edible berries is the outdoor fuchsia Mrs Popple.
This year the bush has hardly any fruit on it yet last year it was so prolific that I picked the berries and put them through the juicer for a lovely tasty drink.
My winter garden comes into focus as the birds devour the last of the berries and interest comes from shrubs and trees with coloured stems and bark.
Cornus Westonbirt and Mid Winter Fire are hard to beat for intense bright red stems and grow alongside the green stemmed Kerria japonica and the orange stemmed Salix britzensis.
Next to them is a small Japanese maple tree Sango Kaku with red stems and fantastic autumn colour, as well as my white stemmed birch, Betula jacquemontia which is always a winner for a dramatic statement.
This colourful winter border lasts into March, but then I have to stop the show, as they all (except the Kerria) require cutting down to ground level.
New stems then grow to replace them for the following winter.
They also need removing as the winter border now becomes a spring border as it has been planted with masses of crocus and tulips and last month I added a batch of tall oriental lilies to flower in summer above the growing shrubs.
Other parts of the garden have the pink scented Viburnum fragrans and yellow Jasminum nudiflorum; my only two reliable plants to flower in winter outdoors.
Another garden area given over to winter colour is my shady border with bright foliage on the Euonymus Emerald n Gold, the silver Emerald Gaiety and the silver Senecio greyii.
A good tall background plant is the golden Lonicera Baggesons Gold, a favourite for nesting birds in spring as it is so dense.
For ground cover the Houttunia Chameleon with red and gold markings over the leaf is very attractive though some say it can be a bit invasive if it takes a like to your garden.
Heathers are also great for ground cover and my favourite for winter is the Calluna vulgaris Goldsworth Crimson which brightens up after a few frosts.
Wee jobs to do this week
Rhubarb has now gone dormant, so we can remove all the old leaves and add them to the compost heap.
If the rhubarb clump has been growing undisturbed for over three years it would be a good idea to lift it up and divide it.
Dig over the soil adding plenty of well rotted manure or compost then replant the strongest crowns which have two or three plump buds visible, spacing about two to three feet apart.