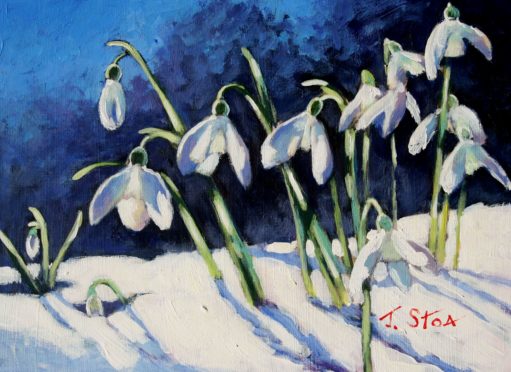 Gardening can be a work of art, as John Stoa proves
Gardening has always been in my blood from childhood days encouraged by both my granny and father who always liked to provide fresh food to feed the family.
During my gardening apprenticeship (five years) I got the chance to learn how to create great looking gardens.
My first landscape garden was my council house garden in St. Marys which got sweeping curves in the lawn, roses growing up the walls and brilliant spring and summer bedding plants.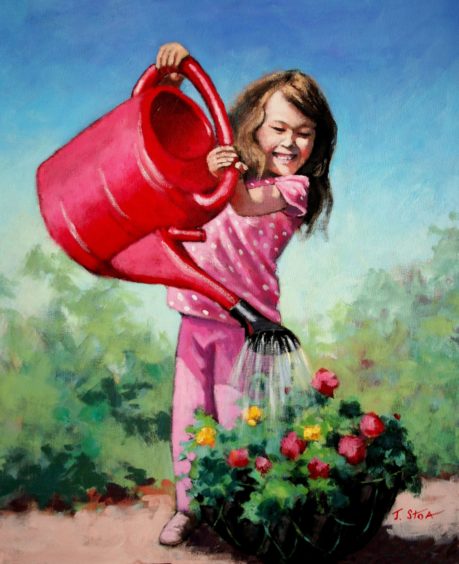 When my career took me to Dudley I got the chance to start planting trees to the bleak black country landscape, then in Darlington it was a new golf course that needed my attention.
Then moving north to Livingston New Town I started bulb planting by the thousand along highways and in urban housing estates.
Creating beauty in garden landscapes from my small house garden to the larger outdoor landscapes was a big part of my life.
However we all need a hobby and drawing and painting gave me the chance to extend my creative skills in other areas.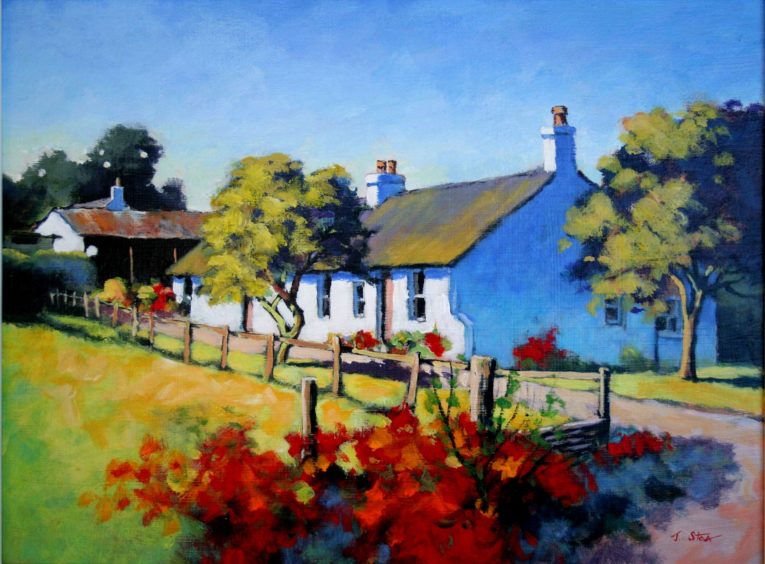 The principles of artistic beauty are the same for both creating an attractive garden or a painting.
We look at shapes, colour, contrasts, composition, focal points, texture and fashion.
My hobby of painting helped me to relax as I entered a different world away from every day pressures, then after submitting paintings to my first exhibition in Darlington, I got my first red dot (the mark for a sold painting) and my life changed.
My casual hobby of painting took on a more serious role and I started to paint at every spare moment.
I saw beauty all around me from Scottish towns, villages, flowers, snow scenes and figures.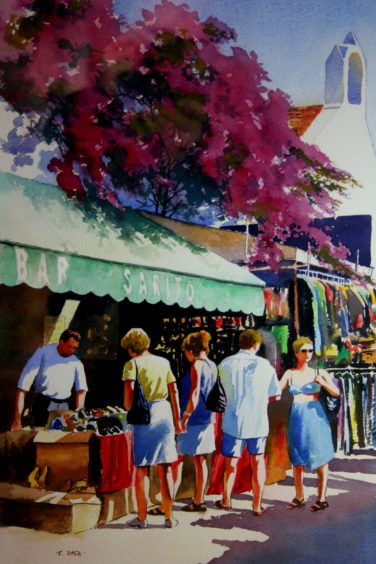 However my garden activities provided me with a great source of subjects ready to capture on canvas.
At first it was red poppies growing in huge fields near Herriot Watt University captured on two canvases.
They were very popular so I used the images to publish as prints.
These were added to with my Fuchsia Swingtime and my favourite roses in a bowl, but as a proud Dundonian I had to paint the town as there were so many places I admired.
The daffodils around Magdalen Green Bandstand were perfect for a large canvas in oil.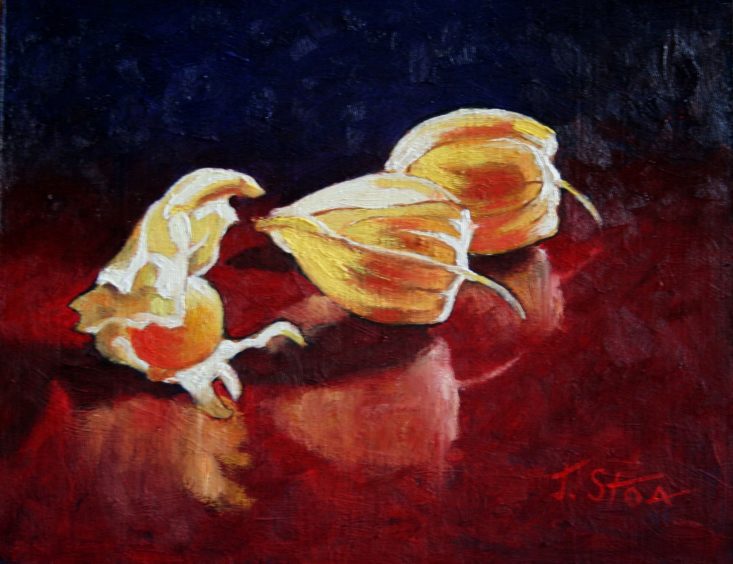 Artists tend to work in projects so one idea for a painting of an orchid left me with the problem, do I paint that lovely white Phalaenopsis, the red Cattleya Saturn or the golden Cymbidium.
Problem solved I decided to paint all of them plus several more that caught my eye.
Ideas in the gardening world were also demanding attention when I tasted some Saskatoon berries on a holiday in Canada.
No-one in the UK was growing them so I got some seed and before long I had about twenty small plants.
I needed an allotment to plant them in, so visited City Road and got the perfect plot.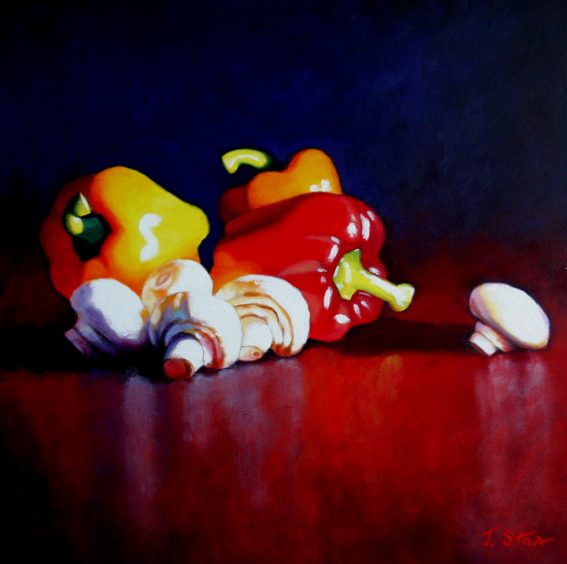 This opened up another place of interest for paintings as it turned out to be a poppy paradise.
Ramshackle sheds, quaint steps, dilapidated fences and floral patios to relax on were all screaming to be captured on canvas.
Arthurs plot got painted three times, then there was the leaning apple tree, some gorgeous hollyhocks against a blue fence and a plot smothered in Californian poppies.
It turned out to be the perfect spot for an outdoor art workshop, though one lady seeking my help asked me to hold a poppy still while she painted it, as it was blowing in the wind.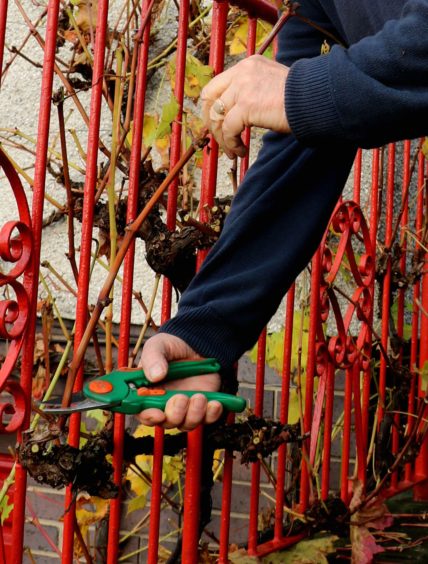 Still life paintings needed some good cape gooseberries, grapes and peppers from the greenhouse and raspberries from the plot, but spring flowers left me spoilt for choice from snowdrops pushing above the snow, Iceland poppies and flag Iris to daffodils and tulips.
Even in a figure study, "Waiting Patiently" I had to add a cracking red Amaryllis to the background.
Wee jobs to do this week
Grape vines both outdoors and in greenhouses are best pruned any time in December and January.
Any later and the risk of sap weeping is high as grapes like to start growing quite early. Under glass they are usually grown as upright rods spaced about 18 inches apart.
All sideshoots growing from these rods are cut back to a couple buds. As grapes need a lot of warmth to ripen up the bunches they are best planted against south facing walls or fences in Scotland.
Establish a framework of main shoots either fan shaped or in laterals spaced same as rods and again all sideshoots are trimmed back to the main stems.