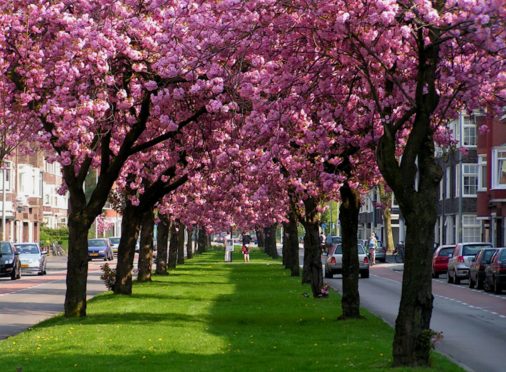 John is branching out into the world of flowering trees this week
The dormant season (November to March) was always the time to plant trees and shrubs as most came as bare root plants, but today they are mostly container grown so planting can be done all year round.
However with flowering trees we do not want to miss the flowers so planting in winter is a good idea.
As gardens vary in size the selection of plants will depend on how much space is available. The small garden is not left behind as there are quite a few flowering trees that do not take up much space.
Trees add scale to a garden, provide shelter from wind and shade from sun as summer climates get warmer.
In my early gardening days my small council house garden still managed to find room for a Laburnum vossii and the upright growing flowering cherry, Prunus Amanogawa.
However if space was really limited then the dwarf weeping cherry, Prunus Shidare Zakura was perfect.
Later on as my gardens got bigger I went for the brilliant Prunus Shirotae with horizontal branches which got covered in a mass of pure white flowers in spring.
Flowering cherries were very much in fashion in the sixties and the pink Prunus Kanzan was so popular that it became the number one of choice, but those with a wee bit of experience avoided it before our horticultural street cred went oot the windae.
Lilacs were not a huge tree but flower potential was enormous and the white Mme Lemoine is still very popular.
The red Charles Jolly is still outstanding and most lilacs benefit from a great scent.
Many lilacs come as hybrids grafted onto the common Syringa vulgaris, so keep checking for suckers growing from the rootstock and remove these as soon as seen.
Another less common tree suited to the small garden is the Euphorbia Rostrevor with white flowers towards the end of summer.
It grows slowly with an upright form so suits the small garden with limited space.
For those who like to try something different there are a couple of medium sized trees a bit less hardy than most, but with climate change who knows if global warming comes to Scotland what we can achieve.
The Australian bottlebrush tree, Callistemon citrinus 'Splendens' is a red flowered beauty but needs a sunny sheltered spot.
It grows very well outdoors in London as a street tree, but their climate is just a wee bit kinder.
Another worth trying is the Pocket Handkerchief Tree, Davidia involucrate, with white bracts in early summer.
The common hawthorn is very hardy and comes with a pink flower, Crataegus Pauls Scarlet, beautiful in spring and not all that common.
Some people may with to grow a flowering fruit tree, and apples, plums, pears and cherries will all give a great flower show in spring then follow on with a delicious harvest in the autumn.
Apple Starline Firedance grows upright taking up very little space and produces a great crop of red apples in autumn. Another form of apple is the stepover trained type on a dwarfing rootstock.
Both cherries and peaches can come on very dwarfing rootstocks suited to the small garden.
Many tall growing shrubs can also give the same virtues as smaller trees.
Cornus kousa chinensis has always been one of my favourites after seeing it in full flower in Wisley gardens down south, and Cytisus battandieri, the Pineapple broom tree is a great spectacle but needs a bit of space or a wall to lean against.
Other tall and impressive shrubs include Forsythia, Philadelphus, Ceanothus and Magnolias.
Wee jobs to do this week
Sweet peas are usually the first seeds to sow as they are quite hardy and like a long season to grow. They can be sown in the autumn and overwintered in a cold frame or unheated greenhouse, or sown in late winter to early spring.
The seed coat is quite tough so you can soak the seeds in water overnight, or chip the seed coat with a sharp knife.
Sow seeds three to a pot then after germination transplant one to a pot, or you can sow one seed to a cell in a cellular tray.
After germination grow on in a cold greenhouse and harden off towards the end of March, for planting out in early April.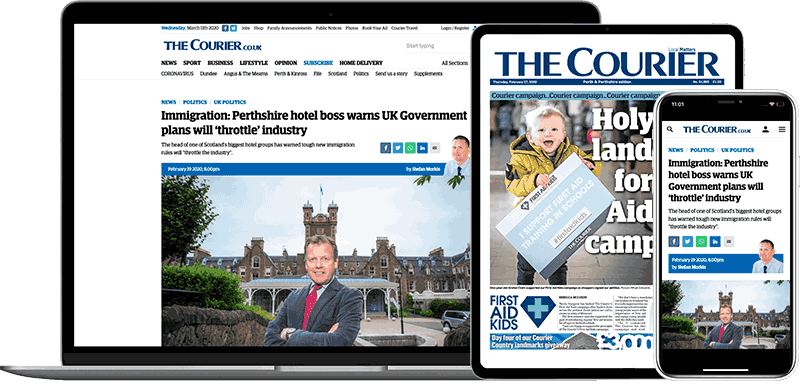 Help support quality local journalism … become a digital subscriber to The Courier
For as little as £5.99 a month you can access all of our content, including Premium articles.
Subscribe