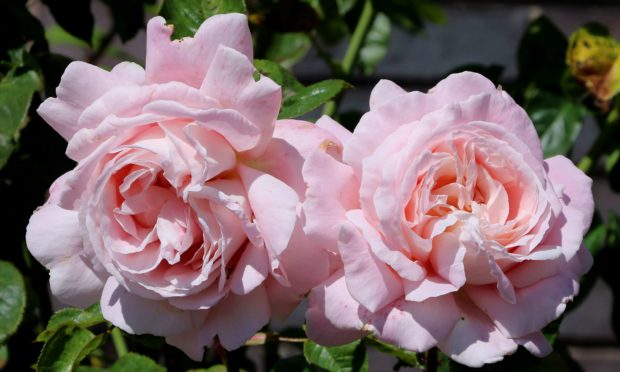 We will always remember the summer of 2018 with its long hot and dry spell, but 2019 seems to be even hotter, but with plentiful thunderstorms so there was never any shortage of water.
Plant growth has responded to this great growing weather.
My bush roses normally reach five feet tall, but this year I am seeing them at six to seven feet tall and a real nuisance with strong winds so staking and tying has been necessary to stop them blowing over.
Flowering has been a bit erratic as the warm dry spring allowed a severe dose of mildew and black spot to spread and greenfly infestations have been in plague proportions.
There has been plenty of ladybirds, but not enough to halt their spread, so spraying had to be done to stop them for a few weeks.
Sweet peas have been brilliant this year, but needed constant dead heading and picking bunches for the house.
Broad beans grew very rapidly and ripened earlier than normal, so it was an early start to the harvesting season.
Family members over on holiday get roped into the harvesting and processing tasks all summer long.
The broad beans get picked in one go preferably in the morning, then after lunch we all gather around the patio and shell the beans.
By evening, they get blanched and then we begin the task of separating the beans from their skins, before bagging up for the freezer.
Peas were ready to pick at the same time, so another family day was spent picking, shelling then bagging up for the freezer, other than those for immediate use.
Then just before my visitors departed volunteers were sought for the Invicta gooseberry picking. The bushes have been so packed with gooseberries that all the shoots were trailing on the ground with weight of crop so straw was needed underneath them to prevent soil splashing during heavy rainfall.
Family again got together around the table for a night of music, wine (adults only) and topping and tailing the gooseberries.
Hot muggy weather seems to have brought on more crops, so it was the turn of blackcurrant Big Ben to get picked followed a week later for picking Ben Conan.
Freezer is now well stocked, but Saskatoon picking has not yet started as the crop is a fortnight behind normal picking from mid July onwards, but this year it will be from early August.
The bushes are absolutely laden down with berries.
In between major crop harvesting there was plenty raspberries, strawberries and Bramble Helen to pick every three days apart, and autumn fruiting raspberry Polka is making an early start.
Harvesting on the vegetable patch is well under way.
Potato Casa Blanca lifting was started in early June, but before the whole row was lifted I had to harvest Mayan Gold which seemed to suffer an odd disease that caused the leaves to die back.
This variety is also liable to boil away to soup in the pot so I will not be growing it again.
Beetroot and turnips have had a mixed year so far.
Beetroot is always a great cropper and keeps well outdoors in our mild winters, but all my Golden ball turnips ran to seed.
Think I will stick to Purple Top Milan in future which is always reliable, though our freaky weather may have some bearing on matters.
It's been a great year for salads. Lettuce has never been better, but greenfly infestations are not very welcome and spraying a bad idea as picking has been constant.
I tried a few rows in between a block of chrysanthemums.
I got plenty of lettuce before the chrysanthemums needed the space.
Onions, like all the other vegetables have made strong growth and are swelling up just fine, though the wet hot atmosphere has caused a severe infection of white rot fungus.
In the greenhouse grape vines and tomatoes are fighting for space.
Tomatoes have now all had the tops removed after five or six trusses as they have all reached the roof and grapes are all hanging in great profusion.
I know it's a bit late but the massive bunches will need some thinning of the fruits.
Wee jobs to do this week
As summer harvests continue and land gets cleared of crops such as peas, onions, broad beans and early potatoes, put this spare ground to good use.
This is a good time to sow salads (lettuce, radish, spring onions and rocket) for late summer and autumn use.
Some varieties of lettuce are winter hardy and can give useful fresh greens over the winter months and into spring.