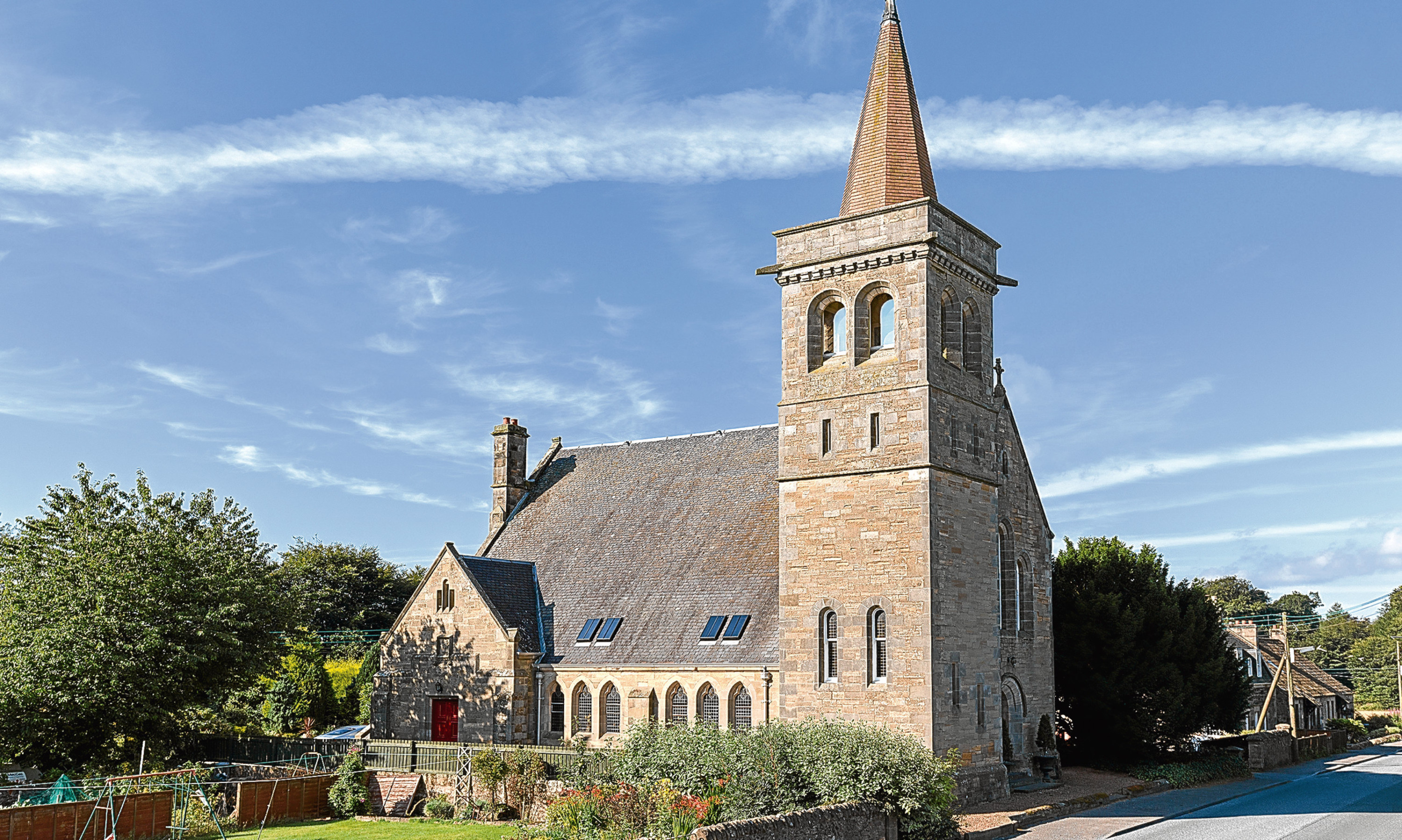 For any home owners, giving up a much loved house is a wrench.
But for Amanda and Sandy McFarlane it will be even tougher than usual.
"Five generations of my family have been married here," Amanda explains. "Sandy and I had our wedding here nine years ago and my son had his here five years ago. Before that my mum, gran and great gran all tied the knot here when it was still a church."
Church House, in the hamlet of Bow of Fife near Cupar, was built in the 1840s and converted into a family home in the 1990s.
Sandy (61), a GP, and Amanda (53) bought it 12 years ago. The front of the church faces onto the A91 but is for show only. The couple access the house from the equally grand side entrance or the rear door and none of the rooms face to the busy roadside.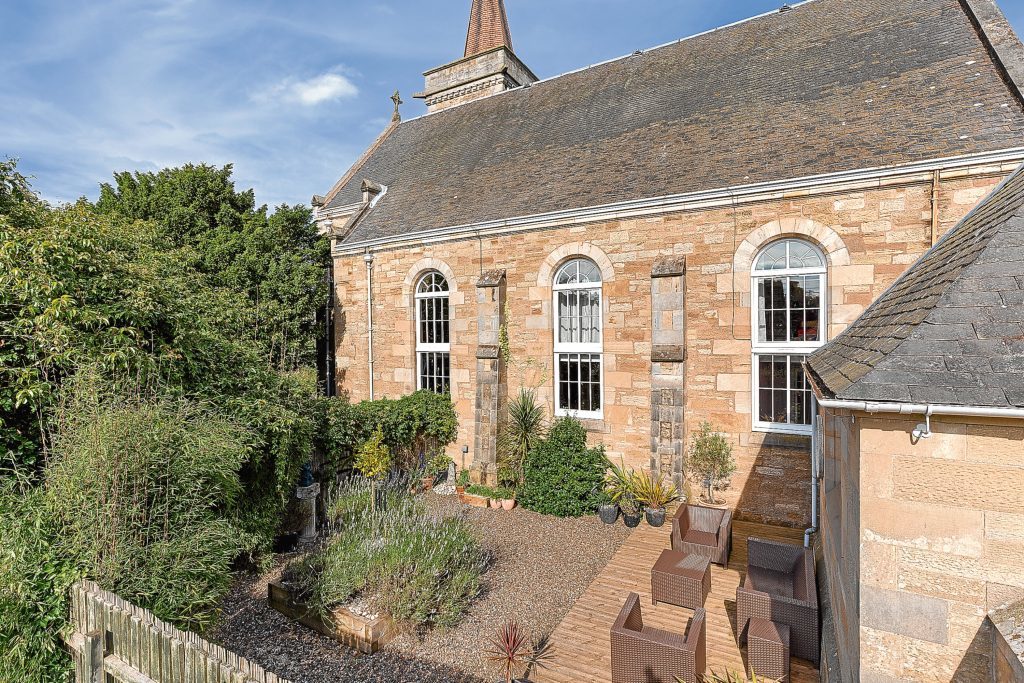 The main side door opens into an enormous open plan drawing/dining room on the ground floor that's used mainly for formal occasions (and the occasional family wedding…). It has four unique sandstone pillars, each with a different carving: roses, cherubs, animals (thought to represent the apostles) and thistles.
"We had stonemasons in once and they said the quality of carving is on a par with Rosslyn Chapel, albeit there's not nearly as much as it," Amanda says.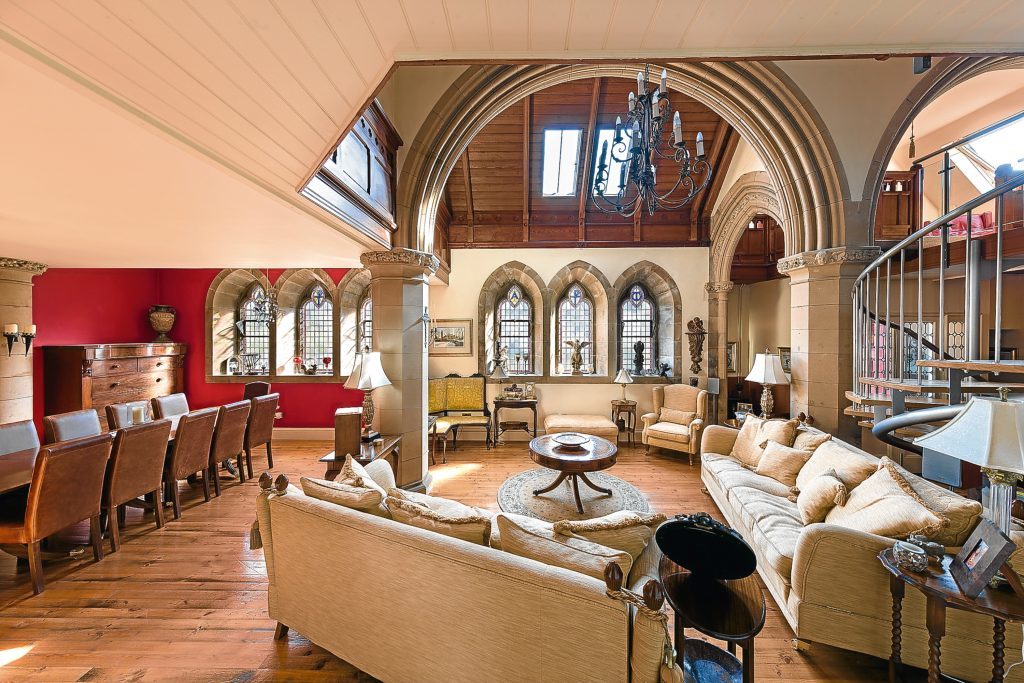 This already huge room was even bigger but Sandy and Amanda subdivided it, carving a guest section with two bedrooms and a shared bathroom. A family joiner friend managed to replicate the thick cross-and-bible wooden doors that are in the rest of the church.
The original staircase and a modern glass and wood stair are the two avenues upstairs.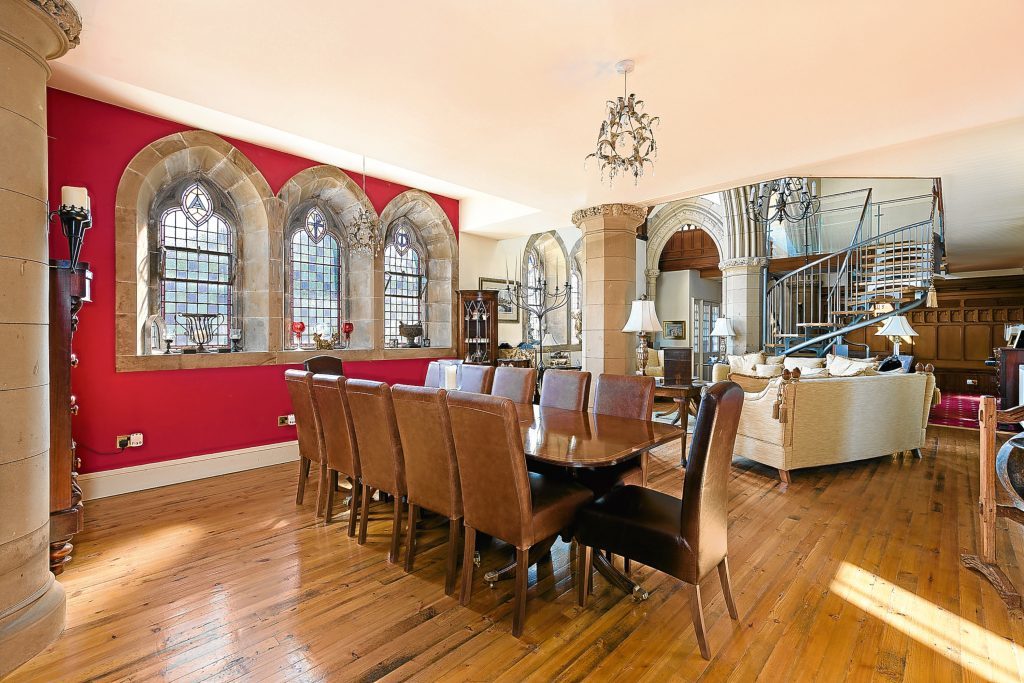 On the first floor is a superb room with vaulted ceiling that's used as a living room in the summer months.
A master bedroom has an en suite and walk-in dressing room. A balcony wraps around two sides of the drawing room and leads to a quiet corner which is perfect for reading the papers. In a fine touch a single step down and back up again prevents heads being bumped on the top of the archway.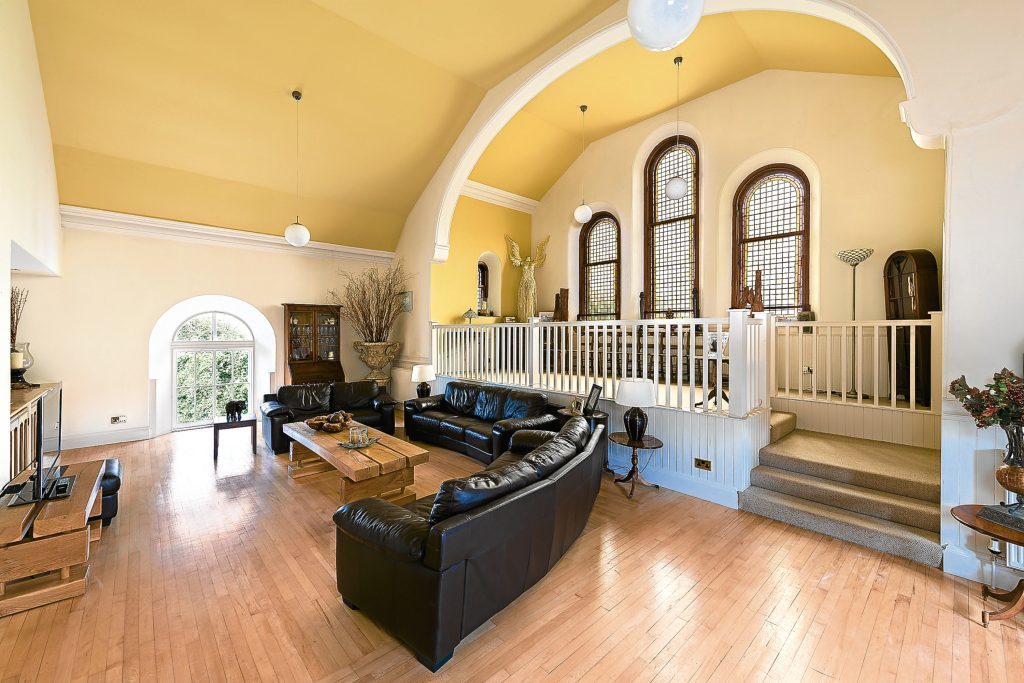 Back downstairs, via the modern staircase, along a corridor past another en suite bedroom, is the part of the house formed from the former vestry.
"My dad used to go to Sunday school here," Amanda smiles.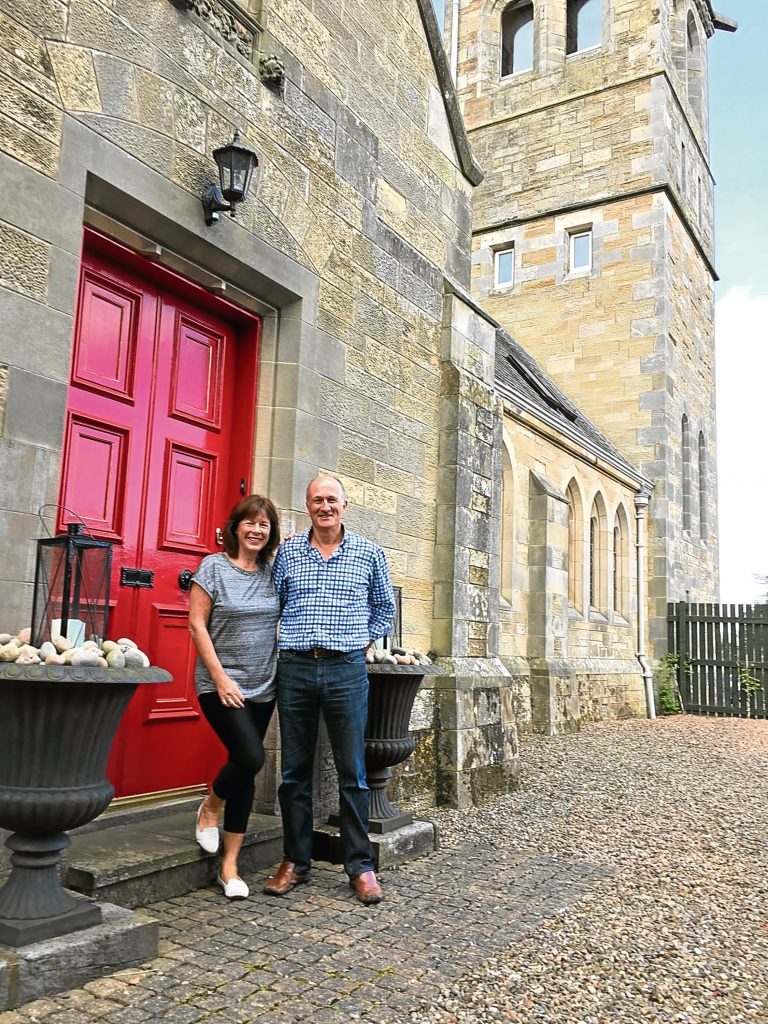 The main room of the vestry has two fireplaces, one with a cosy wood burning stove, and is used as a living room in the winter months.
The McFarlanes converted the tower from a pigeon infested eyesore into a wonderful room. Three fixed ladders take you up three levels to the topmost floor, where windows in all directions give a breathtaking outlook. "We like to take a few beers or some wine up there," Sandy says, "Although you have to be careful coming back down…"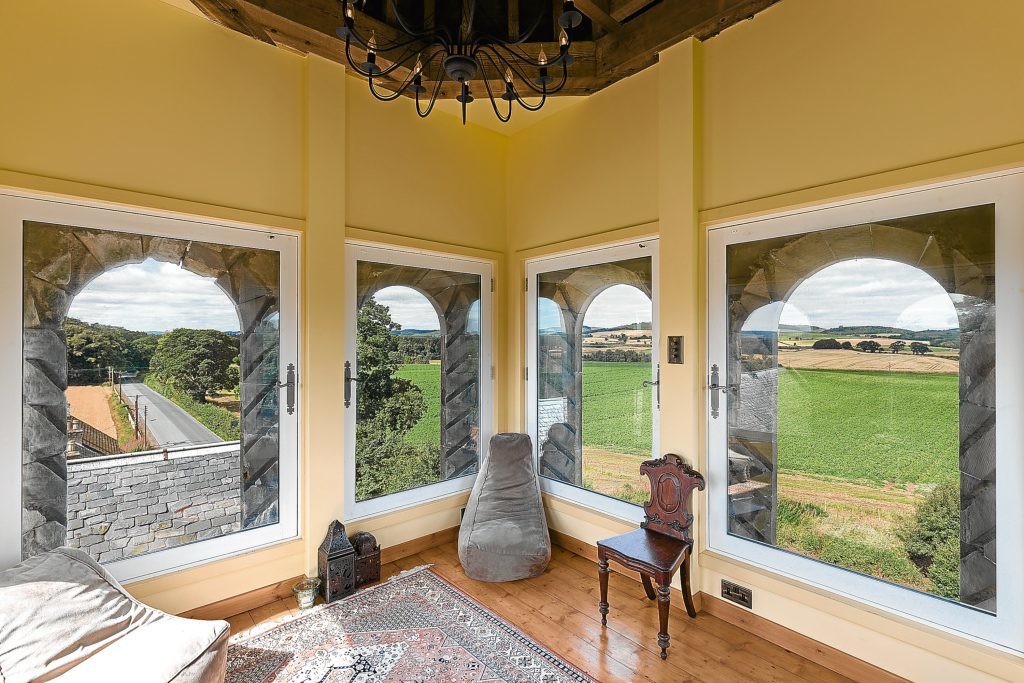 Unusually for a church conversion the house has a large garden – stretching to around half an acre of south facing, well screen lawn – and because it was used mainly for weddings and christenings there's no graveyard either.
With children gone, Sandy and Amanda are downsizing and moving to St Andrews. "This is a huge house even with a family in it," Amanda says. "We love it and we'll miss it but it's a family home and having lots of people in it is when it really comes to life."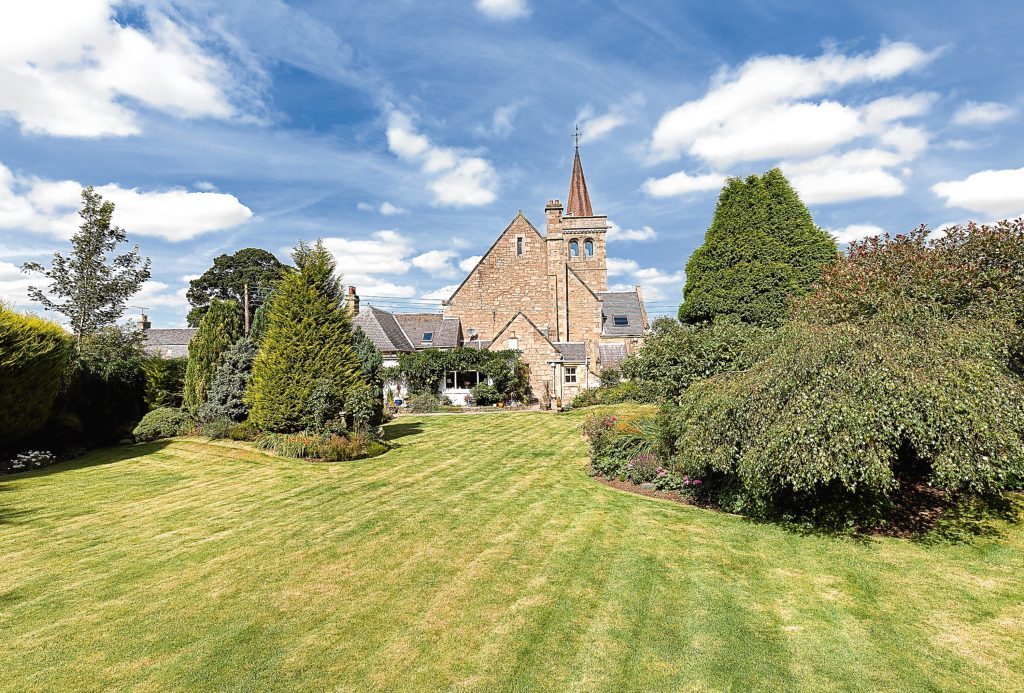 Indeed, Church House is one of the largest properties ever to feature in House & Home. It's so big, in fact, that there are rooms its owners have never been in.
"There's an attic room above my son's bedroom," Amanda says. "He used to go up there but I've never been in. And there's a whole level above the first floor accommodation that could be developed."
It's hard to see why you would want to though. With five bedrooms, three potential living rooms and numerous charming nooks and chambers the Church House is enormous – and special – enough as it is.
Church House, Bow of Fife, is on sale via Savills for offers over £695,000. www. savills.com