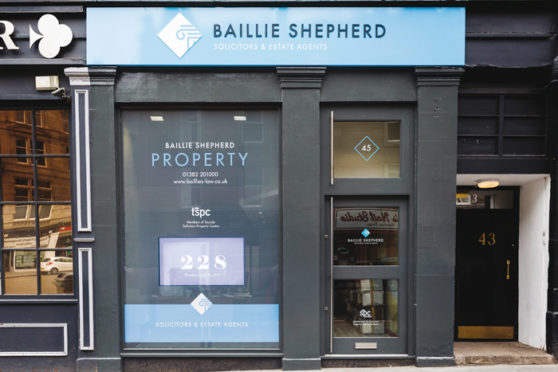 Two Courier Country legal businesses have come together under a brand new name – but offering the same great service to their clients.
Baillies, run by Alan Baillie, and Shepherds Solicitors, headed up by Peter Shepherd, have amalgamated to create new firm, Baillie Shepherd.
Alan explained: "We both wanted our businesses to be stronger and bigger and this seemed like a great way to continue to offer our clients high quality of service – and we will be able to offer an even better service than they already get."
He added: "Baillie Shepherd will be a team of 18 and although a large part of our business is based around property, we will carry on offering all forms of legal services, including wills and power of attorney, family law, private client and small business work."

The process of combining the two firms has taken about six months including an attractive modern rebranding and an eyecatching refurbishment of the Property office at 45 Union Street.
Between them, Alan and Peter have over 70 years' experience in the legal field, meaning that Baillie Shepherd can offer a wealth of knowledge and help, no matter the legal issue.
"We hope that our existing clients will stay with us for the next 70 years!" Alan joked. "Because even though they will notice a few changes, the one thing that will stay the same is our 'client first' attitude to our work."
To find out more, visit the Baillie Shepherd website at www.baillies-law.co.uk.