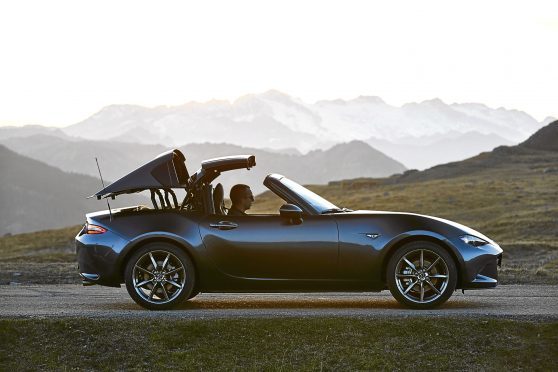 The MX-5 is Mazda's longest running success story – having racked up well over a million sales since 1989 it's the top selling roadster of all time.
The latest generation is the best yet, with sharper looks, more refinement and the same great drive.
Conscious that many countries – Scotland being one of the main culprits – don't have the kind of weather amenable to getting the hood down regularly, the company has come up with a folding hard top version.
Called the MX-5 RF (the RF stands for "retractable fastback) it comes with an electronically folding metal roof that makes it a proper coupe when closed.
That makes coming-on-winter a good time to test it. Though the standard fabric hood is pretty good at keeping out the elements, you certainly feel a good bit more shielded knowing there's proper metal above you. It's a mite quieter too, especially in the rain.
There are 1.5 and 2.0 litre petrol engines with 131 or 160hp. I drove the more powerful of the two models, costing a little over £25,000. However, the beauty of the MX-5 is it's so low slung and lightweight you don't need much power to have fun with it.
It truly is a lovely little car to drive: beautifully balanced, revvy and with sharp, accurate steering.
The hard top takes seconds to raise or lower and can be done on the move (although only at very low speeds). Being the thorough test-driver that I am I ignored the car's temperature read out of three degrees and dropped the lid for top-down nighttime drive to St Andrews.
With a jacket on and the heater whacked up full blast I was pretty toasty.
Of course, convertibles are meant for summer but there's something very special indeed about cruising along with the hood down in darkness when all the other road users are cocooned in their cars. It feels like you have the world to yourself.
At 6'5" I'm at the very upper limit of size for fitting into the MX-5 but I just about managed. It was well worth it – few cars deliver such fun for the money.