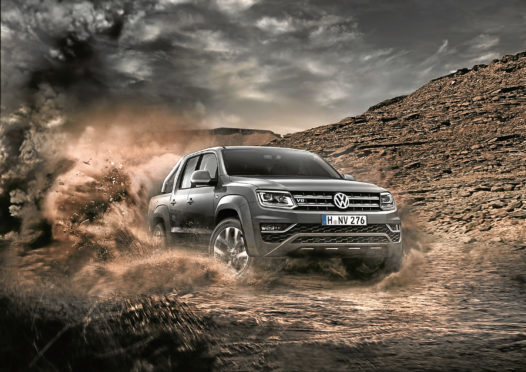 Volkswagen has unveiled a range topping version of its Amarok pickup truck that gets extra power.
Called the Amarok Aventura, the new flagship truck was previewed at the Frankfurt Motor Show late last year, but has now been confirmed for production and will arrive in VW showrooms from June.
The 3.0 litre V6 diesel engine gets a power upgrade to 254bhp and there's an overboost function that temporarily adds an extra 14bhp, for a 268bhp total.
Power is sent to a 4MOTION all-wheel-drive system via an eight-speed automatic gearbox, which comes as standard.
There's a black themed bodykit and black leather upholstery inside.
Volkswagen has yet to release UK prices for the Amarok Aventura, but it'll be priced from €48,800 before VAT in Europe, which is around £42,000. The new, more powerful engine will be available on the Highline model too though, priced from the equivalent of £37,250.