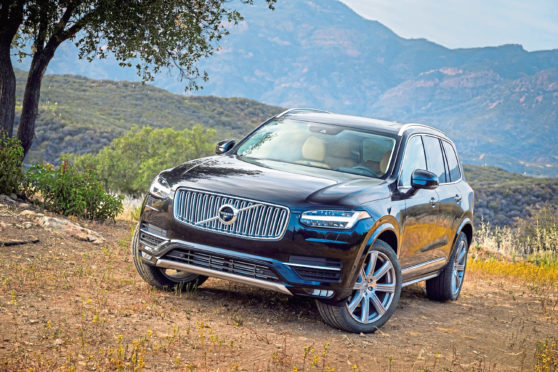 When it was launched three years ago the second generation Volvo XC90 was a revelation.
Great looking, with a class leading cabin, loads of space and the best safety record in the motoring world, it won awards and plaudits from all quarters.
Volvo followed it up with equally excellent little brothers in the form of the XC60 and XC40.
It added the S90 and V90 saloon and estate and is about to bring in a V60 estate to go head to head against the Audi A4 and BMW 3 Series.
The Swedish car maker's stock has never been so high. In the time since the XC90 was launched its rivals have got their acts together, however.
Audi has replaced its Q7 with an impressive new model; Jaguar has launched the F-Pace; Land Rover's Discovery 5 is the current Scottish Car of the Year; and Volkswagen has a new Touareg on the way.
The XC90 may predate these young guns but it still has the calibre to compete with them. Perhaps the only chink in its armour is Volvo's insistence on making 2.0 litres and four cylinders the maximum size for its petrol and diesel engines.
With an aim to stop offering diesel models from 2020 and move towards electric cars, the company is hellbent on reducing its cars' carbon footprint.
That's a noble aim but allows rivals like Jaguar, Audi and Land Rover to steal a march with creamy smooth 3.0 litre V6 engines in their rival models.
In response, Volvo has squeezed every drop of efficiency out of its smaller units. I took to the road in its PowerPulse 2.0 diesel model.
It uses a pressurised air compressor to shoot a burst of air into the engines and bring the turbos up to speed in a heartbeat.
It makes the XC90 more responsive than before: it can't quite match more powerful rivals but it has plenty of pace for overtaking and offers greater economy.
Whether you're in the front, middle or rearmost row of seats, the cabin is one of the most comfortable places to travel.
Prices start at more than £48,000 and most models cost an amount that begins with a five. Expensive but no more so than its rivals.
That money buys you a car that can transport seven people in complete luxury and – importantly – in more safe a manner than any other car currently on the road. The XC90 remains a hugely capable car.
jmckeown@thecourier.co.uk