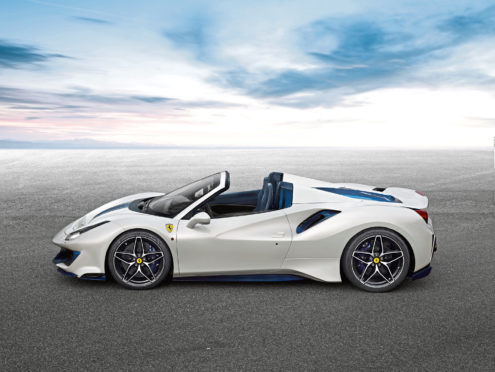 Ferrari has unveiled its most powerful drop top of all time – the 488 Pista Spider.
It shares the same 720hp twin-turbocharged V8 engine a the 488 Pista coupe, making it the most powerful production Spider in Ferrari's history.
The performance figures are impressive: 0-62mph in 2.85 seconds, 0-124mph in 8.0 seconds, and a top speed of 211mph.
Ferrari hasn't supplied any fuel consumption or CO2 figures but suffice to say it's not going to win any environmental awards.
Remarkably, the Spider manages to be lighter than its coupe sibling, weighing in 5kg lower at 1380kg.
There's also something called 'Ferrari Dynamic Enhancer', which is a new lateral dynamics control setup, said to make "on-the-limit driving more intuitive, controllable and predictable".
There's no word on how much the 488 Pista Spider will cost but expect to part with a sum in the region of £275,000.