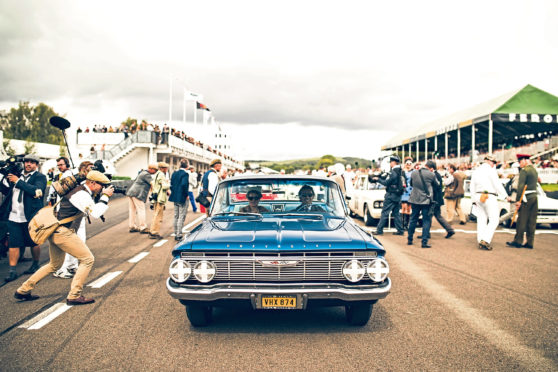 The Rhynd Café, outside Leuchars, will be welcoming classic car and motorcycle owners on the first Sunday of every month for its new "Bacon and Brakes" mornings.
Starting tomorrow, October 6, an area in the Café car park will be reserved for classics. As an added bonus, participants who arrive between 10am and 12pm will be able to drink as much free coffee as they can manage.
Rhynd owner Ed Foster, who works for Motor Sport Magazine and Goodwood, on its Festival of Speed and Revival, is a long term car fanatic. He said: "As an owner of a classic or two it's always good to have somewhere to go on a weekend, especially if there are other interesting cars there. As anyone who has been to the café will know, the walls are mostly covered with motoring and motorsport memorabilia. I've always wanted to create more of a club atmosphere in Fife for classic car and motorcycle owners and this is hopefully a first step towards that."
While the official cut off for classics is 1978, Ed is insistent that anyone with an interesting machine should come. "I've always been a fan of the weird and wonderful – you have to be to own a 150cc Piaggio Ape and a 6.7-litre Chevrolet Impala – and I'm hoping we'll see some really interesting machinery," he continued.
"My late father always said, 'cars rot if you don't use them, and wear out if you do. I'd much prefer to wear them out.' He was quite right, and it's a shame when interesting pieces of history are hidden away.
"Hopefully the public will get to see some of them for free on Sunday at the Rhynd. The weather also looks okay at the moment!"
Future plans for the Rhynd's Bacon and Brakes mornings will depend on the uptake, but with Leuchars only five minutes down the road, Ed is considering the possibility of renting the runway.
To find out more, visit The Rhynd's Facebook page.
(Caption shows Ed's Chevrolet Impala.)