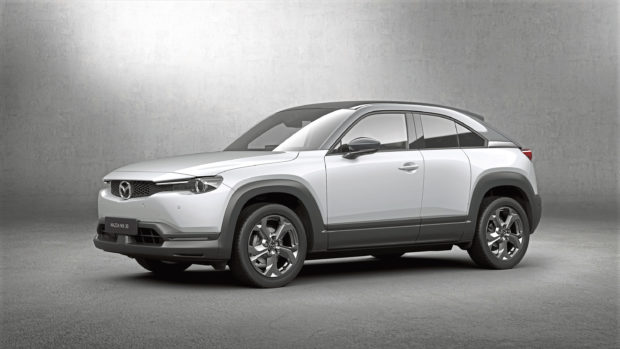 Mazda has unveiled its first fully electric car, the MX-30.
The Japanese company has been slow to embrace the electric revolution, preferring to wring every last drop of efficiency out of its petrol and diesel engine range.
In typically Mazda fashion, they haven't followed the crowd and have come up with something a little bit different.
The MX-30 comes with rear-hinged doors which echo those used on the company's old RX-8 sports car. They create a significantly wider opening and should make loading items such as wheelchairs and buggies much easier than with conventional doors.
The car uses the same underpinnings as the Mazda CX-30, which sits between the CX-3 and CX-5 in Mazda's line up.
Interestingly, Mazda hasn't tried to beat its rivals when it comes to range. A modest 35.5kWh battery gives a range of around 130 miles – well down on the 250-280 miles offered by similar cars like the Kia Niro and Hyundai Kona.
The flipside is it's expected to cost around £30,000 once the government's £3,500 grant is taken off – that's roughly £3,000 less than the Kia and Hyundai.
According to Mazda, Europeans drive an average of 31 miles a day, and the MX-30 will have ample range for most journeys. Mazda says it won't introduce a model with a larger battery but later models will be offered with a range extender option that uses a small petrol engine to top up the battery.
The company also says a smaller battery means the MX-30 will release fewer emissions throughout its lifespan. Charging the car from an empty battery to 80% capacity takes just 40 minutes using a50kW rapid charger. Charging from a home wallbox, which are typically 7kW or 11kW will take a lot longer, of course.
Inside is a 7.0in infotainment system with a separate touchscreen for climate controls and a rotary dial for ease of use on the move.
If you want one you'll have to wait – order books open next summer and first deliveries won't be until 2021.