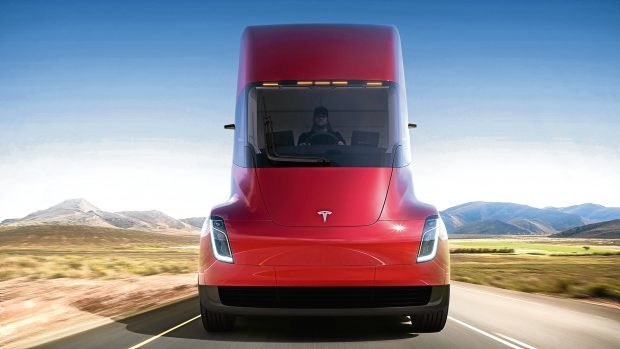 Tesla spearheaded the electric car revolution that is gathering steam.
Now the Californian company headed by the charismatic billionaire Elon Musk is trying to do the same with long distance road haulage.
For years motoring experts have said that while electric cars might catch on, trucks will have to remain diesel powered. Now Tesla has – potentially – turned that wisdom on its head as well.
This week saw the unveiling of the long awaited Tesla Semi-Truck, which has a range of 500 miles.
Musk told an audience at the unveiling in California that the Tesla truck has a range of 500 miles per charge while carrying maximum weight – which is 80,000 pounds – and traveling at "highway speed." By comparison, diesel lorries can manage around 1,000 miles on a tank of fuel.
By itself, the semi cab can accelerate from 0 to 60 miles per hour in 5 seconds, versus 15 seconds for a diesel lorry. It can accelerate to 60mph in 20 seconds when it's towing the maximum legally allowed weight.
It can also reach a speed of 65mph when traveling up a 5% grade while towing the max weight. Diesel trucks generally top out at 45mph under such conditions.
Akin to the Supercharger network it is building out for its cars, Tesla plans a Megacharger network to support its Semis. Musk said the fully solar-powered stations will be located about every 400 miles. After driving for five or six hours, drivers will be able to take a half-hour break and have a fully recharged truck when it's time for them to hit the road again. These plans are for the American road network, though, and it remains to be seen what they'll do in the UK.
Safety-wise, they'll have low centres of gravity because the battery packs are situated in the floor pan.
Most importantly, as far as safety goes, independent motors on each wheel will adjust their torque so that jackknifing is impossible.
jmckeown@thecourier.co.uk