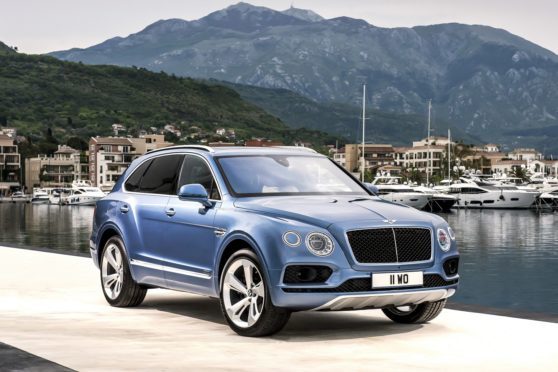 The luxurious Bentley Bentayga SUV is now available as a plug-in hybrid, making it the least-polluting vehicle the brand has ever made.
Marketed by the British brand as its "first step towards full electrification", the upmarket SUV is being offered with a 3.0-litre petrol V6 engine and electric motor that result in CO2 emissions of just 75g/km.
Hybrid-specific changes include a revised infotainment system that can relay important information on performance, consumption and battery levels to the driver, while the traditional instrument panel has been replaced with a dial that shows when the Bentayga is in pure-electric mode, displays charge being regenerated when slowing down, or engine revs when the V6 is engaged.
Bentley says the vehicle uses information from the satellite navigation system to decide when to use EV mode or the engine. For example, it will deliberately hold back use of the electric motors to keep the battery full ahead of entering a city, and will deploy more battery at the end of a journey rather than hold charge unnecessarily.
The charge point can be plugged into a domestic power supply or public charging point and is estimated to take 7.5 hours and 2.5 hours respectively to fully charge a depleted battery. The electric-only range is claimed to be 31 miles.
Adrian Hallmark, new chairman and chief executive of Bentley Motors, said: "The Bentayga Hybrid is our first step on the road to electrification, combining traditional Bentley values with the very latest technologies. It gives customers the best of both worlds – engaging, effortless performance on the open road and silent, emission-free driving in the city, which will become increasingly important with the ever-changing regulations around the world. Following Bentley tradition, the Bentayga Hybrid pioneers a new automotive sector – the luxury hybrid – and sets Bentley on the path towards a sustainable electrified future."
Bentley is remaining vague on pricing and availability, but says the Bentayga Hybrid "will become available to order in selected markets from the second half of 2018".