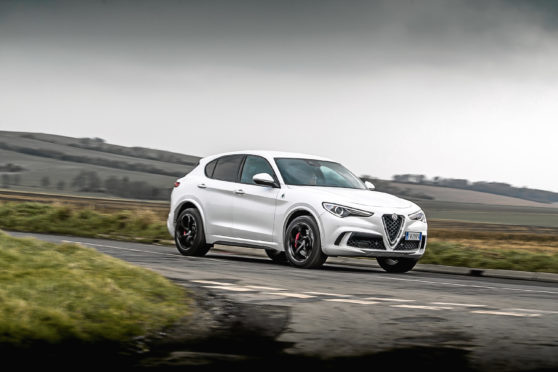 Alfa Romeo's superfast SUV, the Stelvio Quadrifoglio, will cost just under £70,000 when it goes on sale in the UK this summer.
That's more than double the entry price of the Stelvio SUV, but it buys you one of the fastest 4x4s out there.
It uses a Ferrari-built 2.9-litre V6 producing 503bhp mated to an eight-speed automatic gearbox and a torque vectoring system for shifting the power around. Helped by four-wheel drive, it's good for 0-62mph in 3.8 seconds and will go on to a top speed of 176mph.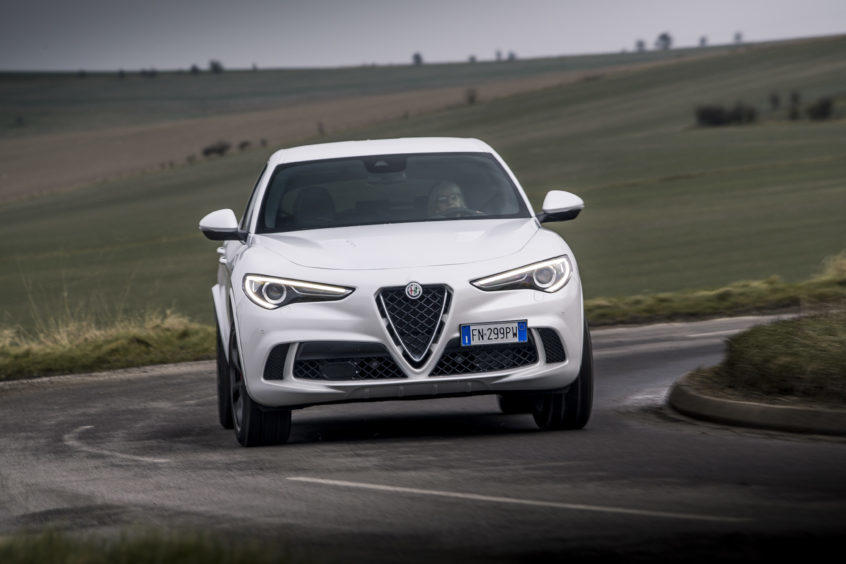 Standard specification for the Stelvio include 20″ alloys, specially profiled wheel arches, a new rear diffuser, four-pipe sports exhaust, bi-xenon headlights, leather and Alcantara seats, carbon fibre trim and stainless steel pedals,
There are four selectable drive modes: Dynamic, Natural, fuel economy-focused Advanced Efficiency and performance-oriented Race. The Stelvio Quadrifoglio's eight-speed automatic gearbox has been tuned to shift gears in just 150 milliseconds when the car's in Race mode. The driver can also shift gears using steering column-mounted aluminium paddles.
The carbon-ceramic brakes have Alfa Romeo's Integrated Brake System, which the company claims reduces stopping distances by combining a stability control system with the car's brake servo.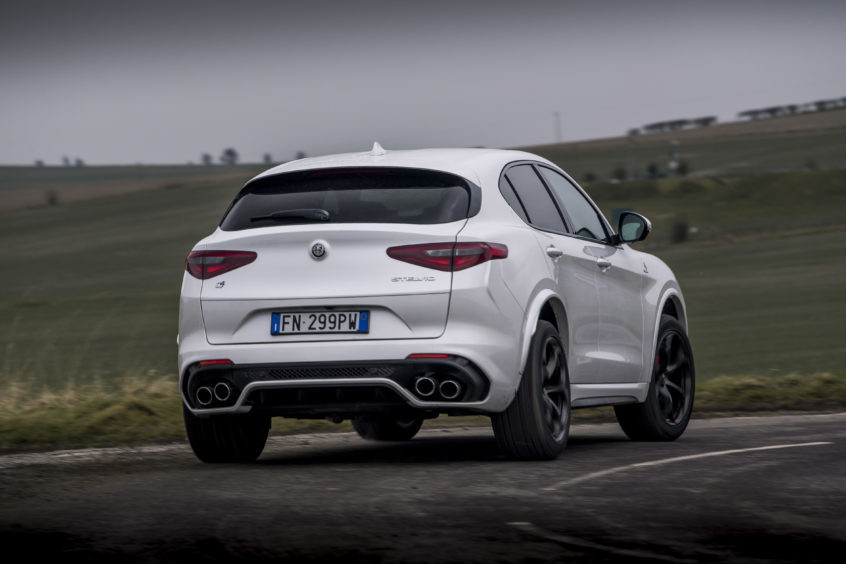 The Stelvio Quadrifoglio comes in four-wheel drive only, however under normal driving conditions the car sends 100% of the power to the rear wheels. If it senses slippage up to half of the power is shifted to the front wheels to aid with grip.
The standard Stelvio – the first mainstream Alfa Romeo SUV – is priced from £33,990 in entry-level trim; £740 less than the equivalent Jaguar F-Pace.
There are just two engines on sale: a 2.2-litre diesel with either 178bhp or 207bhp, with the latter available exclusively in all-wheel drive, or an all-wheel-drive 2.0-litre petrol with 197bhp or 276bhp. The entry-level engine is the
178bhp diesel in rear-wheel drive.
The Quadrifoglio version is available to order from Alfa Romeo dealerships now and first deliveries are expected to start in the summer.