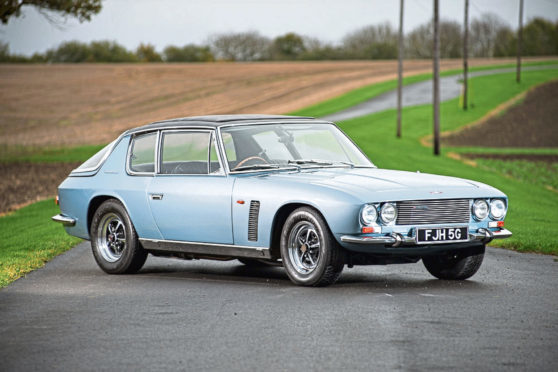 Few fathers tend to name their sons after motor cars, but it does happen.
There's Scots comic actor Ford Kiernan. I once met a little boy called Land Rover Johnson. An African pal at university had a brother called Jaguar, named after the car.
However, it seems Mr Button senior did the right thing to call his son Jensen, as he went on to great success in Formula One.
Brothers Alan and Richard Jensen, although they had a fraught, up-and-down existence, can be seen as major figures in the UK car-making scene.
Over the decades, working for many firms but mainly under their own name in West Bromwich, they designed and manufactured every type of vehicle.
These included lorries, light commercials and buses, plus sporty, special-bodied versions of many cars—such as Austins, Wolseleys and Standards. During the 1939-45 war they made tank turrets and post-war they built Austin-Healeys, Jensen-Healeys, the Austin Gypsy (a short-lived rival to the Land Rover) and the sporty Volvo P1800, until production moved to Sweden.
However, Jensen's repute stems from their post-war sports cars, mainly powered by six-litre US Chrysler V8 engines. Their fibreglass-bodied 541 and later CV8 and FF models (one of the first road cars with four-wheel drive and early ABS braking) are all sought-after by enthusiasts today.
Best-remembered is the early-1970s Interceptor, whose eye-catching bodywork, designed by Carrozzeria Touring of Italy, included a huge sloping, lift-up rear window—arguably, the first liftback.
However, the company had its share of troubles. Inevitably, the cars were expensive and sales often failed to match output.
Ownership and top management changed several times, and the 1960s and 70s were years of car industry strife from which Jensen was not immune.
The Jensen brothers left and the car-making firm folded in 1976, although small firms to source and supply spares remained.
Since then several attempts to revive Jensen production, including at Speke, Liverpool, and in the ex-Jaguar plant at Browns Lane, Coventry, have come and gone.
Advanced Jensen prototypes have been designed. A new firm which will totally restore and technically update older cars has been mooted.
As long as the power of the name remains, Jensens may again roll off the assembly line. It just needs someone to press the right Button.