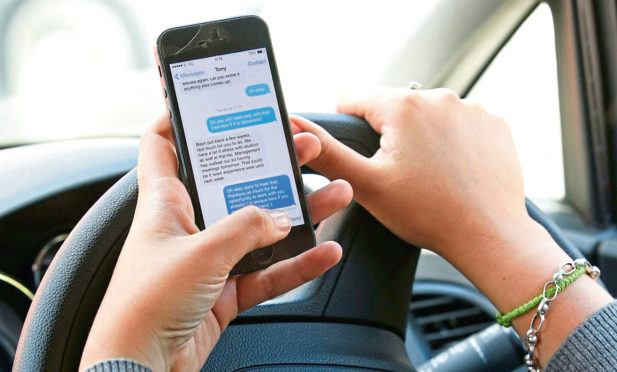 It may be illegal and fines and penalties may have been doubled but far too many people continue to use their phone while driving – and Scots are the worst offenders.
Nearly half a million people were observed using a mobile phone at the wheel during 2017, a survey by the Department for Transport has found.
The data released shows that 1.1% of drivers – equating to 445,000 people – were seen driving while using a mobile phone in Great Britain. It represents a 0.5% decline over the previous three years.
It also shows that the rate for Scotland was significantly higher than that in England and Wales – 2.0% versus 0.6%.
Taxis and private hire vehicles also proved to be the worst offenders, with 3.3% caught using phones behind the wheel. They beat out van drivers, at 2.1%, private car drivers and bus drivers at one per cent each, while goods vehicles and lorries were the least likely, at 0.6%.
Young motorists were the worst offenders: 4% of those aged 17-29 were caught, compared with 0.6% of over-60s.
RAC road safety spokesperson Pete Williams said of the data: "It's clearly good news these figures show improved compliance with the law in England and Wales, but worrying they were far higher in Scotland.
"It is also important to recognise the vast majority of these surveys were carried out months after the penalty for using a handheld mobile phone at the wheel was increased.
It stands to reason the 'fear factor' of the tougher penalties would be greater in the time immediately after they were introduced.
"Anecdotally, we still see too many drivers either talking on their handheld phones or interacting with them. And perhaps more worryingly, our own research with drivers suggests the problem has far from gone away.
As a result we suspect many drivers will be very sceptical of these findings as they don't reflect what they see on a daily basis."