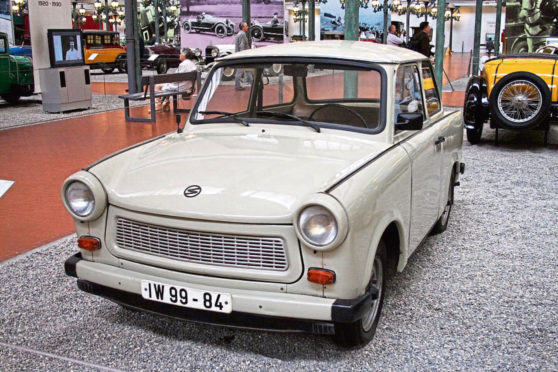 If there is one car whose demise has hardly caused any regret from car buffs, it is the Trabant. In a way, it was not just that the car was poor—above all it embodied everything that was wrong with a state-run enterprise in a near-totalitarian state.
For decades it was the only car available to East Germans, other than locating a Skoda or Russian car. In many respects it was a "people's car": cheap (800 Marks) and basic, with a 600cc two-cylinder two-stroke engine, two doors (although an estate and "Jeep" were added later), a scant range of colours and no options.
Worst of all, buyers faced a 10 to 11-year waiting list. Result: you could sell a years-old scruffy "Trabbi" for far more than list price, but the buyer got it now rather than years hence. However, it was hardy and durable and, as the design always stayed the same, spares were easy to find.
Not that finally getting one was a joyous experience. A friend from East Germany told me that, after ordering one in 1974, in 1985 he received a terse letter ordering him to collect the car at such-and-such dealership at 5pm that Thursday and pay cash.
He duly paid cash before he saw it, only to discover that it had no hubcaps or bumper mouldings. When he complained, he was told take it as it stood or lose it. The tank was almost empty and there was no instruction book. Again he complained and was told to fill it at the nearest petrol station and the tank was under the bonnet. At the pumps, he pulled the bonnet release catch, which snapped off in his hand. Tough, they said, go buy a replacement.
However, East Germans were so used to such cavalier treatment that he meekly bought a spare catch and installed it himself. And luckily, his bother-in-law was scrapping a Trabbi and he got the missing hubcaps and trims off it. But could any dealership anywhere else have got off with such appalling treatment?
Trabant production started in 1957 in Zwickau, but once the Berlin Wall fell, the car was doomed. The last sad Trabbi rolled off the line in 1991, and of the 3.5 million manufactured, very few are left.