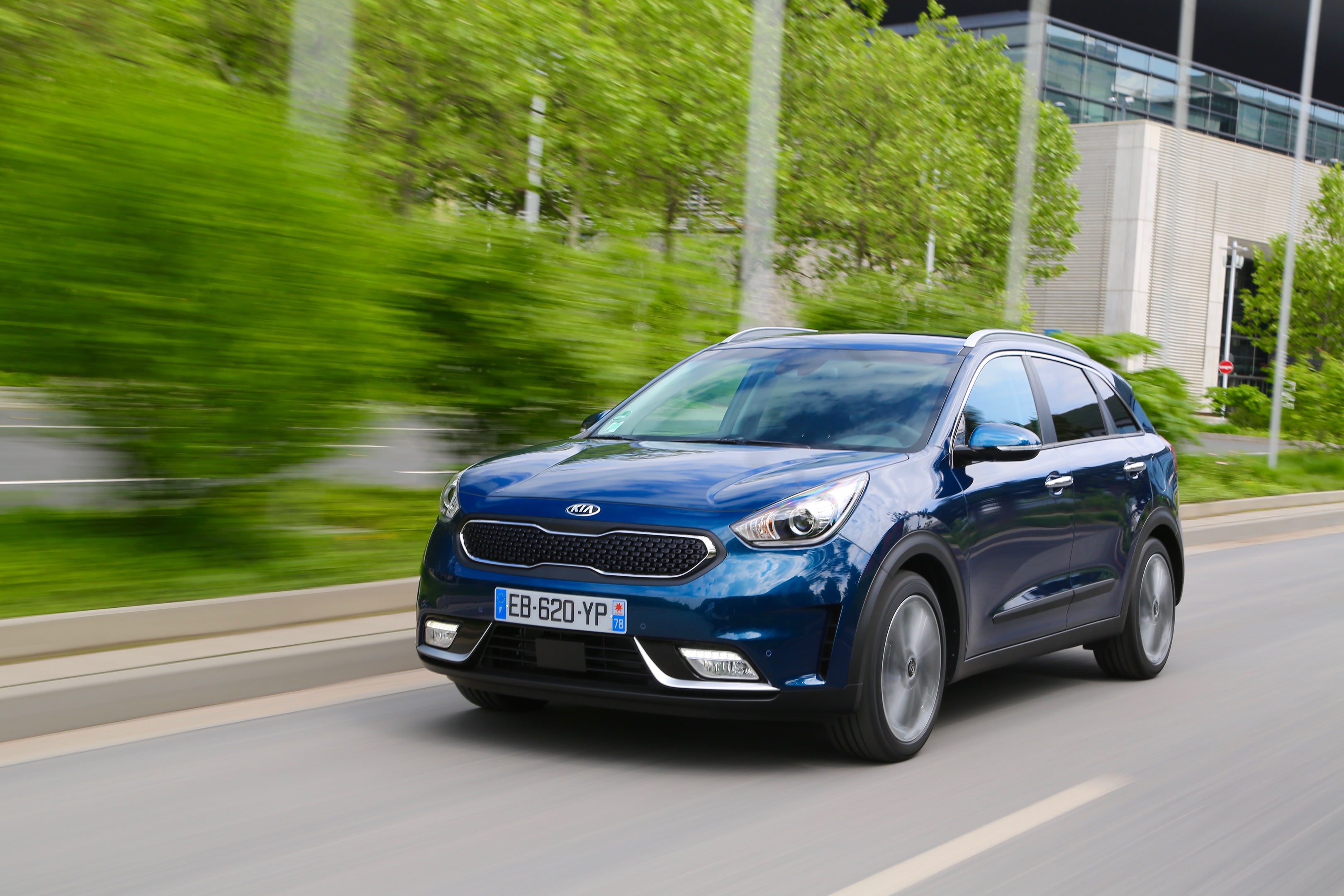 The Kia Niro is a mid-size SUV with a twist – it's a hybrid.
Sitting below the Sorento and Sportage, size wise, it's powered by a 1.6 litre petrol engine married to an electric motor. The result is emissions of just 88g/km and fuel economy roughly equivalent to a diesel – but without the health risks that are now associated with diesel engines.
Unlike a good deal of rival cars, the Niro isn't a hybrid shoehorned into the body of a conventionally powered car. Instead it sits on a platform specially designed for future hybrid and electric-only Kias.
There's no four-wheel drive option but this shouldn't matter to the vast majority of buyers.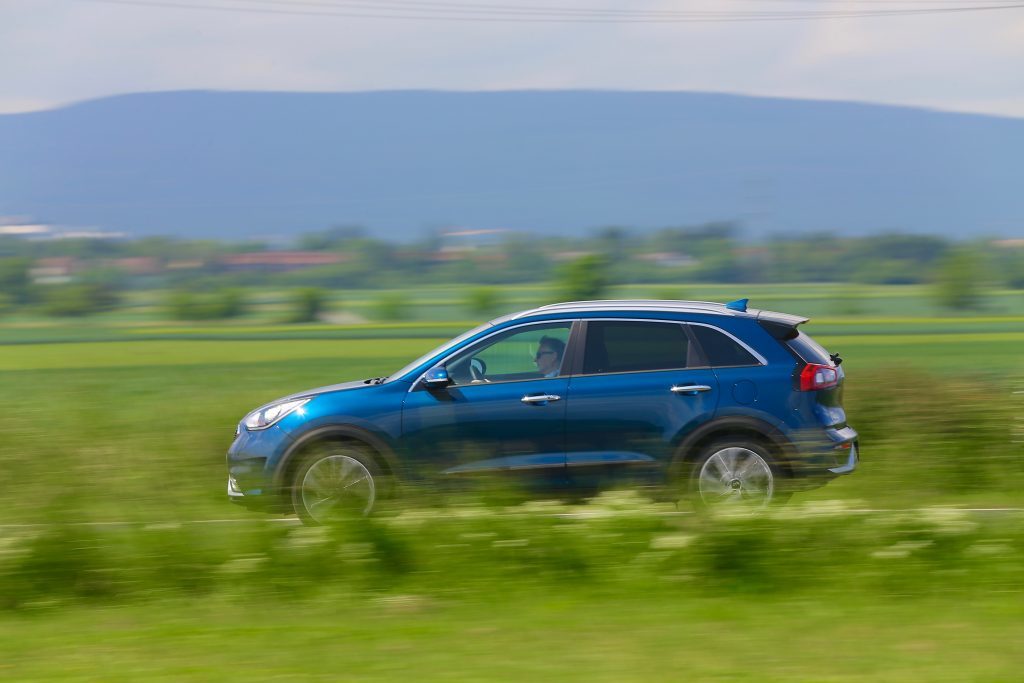 Kia has a refreshingly simple spec level labelling system. Entry level cars ar called 1, mid-level are 2 and top spec is 3. Prices start at a little over £21,000 and the 2 model I drove cost £22,795.
It features Kia design guru Peter Schreyer's distinctive "tiger nose" design and has a shape that gently tapers over chunky wheel arches. It's far from the most radically designed or head-turning SUV out there but it's certainly easy enough on the eye.
A platform made specifically for hybrid power and a cleverly designed battery pack maximise interior space and the Niro feels bigger than expected inside. Boot space is a thoroughly decent 427 litres and expands to nearly 1,500 with the rear seats folded.
I took my test Niro to the Lake District for the weekend, giving me a chance to test it on all kinds of road types and surfaces. On the motorway there's a bit of wind and road noise but it returns good economy and is a comfortable enough long distance cruiser.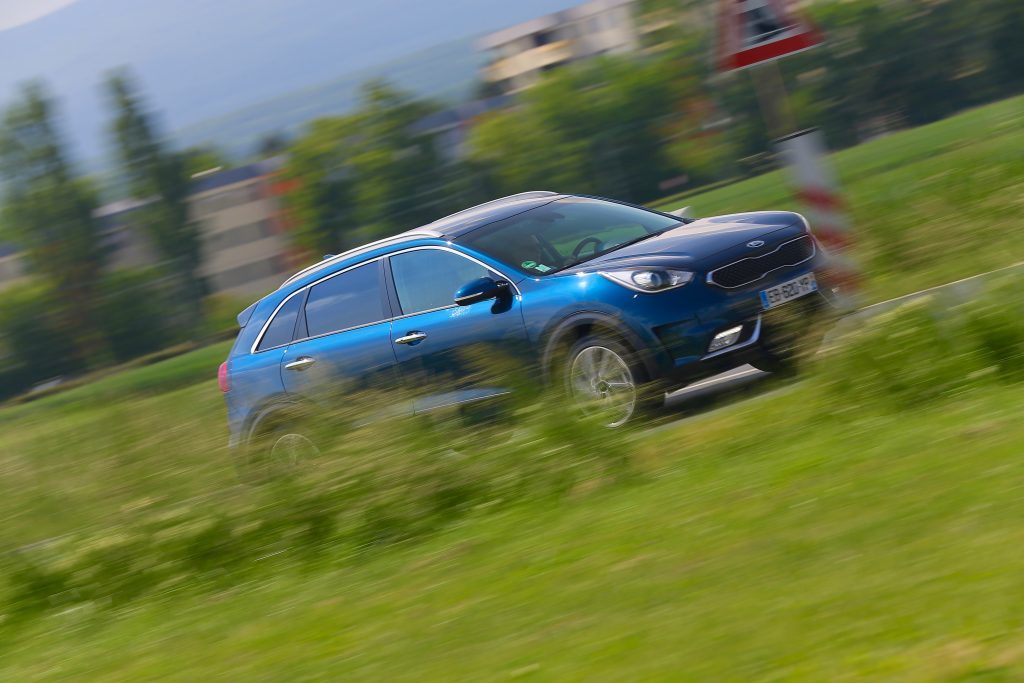 It surprised me slightly on the twisty stuff. I wasn't expecting it to handle like a sports car and – spoiler alert – it doesn't, but it's grippy and remains flat during cornering.
The six-speed dual clutch automatic gearbox works away quietly in the background, cleverly taking care of dividing the power between conventional and electric.
One of the nicest things about the driving experience is pulling away in electric-only mode. There's no engine noise when you switch the car on and if you keep acceleration gentle you can run on electric power alone around town.
Like every petrol-electric hybrid I've ever driven, the engine doesn't enjoy being pushed hard. Ask it for every drop of power and it doesn't make a pleasant noise. Ease back a little and it's much more refined, however.
Over the course of 500 miles in a fully laden car I got around 55mpg. That's a lot less than official figures but still made for a cheap trip.
Inside, the Niro has Kia's familiar dark-but-smart layout. There's plenty of seat adjustment and finding a comfortable driving position is easy. I'd appreciate a tad more cushioning – after a couple of hours in the saddle my derriere was decidedly numb – but unless you regularly spend days on the road it's perfectly good.
There's plenty of headroom front and rear and most adults will fit nicely in the back.
Controls are well laid out and easy enough to use, although I still think you can't beat the rotary dial system found in the Mazda CX-3 and CX-5 (itself borrowed from BMW and Audi).
The most obvious rival for the Niro is the Prius. Over those two I'd choose the Kia every time. It's larger and more spacious. It has the higher driving position that many people prefer these days. It's cheaper than the Toyota and it comes with Kia's superb seven-year 100,000 mile warranty.
Whether I would choose one over a good diesel alternative is a trickier question,however. Hybrids are getting better all the time but I think they've a ways to go yet.
Vital Stats
Price:
£22,795
0-62mph:
11.5 seconds
Top speed:
101mph
Economy:
74.3mpg
CO2 emissions:
88g/km