The Qashqai was the car that made Nissan's fortunes and started the craze for SUVs.
Now well into its second generation, Nissan has brought it up to date with the introduction of autonomous driving technologies.
Called ProPilot, the system was fitted to the new electric Leaf earlier this year and has now been added to the Qashqai range.
Essentially, ProPilot combines a suite of technologies to help the driver make safer and more effortless journeys.
There is lane-keeping assistance, "intelligent lane intervention", adaptive cruise control and a traffic jam pilot for automatics.
The technology works based on traffic and road conditions data supplied by a camera mounted in the windscreen and a radar behind the Nissan badge in the radiator grille.
Launched initially on the dCi 130 XTronic, the ProPilot options will soon be available across the Qashqai range.
Nissan also released a special Pilot One Edition, a top spec model with all the bells and whistles you can think of.
Nissan brought a Pilot One Edition up to Scotland for journalists to try out the new technology.
Packed with standard kit as well as the autonomous driving tech, the version I drove cost a hefty £33,425 but came with automatic gearbox, quilted leather seats, panoramic glass roof, Bose sound system and many other niceties.
The driver assistance functions are activated by switching on cruise control then pressing a button on the steering wheel.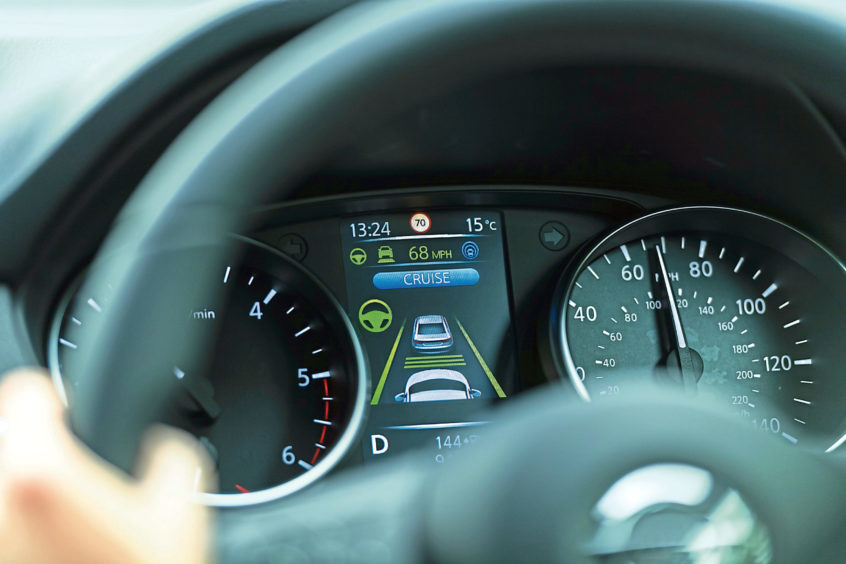 The car then takes over part of the driving, accelerating up to your predetermined speed and braking as it approaches traffic in front. The steering wheel twitches in your hand as the technology helps you keep in lane.
This is not a fully driverless car, however – take your hands off the wheel for more than a few seconds and a beeper warns you to take back control.
The technology also isn't pioneering – other manufacturers offer similar systems – but Nissan's version works better than most. Once you get used to it, ProPilot does make driving easier and less hassle. I probably wouldn't use it all the time but it would definitely make a boring commute that bit easier.
It's also quite exciting to be in an era when technology is improving so quickly. A decade ago the technology used in this Qashqai would have soundeda impossible. Perhaps a decade from now it will seem old hat.