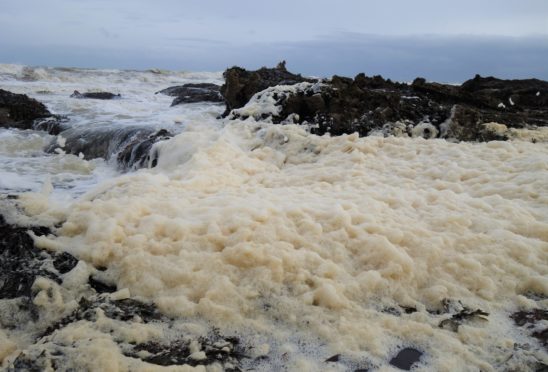 The water by this rocky shore at Kingsbarns near St Andrews had churned into a white froth, such was the ferocity of the wind and the turmoil of the waves.
How could creatures live in such a maelstrom? But prosper they do, and as I turned stones over in a nearby rockpool, an abundance of life shone out at me, including a short-spined sea scorpion – a most unusual bug-eyed fish, with sharp spines on its gill covers.
While life abounded, there would inevitably be casualties by the crashing sea edge as molluscs, crustaceans and other creatures become dislodged from their hiding places, with surf-patrolling predators such as cod eagerly snapping them up.
A cormorant swooped above me on black bat-like wings, looking sinister against the angry grey sky, and herring gulls wheeled by the sea margin, continually dipping up and down in search of morsels in the churn.
Above the noise of the wind, a high-pitched triple-noted call rang-out, and on grey-flashed wings a redshank took to the air and then alighted by a shallow watery gully. I brought the redshank into focus through my binoculars and spotted a dunlin standing right next to it.
Dunlins are attractive little waders that normally haunt our winter coasts in flocks, and I suspect this lone bird had instinctively sought out the redshank for some avian company. The more pairs of eyes there are, the more likely that danger will be spotted, so both the dunlin and redshank benefited from staying together.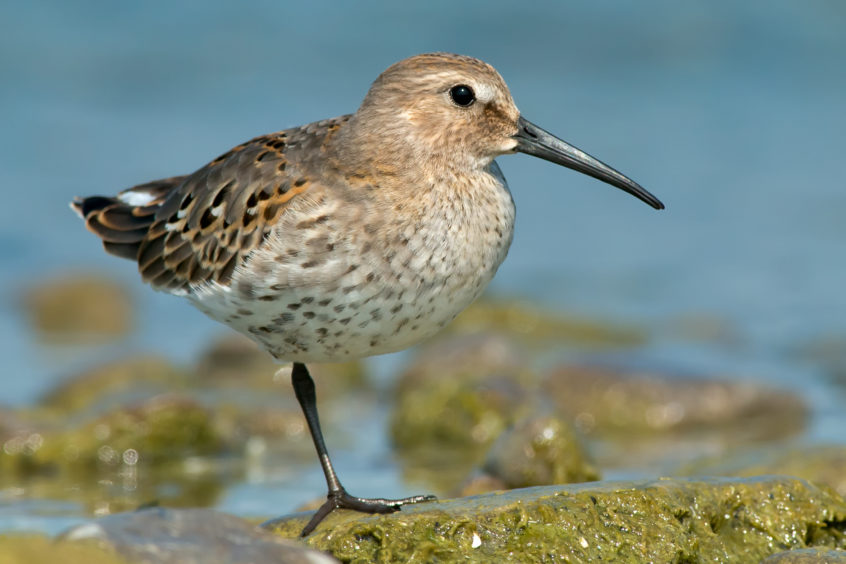 Another flock of waders spiralled above the rocks, before coming to rest. They were turnstones, so aptly named because of their habit of turning over pebbles and strands of seaweed in their quest for marine invertebrates to feed upon.
I retreated back up the upper shore, where the sheer power of the sea was underlined by the abundance of washed-up kelp on the strand-line, the formidable holdfasts at the end of their stalks not being strong enough to keep them secured to the seabed.
These kelp piles are a god-send for rock pipits, as a multitude of invertebrates thrive within their warm decaying embrace, providing a bountiful larder for these small coastal songbirds.
I knelt down and parted some of the kelp fronds with my hands in search of the egg cases of catsharks, which are more popularly known as mermaid's purses because of their leathery pouch-like appearance. I failed to find any but did discover the skull of a guillemot, which made me wonder how it had met its fate.
It is a perilous existence being a seabird, especially in these modern times where our oceans are becoming increasingly contaminated by plastic, and rising water temperatures are causing great environmental upheaval.
As these dark thoughts swirled through my mind, I rose to my feet and headed for home, the strident call of a redshank echoing in my wake.
Info
Winter is a great time to visit the coast of Courier Country, with both rocky and sandy shores holding plenty of seabirds. If you have binoculars, scan the sea, as it is often possible to spot sea ducks out on the water.