Michael Alexander meets Alan Stewart – one of Britain's foremost retired wildlife detectives – whose new book charts 12 months of nature and farming on a Perthshire estate and observes change over 60 years.
The black water-laden clouds above the Dupplin Estate are releasing their cargo of heavy rain onto the mist-covered Perthshire countryside as a pair of roe deer wander purposefully across a muddy track on the horizon.
Closer to hand, an adult brown hare pops its head out of a wheat field and shakes itself amid a cloud of fine spray before scampering off down a set of tractor tramlines in a bid to keep dry.
It's not the best of mornings to be out and about let alone starting out a year of walking over the 13,000 acre estate in search of wildlife.
But as retired wildlife crime officer Alan Stewart fastens his jacket to brace himself against the worst of the inclement weather, there's no way the conditions are going to put him off as he sets off on a 12-month journey to revisit and chart changes on the estate that he got to know so well in his youth.
Alan, 72, of Methven, explained he was relaxing with a glass of wine with his wife Jan in the summer of 2018 when their daughter Janet asked him if he was planning to write any more books.
Janet had particularly enjoyed his 2015 book A Wealth of Wildlife that related to wildlife encounters on his many walks on a Highland Perthshire estate and thought he should write a similar one relating to another part of Perthshire.
From that conversation comes his new book Walking with Wildlife: A year on a Scottish estate which sees him observe and record changes in farming practice, the environment and wildlife on the Dupplin Estate, west of Perth.
He takes the reader on journey that records everything from a goshawk teaching her young to hunt and whooper swans arriving from Iceland to red squirrels stocking up for winter and a goosander with her newly-hatched brood.
He observes and listens to the lovely songs of a wide range of avian summer visitors including whitethroat, sedge warbler, garden warbler and chiffchaff.
But more than that, the book is also a lovingly told personal account of the state of the natural environment in Perthshire.
"I had spent many years of my life on Dupplin Estate," explained Alan, who lives with his wife, dog, ducks and hens on the edge of his Perthshire village.
"My early years with my lifelong friends Jimmy Robb at East Lamberkin Farm and Gerry Oliphant at Cairnie Toll Cottages; about 10 years trapping rabbits over the whole estate in the 1970s and 1980s; and a few days beating on pheasant shooting days with a variety of head keepers over intervening years.
"I knew the 13,000 acres of the estate intimately and, even though I had seen very little of the estate since the mid-1990s, Dupplin was ideal for the purpose of a book, giving me the chance to compare the farming, forestry and wildlife of the estate over the course of nearly 60 years.
"Importantly, given my background in policing, I knew the estate was run within the law and that I would certainly not be coming across poisoned raptors or illegally-set traps.
"An added bonus was that the estate boundary is less than two miles from my house!"
Born in Perth, Alan is a former pupil of Craigie School and Perth High School. He worked on the estate before starting as a police cadet in 1964, spending time as a constable in Dunblane and Perth.
He spent a significant part of his career in CID and with the drugs squad. He was promoted to inspector in 1993, covering Crieff and Kinross, and retired after 31.5 years police service in 1997.
During his last four years with the force, he was Tayside police's first dedicated wildlife crime officer and in 2001 he was awarded the MBE for services to policing wildlife crime.
He was re-employed as a civilian full-time wildlife crime co-ordinator – a role he held until 2011 – and also served as intelligence officer with the Livingston-based National Wildlife Crime Unit.
He investigated everything from bird of prey persecutions, to illegal trapping, poisoning, shooting, and poaching of salmon, game and deer.
The highest profile case he investigated was the poisoned golden eagle found at Millden estate in Angus in 2008.
It was when he starred in the 2007 BBC documentary Wildlife Detectives about the work of wildlife officers in Scotland, however, that he took his first foray into writing wildlife books after it was suggested he should write a book to accompany the series.
"I'd never written a book before but I'd written plenty long police reports on frauds and embezzlements and things like that," recalled Alan, who has written a total of seven books since.
"In the first book I recounted a lot of the incidents and investigations I was involved with. In those days, we dealt with a lot of deer poaching and salmon poaching. We caught a lot of deer poachers and salmon poachers on the Tay and the Almond.
"A lot of it was through intelligence passed on from informants at that time who were usually poachers anyway. They were absolutely spot on with their intelligence!"
Alan went on to write other books including The Thin Green Line – a compilation of his colleagues' wildlife crime investigations covering the whole of the UK; the Lone Furrow on more recent wildlife crime investigations, and Wildlife and the Law.
While they've all tapped his extensive knowledge and love of the environment, his latest publication Walking with Wildlife, written between August 2018 and August 2019, has perhaps been the most satisfying as it gave him the chance to revisit haunts of his youth and observe intimately how things have changed.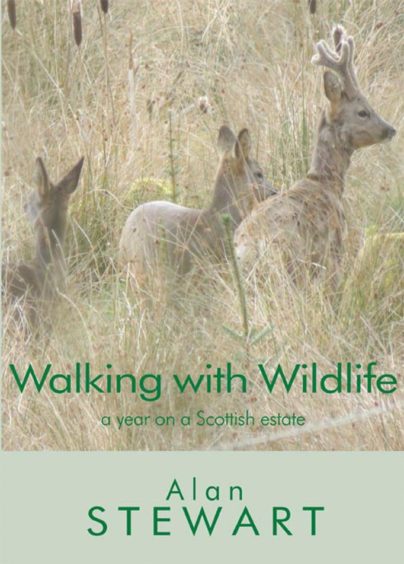 "One of the main things I noticed when I went back to the Dupplin Estate," he said, "was that in the past the fields running right down to the river often had sheep or cattle in them. But there's less now than there was.
"Sixty years ago there was no non-native plants like Himalayan Balsam and Giant Hogweed growing near the riverside. Now there's quite a lot and in some parts it's difficult to get near the side of the river because of it – a scourge just about everywhere in Scotland now."
Alan said just about all the changes he noted in the landscape were caused by humans.
But changes for the better include miles of hawthorn hedges and efforts by the farm manager to minimise the use of pesticides.
Another improvement, he said, was the estate trying to leave more and more stubble fields unploughed until spring. Ploughing destroyed the food source for a lot of small birds so leaving them that bit longer was a "big advantage".
"A highlight of the year was seeing a goshawk teaching her young to hunt," he smiled.
"Goshawks are one of the birds that are regularly persecuted in Scotland. So it was great to see a female goshawk and two of the young. It was obviously teaching them how to catch prey. It didn't actually catch anything when I was there, but it was diving down and they were mimicking.
"I also saw lots of hooper swans. I saw the first four on the River Earn just about as soon as they arrived from Iceland and quite a lot after that on one of the Dupplin lochs and loads more after that on the River Earn. These are things I'd never seen there before."
Alan tended to write a chapter after every visit.  His favourite season was  spring when everything was new while the late summer was his worst because the cover was up so much and it was difficult to walk in some areas or see wildlife.
One of the most enjoyable challenges, though, was taking photographs.
"It's comparatively easy to take photographs of wildlife with a big lens, but really it's a lot more challenging to get close enough with a smaller lens," said Alan who used an "ordinary camera with a wee zoom".
"For years I've been getting close to hares just by walking very slowly or walking as if you are going to miss them. You can actually start to circle coming in closer and closer. For this book, I photographed some of the hares six yards away.
"Very often though I'd just sit at the bottom of a tree for half an hour where I might expect something to appear."
Alan had hoped for a bit more snow to do some tracking. But there was other evidence of animals he never saw including badger and fox footmarks, droppings, beaver dams and nibbled trees and hair where something had gone through a fence.
"It was interesting using my various skills and I suppose wildlife detective work," he said, adding that on one occasion he freed a deer caught against a gate post.
Overall, however, the project was a reminder of what Perthshire means to him.
"It's a part of Scotland where you get a huge variety both of habitat and wildlife," he said.
"Unfortunately a lot of the things that used to be here you only now get in any numbers in the Western Isles – things like lapwings and curlews and some of these waders that used to nest on farmland but very seldom get peace to rest now because of agriculture and the methods of agriculture.
"But having spoken to the farm manager at Dupplin, it's clear they are very sensitive to the environment and do try to miss the nests if doing farm work."
*Walking with Wildlife: A year on a Scottish estate by Alan Stewart is published by Thirsty Books and available now, cover price £15.