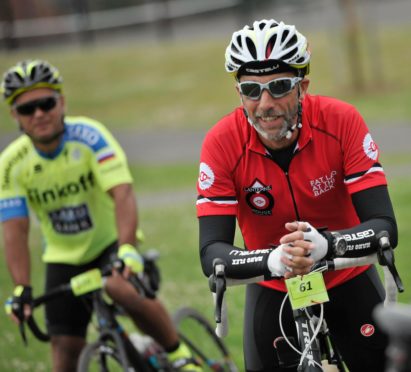 I have a favourite jacket that I wear when I am cycling. I can't quite remember when, or even where I bought it, but I do know I've had it a long time.
The washed-out colouring of the blue material and orange piping is testimony to its life cycle. There is a small rip on the elbow, that I have always had the intention to repair, but never got around to actually doing it.
That tear was a result of a mountain bike tumble where the only injured party was my jacket. At the time I was devastated that I'd damaged my favourite jacket, but now that hole is part of my cycling story. I do, of course, have other jackets that I wear that still retain their water resistance, and don't look like they've done 15 rounds, and lost with a washing machine.
And no doubt, they will slowly make their way into my heart as my favourite cycling jacket, but despite my blue "rag" departing the autumn of its life I am going to squeeze in a few more rides with it.
Obviously extending the life of our clothing is good for our finances, as well as the environment. As consumers we are constantly enticed to buy new items of clothing, each espousing a new technology that will enhance your riding and way of life.
Over many years I have come to understand that investing in well-made garments in good quality fabric will make them last, but don't be fooled into believing that expensive means quality.
Often the lifespan of garments can be extended by following the manufacturers guidance for cleaning and aftercare. I used to be in the habit of chucking all my cycling kit in a pile in front of the washing machine after a ride.
All the items got washed at the same time, so all were subjected to the same temperatures. Velcro fastenings and zips were left open and would often damage more delicate materials. There were even outer-garments, such as overshoes, that could just have had the dried mud brushed off, were thrown in the mix.
There are times when you have to admit defeat; when clothing becomes ineffective for its intended purpose. I had a pair of cycling shorts that I had been wearing for many years. They were still comfortable, but I cringe now when I think of the riders who sat on my wheel behind me staring at my backside and who didn't utter a word.
It wasn't until I was pedalling hard into a head-wind one day and my wife, sheltered behind me commented that my backside was clearly visible through the thin, worn and almost transparent lycra. It was enough for her to move to the front and take the brunt of the wind while I sat in behind red-faced.
Another way of extending the life of clothing is to re-appropriate items for other uses. I still wear those old shorts under my mountain bike shorts, or, sparing my modesty, when I am training indoors on my turbo trainer.
Much of my cycle clothing has an emotional durability. It is sustained by my love for it and it represents the journeys and adventures I have been on.
I like when I buy a new item of clothing, but there is nothing quite like putting on a jersey and remembering it was the one you were wearing when you reached the summit of the Col du Tourmalet.
Where to ride: Belles and Buns Women Only Road Cycle Event – Coupar Angus
When: Sunday May 10
Distance: 64 miles, 32 miles and 16 miles
Description: With the emphasis on a fun and sociable ride this event with three distances to suit all abilities has been running for several years. The well-loved format of the ladies only event with cake and refreshment stops will take place in Perthshire and Angus on beautiful, quiet roads with a mixture of gradients to suit all abilities.
Enter at SiEntries