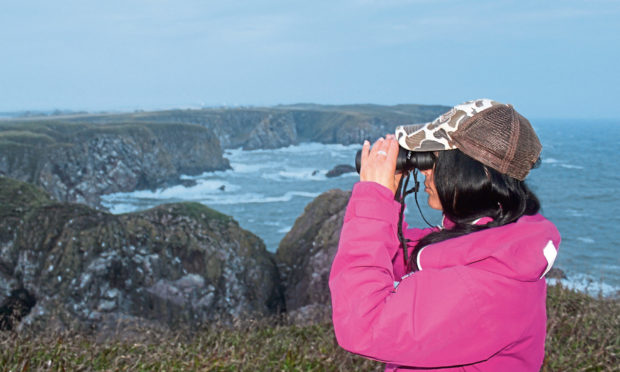 Gayle keeps her eyes peeled for elusive puffins when she visits the majestic Bullers of Buchan.
Darkness was falling as I clambered around on the perilously steep clifftop pathways.
It was the second night I'd driven to the Bullers of Buchan, two miles north of Cruden Bay, and I was on a mission – to find some puffins.
If you're scared of heights, a trip to this spectacular site definitely isn't something to be taken lightly.
It's stomach-droppingly scary at points, with overgrown, narrow tracks running worryingly close to cliff edges.
The name Bullers of Buchan refers both to a collapsed sea cave and small hamlet of cottages, once a fishing village which launched boats from the bay below.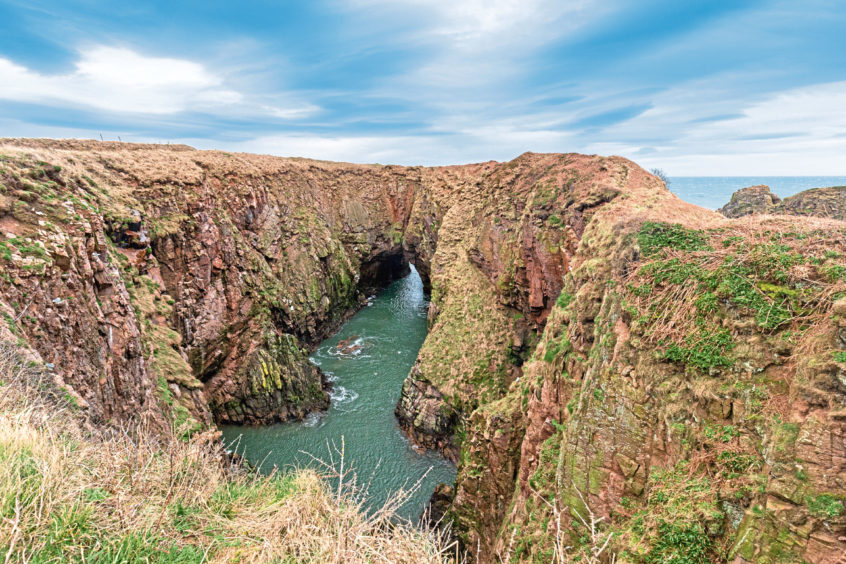 You can walk for miles along the clifftops, discovering some of Scotland's finest coastal scenery, with sea stacks, caves, arches and birdlife galore.
As it was after 8pm when I showed up, I wasn't planning a mega-walk; I was simply here to drink in the sheer majesty of it all and, of course, I was praying I'd find some puffins.
A few pals had recently spotted and photographed the cute pint-sized birds in abundance, so that, and discovering that the Bullers is one of Scotland's top spots for puffin-spotting, had been my inspiration.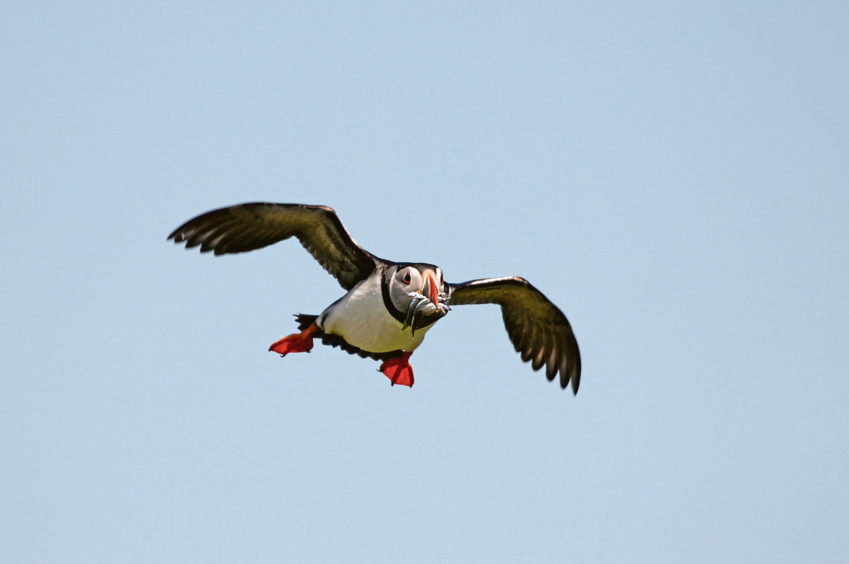 Known affectionately as "clowns of the sea" or "sea parrots", their large beaks and feet turn a striking orange colour in spring and they have a hilarious waddling gait on land.
Puffins typically arrive in Scotland to breed during late March and early April, making their homes in burrows and rocky nooks and crannies on the coastline and islands.
They head back out to open waters around mid-August and are followed by their fledglings, known as pufflings, soon after.
If you've never been to the Bullers before, be prepared for your jaw to drop.
After leaving the car park and walking past a row of cottages, you're immediately confronted with a huge rocky cauldron into which the sea rushes through a natural archway. Just wow.
You'll also hear the ear-splitting screech and chatter of thousands of seabirds as they whirl and circle around, above and beneath you, feeding their chicks, fishing and fighting.
The smell of years of accumulated bird poo, or guano, is eye-wateringly strong, and don't be surprised if you're splattered by some of the stinky stuff!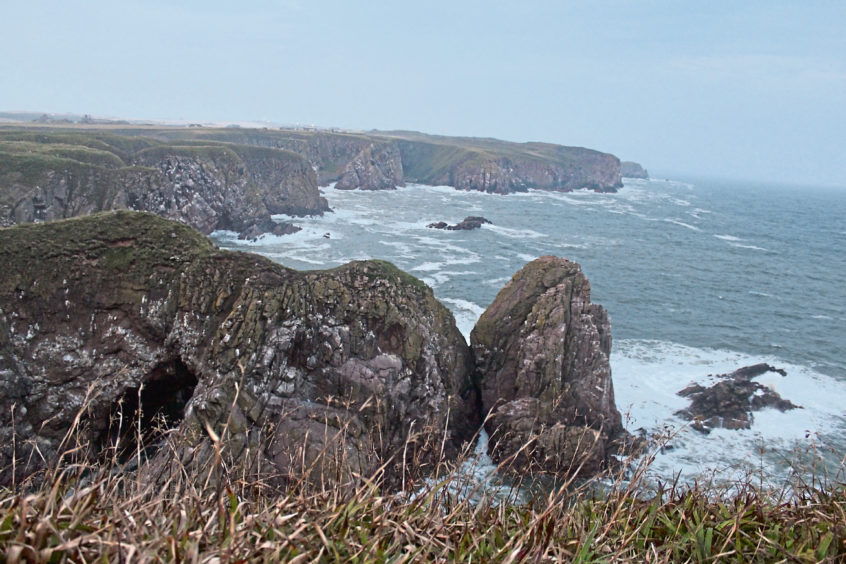 Heading northwards, I left the proper pathway and followed rather less distinct tracks on to several small headlands where I dug out my binoculars and had a good scan.
While there was no sign of any puffins, I was spoiled for choice when it came to kittiwakes, guillemots, fulmars, razorbills, shags and gulls of all shapes and sizes.
The wildflowers were also pretty gorgeous – heather, campion, bluebells and orchids were in rich supply.
Each twist and turn along the pathways brought increasingly stupendous views, from towering granite cliffs to rocky foreshores, sandy beaches and everything in-between.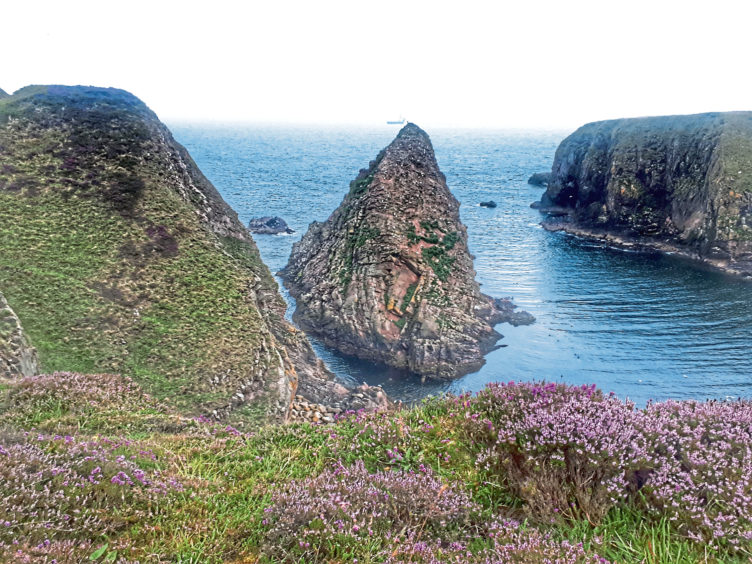 Some sections of the path come terrifyingly close to cliff edges, leaving no room for clumsiness.
Here, I shuffled and even knelt down to avoid tumbling into a premature watery grave.
I soon reached the lunar-like landscape of Longhaven Cliffs Nature Reserve where I followed an old quarry track and stumbled on a memorial to two climbers who died while climbing the cliffs here in 1967.
Peering over a steep drop, I noticed the ruins of curious-looking buildings perched on rocks way below.
A bit of research back home told me this was a ruined quarryman's bothy and an old granite quarry works.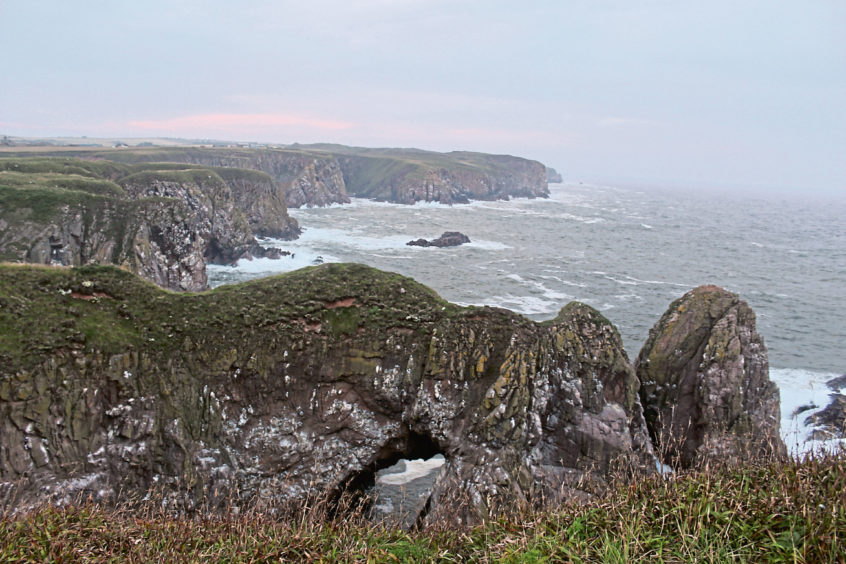 If you carry on heading north, you'll come to an old railway, and then the imposing Buchan Ness lighthouse will hove into view.
As time was kicking on, I decided to head back to base, taking a couple of wee detours via rocky headlands, and pledged to return the following evening.
When indeed I did return, I walked in a different direction – south and back towards Cruden Bay.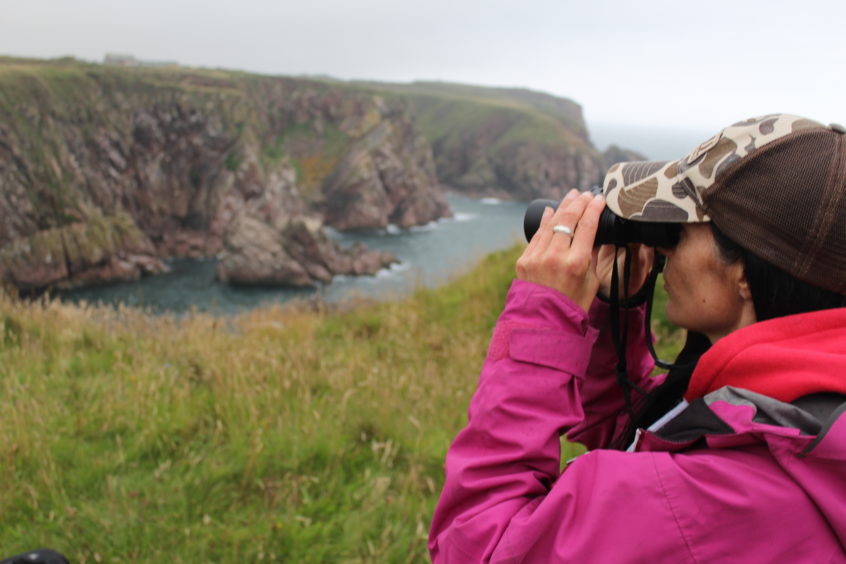 Digging out my trusty binoculars at the top of a heather-cloaked viewpoint, I noticed three people on a promontory beyond.
They looked the business, with what appeared to be a tripod, a camera with a huge zoom lens and a telescope.
On hearing a whoop of joy, I had to investigate.
"We just saw four puffins!" proclaimed one man in the group, grinning from ear to ear.
"One flew in to its burrow five minutes ago.
"The others were sitting on the sandy banks above that big cave."
Infected by his excitement, I whipped out my binos and gazed at the exact spot.
I gazed and I gazed but dusk was falling and the failing light was making things a little bit fuzzy and unfocused.
Then something black flapped and flashed towards the burrow at great speed… and vanished. Could it have been a puffin?
Perhaps. But then again, perhaps not. I didn't have a chance to take a photo – the chap or chapess was too fast.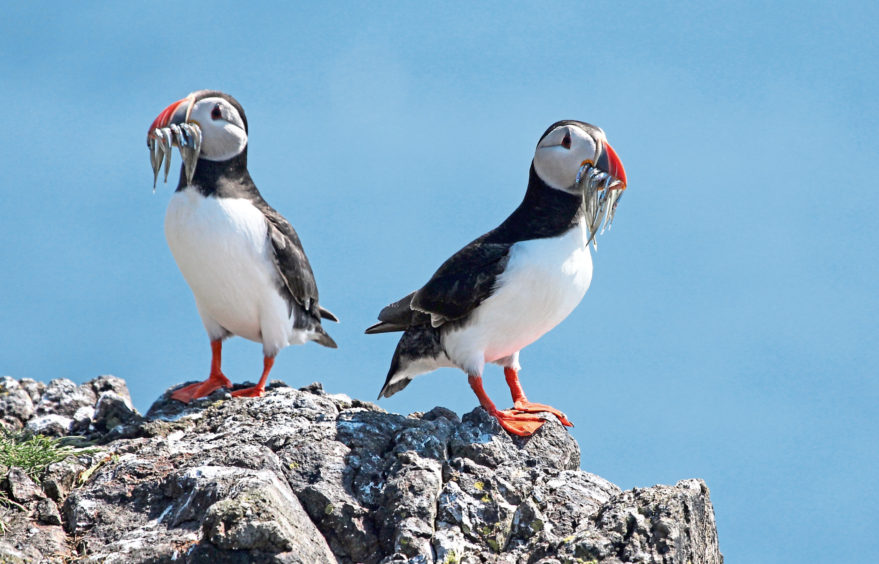 As I headed back to my car in the gloaming, guided by the bright orange light of a gibbous moon, I realised that my best chance of spotting a puffin was probably not in late July but earlier in the season next year.
That didn't stop me from taking a drive out to RSPB Fowlsheugh, another puffin hotspot, the following morning, but again, I didn't see any of the cute, charismatic creatures.
Knowing that a friend spotted some at the Bullers last October, I live in hope.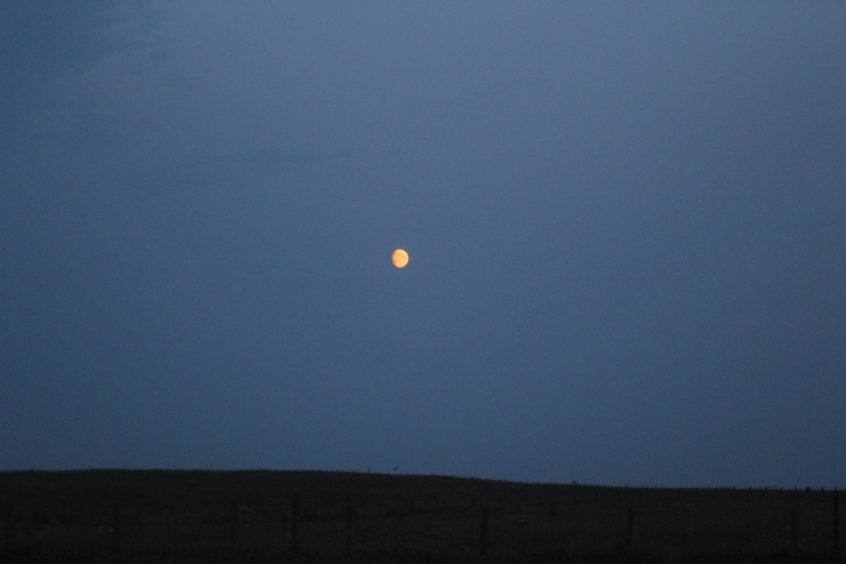 info
The name Bullers of Buchan is thought to be derived from the Scots word "buller" which means "rushing of water".
Another explanation is that it hails from the French word "bouillir", which means "to boil", as the water in the chasm appears to be boiling during stormy weather.
The Bullers of Buchan is two miles north of Cruden Bay in Aberdeenshire.
Looking for other places to spot puffins? Check out Fowlsheugh Nature Reserve, a series of cliffs south of Stonehaven packed with 130,000 seabirds during the summer months.
The Isle of May is a sanctuary for many seabirds including puffins during summer. It can be reached by ferry from Anstruther and North Berwick.
Large puffin colonies can be found on the Isle of Staffa and the Treshnish Isles, St Kilda and the Shiants, a small group of islands off the coast of Lewis.