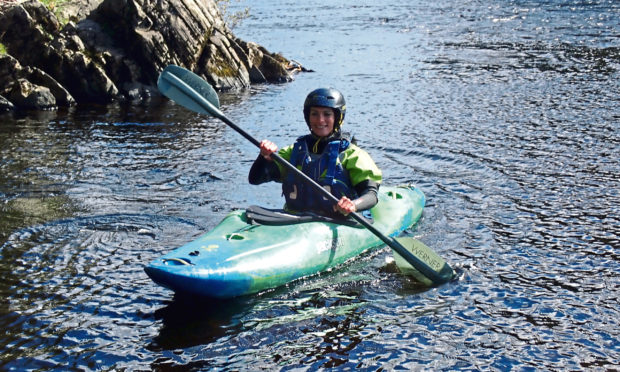 Gayle heads to Speyside for a white-water sports session and learns how
to hone her river 'reading' skills.
It's a glorious morning to be playing about on the rapids.
I'm wedged into an inflatable kayak in the middle of the River Spey, having successfully navigated a tricky section of white water.
It might look easy, but there's a lot going on under the surface.
There are currents, eddies, whirlpools, and hazards to avoid such as rocks and steep drops.
"It's essential to know how to read the river," Tom Wilson, my instructor tells me.
"Rivers change all the time so you need to anticipate and respond to visual clues quickly."
Tom became the owner of Aquaplay Scotland last month after Jim Gibson, who set up the business 12 years ago, retired.
However, Jim, who boasts more than three decades of watersports experience, is far too keen to step away completely.
The three of us have driven to a section of the Spey at Knockando, in the shadow of Tamdhu Distillery.
It's a great place to learn river skills – it's a safe, not too daunting wee section in a stunningly gorgeous part of Moray.
Tom and Jim are keen for me to experience two types of kayak – an inflatable sit-on, and a hard, sit-in version – as well as a stand-up paddleboard.
First up, the men inflate the sit-on kayak for me, an easy-enough job, and kit me out in a wetsuit and buoyancy aid.
Because I'll be sitting on top of it, rather than being hemmed in by a spray-deck, it feels less claustrophobic than a rigid, plastic offering.
If I capsize, freeing myself of the craft will be a piece of cake because it doesn't have a closed cockpit.
Once I've got the feel of the inflatable, Tom invites me to follow him across the river to the opposite bank.
"The key to paddling on the river is understanding the environment and what the river is doing," he offers.
Tom says there are three ways to paddle on a river – you either use it, go with it, or fight it.
"We want to use the river's energy – use it and go with it – to help us manoeuvre and navigate the river effectively," he explains.
The first river running skill is what Tom refers to as "ferry gliding" – crossing the current without being dragged downstream.
Aiming for a rock on the other side of the bank, I angle the kayak at about 45 degrees to the current.
"It helps to imagine a clock face, with 12 o'clock being upstream," says Tom.
"Angle the bow of the kayak towards about 10.30pm if you're moving from right to left, or 1.30pm if you're moving from left to right."
At first, finding myself drifting downstream, I paddle maniacally, which is tiring.
"No need to put so much effort into it!" hollers Tom. "Just use smooth, slow strokes."
After a few more trips across, I crack it.
Next on the agenda is to paddle downstream, navigating the swells caused by objects below the water's surface.
Jim points out the "Vs" – strips of water in a V-shape. The downstream Vs indicate a course between or safely over rocks.
It's great fun zipping down the rapids and I let out shrieks of joy, much to Tom and Jim's amusement.
Next up, it's the hard kayak. I'm praying I won't topple in because I've no desire to scramble my way out of the thing.
Luckily, I manage fine, and the two men give me the thumbs up.
"I'd shake hands or clap you on the back if it wasn't for coronavirus!" beams Jim.
Having "mastered" both kayaks (to a certain degree), I move on to paddleboarding.
Regular readers might remember I recently enjoyed a sedate session paddleboarding at Knockburn Loch near Banchory.
Today, however, is a little more testing.
Once I've paddled across on my knees, I stand up, rather shakily, finding the current more difficult than the calm waters of Knockburn.
I'm okay with the ferry glide, although I'm too hunched over – a sign I'm not relaxed.
Tom then shows me some fancy foot positions, which enable you to alter your balance and height. As I'm paddling on one side, all is fine and dandy. But when I change to paddling on the other side, I lose balance and topple in.
I'd been trying to avoid this (madness really, because I love wild swimming), so it comes as a surprise. Luckily, the river isn't cold and the only thing injured is my pride.
The climactic point of my paddleboarding session is speeding downstream through the rapids while actually managing to remain upright. What a buzz. Back on dry land, Tom talks about the importance of "connectivity".
He says: "On boards, we have only our feet to provide connectivity whereas in a sit-in kayak, we're able to connect with the bum, feet, knees, thighs, hips and back. This allows more transfer of power."
This is where I struggle; I tend to use my shoulders rather than my core, which can cause pain and tiredness.
The great thing about paddling is it's up to you how far you want to progress.
Sure, you can have a wee pootle and potter around on calm water, or you can ramp it up and learn skills which will allow you to tackle more tricky stretches of water – and could be potentially lifesaving.
"Our USP is that we use the great environments we have depending on the conditions," says Jim.
"Today we've come to Tamdhu but equally, we run trips on lochs and along the coastline."
Before I head off, a bird, possibly a goldeneye, swims right up to the riverbank to say hello. It's very cute and curious and rather odd.
Tom reckons wildlife has been more "friendly" than usual because the river has seen less traffic. Whatever the reason, it's fantastic.
Certainly, this area of Speyside is magical, and one I've never explored.
Tamdhu Station, next to the old railway line, takes it name from the tiny distillery nearby, founded in 1869.
While I've never tasted it, I'm pretty sure the whisky must taste sensational.
But that's for another day.
Info
Aquaplay Scotland offers a wide range of paddle sport experiences including introductory sessions, white water skill development, guided journeys, coastal SUP paddling, canoeing coaching as well as team building and corporate sessions.
Activities run from Moray (including Findhorn, Lossiemouth, and all over Speyside) and Deeside.
All paddling equipment is sanitised between clients. See Aquaplay Scotland's Facebook page.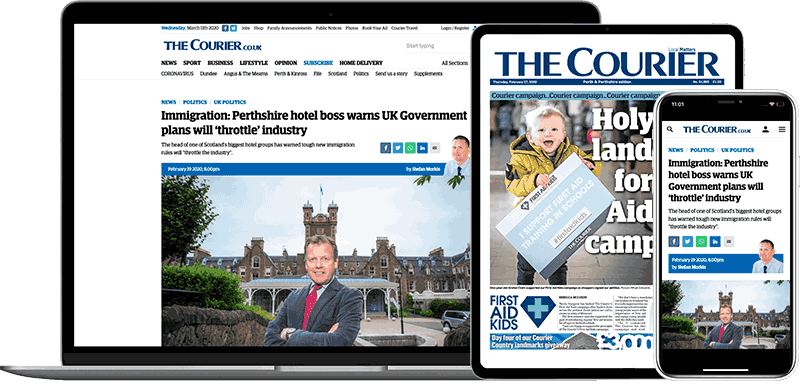 Help support quality local journalism … become a digital subscriber to The Courier
For as little as £5.99 a month you can access all of our content, including Premium articles.
Subscribe