With 21 acres of glorious plant life Dundee Botanic Garden is known as the "lungs of the city." Jack McKeown meets those who use and love the garden, and finds out why a group is raising £3 million to secure its long-term future.
Students burrow with trowels at the vegetable garden beside the main entrance. Artists sit on canvas chairs in the glass house, brushes manipulating watercolour paint into the likeness of exotic flowers. An elderly couple enjoy the view over the River Tay from a wooden bench. A young mother and her daughter walk hand in hand along a path, their laughter drifting behind them.
It's hard not to feel at peace in Dundee Botanic Garden.
The 21 acres of woodland, lawn, paths, and flora and fauna from all over the world was carved from a field in 1971. It has survived the greedy eyeballs of developers through several housing booms and a financial crisis in its parent institution, Dundee University.
It is also quite something that in its 45 year history the garden has had only three curators.
Edward Kemp was 60 when he set up the garden in 1971. He retired 10 years later at 70 and went on to be an international consultant until well into his 80s. He died in 2012 shortly before his 102nd birthday.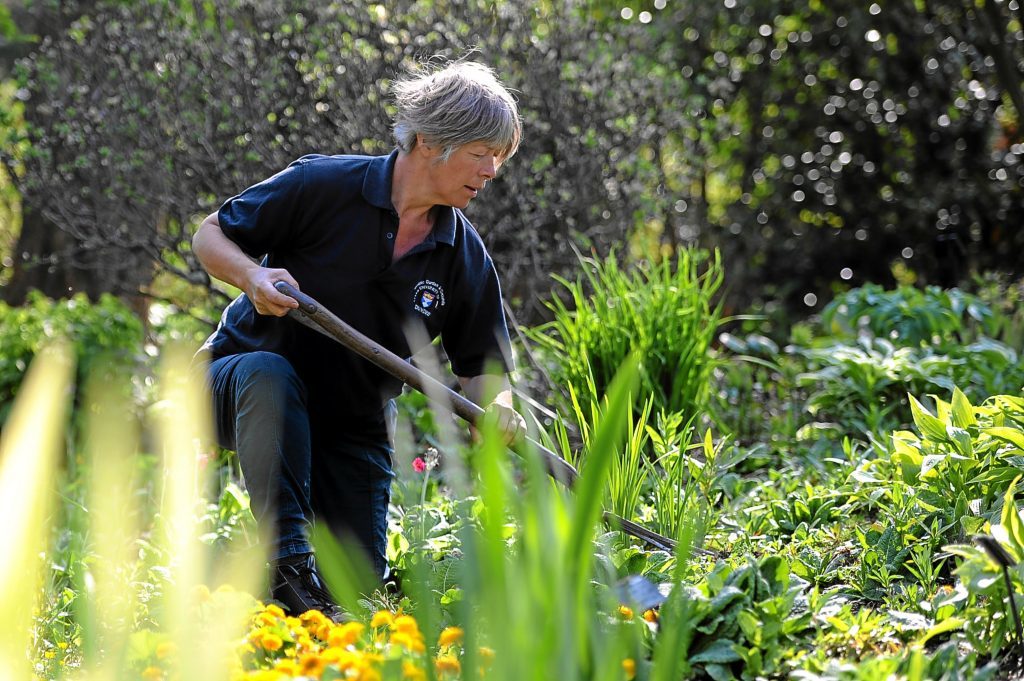 Les Bisset took over in 1980 and retired in 1998, when its current curator Alasdair Hood took over.
"Edward Kemp's job was to establish the garden," Alasdair explains. "Les Bissett's job was to develop it. My job is to market it."
Alasdair's speaking as we stroll around the garden on a cold but sunny Monday morning in May.
Our route takes us past the café, which was a key strand of his strategy to improve visitor numbers. Trellis tables groaning with plants grown in the garden stand outside.
"Research shows people are more likely to buy a plant if they see them being watered – but they always water them first thing in the morning," Alasdair grumbles, with his marketing hat on.
Setting up the café made an immediate impact on visitor numbers. "Before that even the Friends of the Botanic Gardens didn't hold their meetings here," he says. "They had them along the road at the university."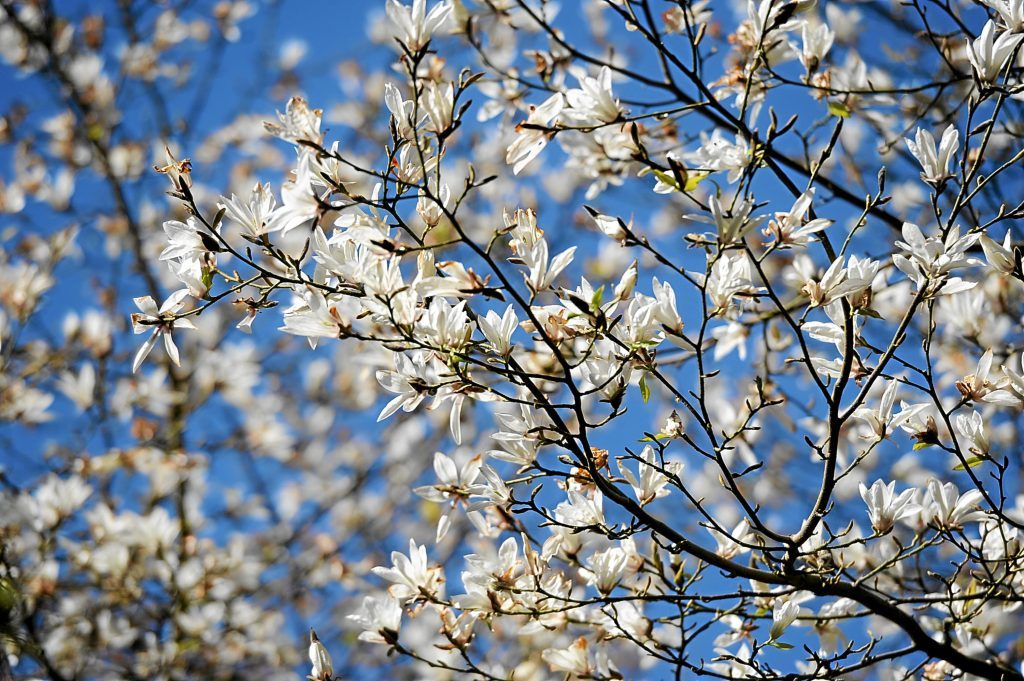 Even on a sleepy Monday morning the café has a smattering of people enjoying a coffee or a morning cake. Some of these are artists: I will encounter them again shortly in the warmth of the glasshouse painting the many exotic flowers and fauna.
Carnoustie-born Alasdair (58) remembers the Botanic Garden being founded. "I saw the lorries and all the work going on. I was aware something was happening here and thought I should go and take a look but it just wasn't inviting.
"That was probably one of the problems with the Botanic Garden in the early days: the public were a nuisance. It was just for the academics."
Dundee Botanic Garden is well used by academics but its curator's real focus is on education of the public. "If we can even get across the simple message that without plants we die that will be a good start," he says.
Alasdair had a wall of shrubs and bushes cut down, opening up the gardens to Riverside Road so pedestrians and drivers can see in.
The result of Alasdair's drive to market the Garden better has been an enormous upsurge in visitor numbers. In 1998, when he took over as curator, just 6,000 people a year visited the Garden.
In 2008 visitor numbers peaked at 84,000 and today they remain above 70,000 a year.
Dundee Botanic Garden is used by a surprising array of people and groups. It's home to the Energy Autonomous Studio: an off-grid building that is the brainchild of Dr Neil Burford from the university's architecture department. The zero-energy building uses solar panels for power and hot water, and was self-built by university staff, students and volunteers.
The Botanic Garden is also at the heart of a new project to get students growing.
It's spearheaded by Fabio Marango, a second year graphic design student from Milan. The project is part of Transformations 2017, a climate change conference held in Dundee next year.
"We carried out a student survey and a lot of people said they enjoyed growing vegetables with their parents or grandparents but had nowhere to do it here and no one to show them how," says Fabio.
"I also researched how much it costs for supermarkets ship food from all around the world – it's much cheaper and better to grow food here."
The students have been given access to "growing pods" – vegetable plots at the front of the garden – and benefit from the knowhow of the gardeners and Alasdair himself.
Fabio secured a £2,600 grant from the Climate Change Fund to finance the project.
"Alasdair has offered us a couple of teaching sessions a week," he continues. "He's also going to help us find a place on campus to create an allotment, and I'm trying to organise free bus passes for students to come along here."
Fabio has been working on the scheme since January and hopes to have a campus-based allotment up and running for the new academic year.
"To begin with we'll grow simple things like potatoes and carrots. If we can keep them alive we'll try more difficult stuff like fruit trees.
"I'd like students to learn how much fun it is to grow your own food, that it saves you money and that it's healthier."
And he knows what really motivates students: "If they save a few pounds by growing their own food that's more to spend on cheap drinks at the Student Union."
One of the keys to the garden's success is its low staffing level. It was set up so it could be run on a shoestring budget. The 21 acres of diverse plants from all over the world are nurtured by a crew of just two full time and one part time gardener. Altogether there are only six staff, and two of them are part-time. Even Alasdair himself isn't full time – he spends a day a week overseeing the university campus grounds.
The key to it is forethought. Instead of having multiple greenhouses dotted all over the place there is one large glasshouse. Plants are carefully chosen to have the best chance of thriving in Dundee's environment.
The gardeners are experts, having come through the agricultural college system or having worked in the garden trade for many years. They know a lot more about plant care than just how to cut grass and do some weeding.
Another key is a team of volunteers who donate time and money to maintaining the garden. "Even the biggest – Chelsea Flower Show for example – couldn't go ahead without the help of volunteers," says Alasdair. "Without our volunteers we couldn't keep this place going."
Chief among these are the Friends of the Botanic Garden, a band of helpers who give time and money to support the garden – and, when necessary, they go into the trenches to fight for its survival.
Mark McGilchrist is chairman of the Friends of the Botanic Garden and Tricia Paton has been a member since the group was founded in 1982.
"The Friends were set up in 1982 when the second curator, Les Bissett, came in," Mark (53) explains.
Retired lawyer Tricia (71) adds: "In the early days there weren't very many members, perhaps 50 or 60. It wasn't until the late 1990s when Alasdair arrived that the numbers began to climb steadily."
Being a Friend of the Botanic Garden gives free, unlimited access. A single visit to the garden costs £3.50 but an annual Friends membership is £14 for an individual, £21 for a couple and £25 for a family. You don't need to visit many times to recoup your outlay.
The Friends are keen to widen access to the garden. "We want mothers to come here with their children and many more family events," Mark continues. "I'd love activities like yoga to take place here. And I'd like to explore the possibilities for therapy, perhaps for those with mental health issues or depression. A lot of doctors are now prescribing regular walks in the outdoors ahead of pills to treat problems such as depression."
Membership of the Friends skyrocketed in 2007 when the garden's future was in jeopardy and now stands at just over 1,000 people.
That year was the most worrying time in Dundee Botanic Garden's near half century history. Dundee University went through a financial crisis and flirted with the idea of withdrawing funding from the garden, or even selling it off altogether.
"When it was threatened that's when people really rallied round," Tricia explains. "No one wanted to risk seeing it sold off and replaced by houses. As long as the Friends of the Botanic Garden still exist we will fight to protect its future."
In the end the Botanic Garden was spared the axe, and in the wake of the scare Dundee Botanic Garden Endowment Trust was created.
The Trust, a registered charity, has the ambitious goal of raising £3 million to safeguard the garden's long term future. Under its plan, the money will be invested and the profits will be ploughed into helping meet the garden's running costs.
Gordon Ramsay is the trust's development officer. He estimates money generated from the trust would meet around a third of the Garden's running costs.
"We've raised around £300,000 so far, so we're a tenth of the way towards our target," he says. "Lady Dalhousie is our patron and has been tireless at helping to raise our profile.
"Our hope is to attract one or two big name sponsors who put contribute a significant sum and that creates momentum behind the campaign."
What makes the Garden so special to so many people? "It's such a peaceful and tranquil place," Tricia reflects. "It's no wonder there is such passion and enthusiasm to keep the garden. It's such a precious resource for the people of Dundee.
"I love coming here because of the solitude. I'm lucky enough to live nearby and it's part of my regular walking route. I've been coming here since 1975.
Mark, who does data-based medical research at Dundee University, is even more fortunate: his is one of seven houses on Perth Road with direct access to the garden from a gate at the foot of his own garden.
"I spend so much time in the office," he sighs. "Coming here is a tonic to all that."
Caroline Kemp regularly visits to the garden with her daughter Pamela, who is almost two-years old. "We come here maybe three or four times a month if the weather's good," she says. "It's much quieter than the park." Pamela interrupts her mother to hand her an interesting leaf she's just found.
"It's nice to come somewhere this quiet. Because it's so big even if there are other people it's easy to find a peaceful spot."
Info
To contribute to or find out more about Dundee Botanic Garden Endowment Trust and its £3 million fund raising campaign visit: www.sites.dundee.ac.uk/botanicgardentrust.
To become a Friend of the Botanic Garden go to: www.dundee.ac.uk/botanic/friends